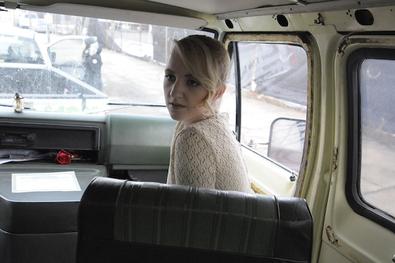 A big step from her free-spirited "Harry Potter" character Luna Lovegood, Evanna Lynch gives a powerful performance in her new film "Addiction: A '60s Love Story," out Nov. 6, opposite "Pretty Little Liars" star Ian Harding. Lynch plays Theresa Bornstein, the strong-willed wife of a man fighting his heroin addiction and working in the underground porn industry.
Lynch chats with Backstage about the pressures of working on a biopic, preparing for her role, and holding onto your "spark."
On playing a real person.
Although she didn't meet the woman she was playing until after filming wrapped, Lynch felt the pressure of having her character's real-life husband Max Bornstein on set as a producer. "It kept me on my toes to have him on set," she says. "But then, midway through the shoot, there was a scene that we did, and it was an emotional scene. And he came off set and he was crying."
Lynch notes that this was a pivotal moment in the filming experience for her, as she knew by his reaction that she was doing her character justice. "After that moment...that was [a new level] of the relationship with Max. I felt way more comfortable and I felt like he trusted me. 'Cause that's the thing. As soon as you feel like people trust you, like the director trusts you, the crew trusts you, then you just you feel more able to explore creatively."
On her surprising dialect coach.
The Irish-born actor faced an interesting challenge in preparing to play Borenstein: having to master her New Jersey accent in only six days. After discovering one of the women working in the costume department sounded identical to her character, Lynch perfected the accent with her, having the woman record lines for her to play back at home, and attending impromptu accent classes on set. "One day she was doing some costume adjustments and Max walked by and [said], 'That's her. That's Theresa. That's how she speaks.' And every time [she] would speak, he would be like, 'Oh you sound just like my wife.' She was then really, really helpful."
On the difference between indie films and studio films.
Having worked on four "Harry Potter" films, it's no surprise that shooting an indie was a very different experience for Lynch. "It was like my introduction to indie filmmaking," she says. "You just have to get super serious, and you just have to push yourself and do your best. I need to let go of this perfectionism, which I think I had from 'Harry Potter.' Because everyone would have their own costume fittings months in advance. And you meet with the director, [so] you'd have loads of time of rehearsal. There were so many people involved. In ["Addiction"], everyone was so busy—short on time, short on money, short on resources. And I really learned that I had to ask for what I needed. And I found that it was way more collaborative than any project I've done before."
On her advice for actors.
"I would say work on things you love. Find material that really just makes you excited about what you do. Whether that's a book you love, or [joining] a theater group...make sure that it is for that reason—that you actually love it. 'Cause I think that passion creates the shortcuts. It doesn't feel like work."
She also advises actors to remember what got them interested in the industry in the first place. "Have that kind of that spark you had when you were young. 'I love this. This is exciting. This is telling a story.' That's where the truth comes from."
Inspired by this post? Check out our film audition listings!