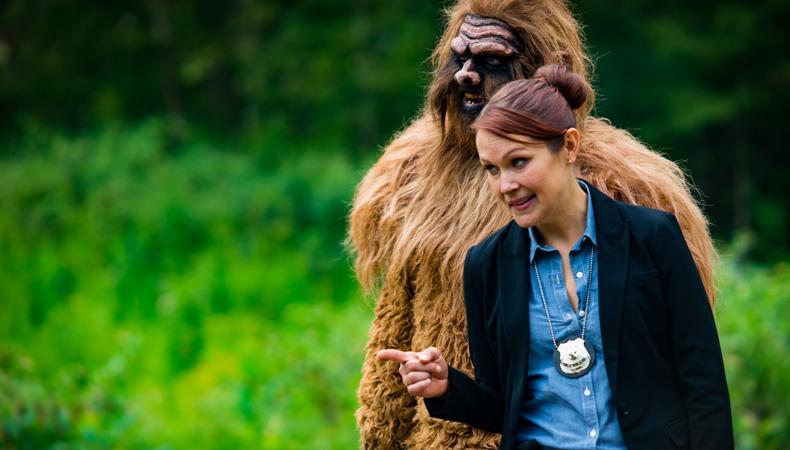 Known to national audiences as the voice of Pam Poovey on FX's "Archer," Amber Nash has long been the center of attention at Dad's Garage Theatre. Now her comedic skills are being showcased in a different format with "Hart of America," a new Web series created by Dad's artistic director (and Nash's husband) Kevin Gillese, plus longtime collaborator Arlen Konopaki. In the show, Nash plays five roles, most notably the show's namesake Grace Hart.
"Arlen and I started our creative relationship in theater more than a decade ago," says Gillese. "As our careers have evolved, I've gone on to run a theater and he's working in the film and TV world in New York. In some ways it started from Amber saying, 'Would you guys be willing to work with me on something that showcases me and is done in your style?' We're all excited about taking the stuff we've developed and transforming it for a new medium."
Based on an idea Gillese and Konopaki have been working on for years, in which three bizarre storylines involving numerous eccentric characters converge for a hilarious finale, "Hart of America" includes several other Dad's performers (including Gillese as Bigfoot), as well as cameos by the likes of Colin Mochrie and Fred Willard. Following a theatrical premiere at the Plaza Theatre Nov. 1, the entire series will be available at streaming site Dad's Garage TV Nov. 2.
"Our live shows have a ton of different characters and lots of storylines," says Konopaki. "When we adapted to screen and script form, there was already a lot of opportunity for a lot of fun characters in different storylines. It was pretty easy to say, 'Amber could play this character, this character, and this character.'"
While casting wasn't a challenge with this project, the fact that the entire show was self-produced did pose some issues. These burdens were offset, however, by the artistic freedom that comes from such a DIY mindset.
"Every artist would say they want to be able to make the things they want to make and have their voice heard and expressed in a singular way without interference from outside voices," says Konopaki. "One of the great things about the internet is it's still, to a certain degree, the Wild West in terms of how it's run, what gets out there, and how it's seen. It's perhaps the best channel for taking whatever idea you want to do and putting it out there with your vision intact. Something that appealed to Amber, Kevin, and me is we can make this thing we know we want to make, the way we want to make it, and get it out there and seen by a lot of people."
With "Hart of America" behind them, Gillese and Konopaki's next collaboration will be the equally subversive "Merry %#!*ing Christmas" at the Alliance Theatre Nov. 27–Dec. 19. Whether it's performing as a duo, writing for stage, or self-producing a Web series, Gillese and Konopaki's approach is always irreverent. Working with like-minded collaborators proves one of the reasons for their continued success.
"You're going to need help and you're going to need to find people whose interests are aligned with yours so you all get something out of it," says Gillese. "If you're not ready to produce a Web series of this scale, you can start with something small. I always encourage people to start self-producing early so by the time a few years have gone by, they've got a great amount of experience. Then they're really ready to tackle some big challenges."
"Don't underestimate the importance of online presence," adds Konopaki. "That doesn't necessarily mean you have to make your whole Web series by yourself. As someone who has done a lot of casting in New York and works with different companies, one of the first things we always look for is if they are online, if they have a website, if that website has a reel. If I get a headshot, I can see what that person looks like. But if that person also has a website with a reel, they're way more likely to be asked to come in for auditions. If someone is just starting out and hasn't been in many productions, a reel can just be you in a relatively well-lit room reading a scene, just to get a sense of what that person looks like on camera. It makes such a difference and is such an easy thing to do nowadays."
Inspired by this post? Check out our Atlanta audition listings!