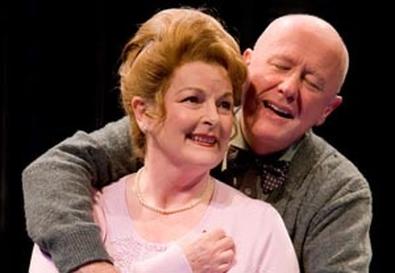 Though Edna O'Brien is a celebrated novelist, particularly in her native Ireland and the United Kingdom, I confess I've never read her, though I have seen the films "Three Into Two Won't Go," "X, Y, and Zee," and "Girl With the Green Eyes," all of which she wrote. On the basis of those films and now "Haunted," I'd say that though her talents seem more literary than dramatic, O'Brien does possess a uniquely eccentric theatrical voice that grows on you. "Haunted" is equal parts exasperating and enveloping. Acted to a fare-thee-well by Brenda Blethyn, Niall Buggy, and Beth Cooke, it leavens a studied preciousness with combustible confrontations and ends up packing considerable emotional force.

Long-married Jack and Gladys Berry live an uneventful middle-class existence. She supports them through her job in a doll factory; he pretends to look for work and focuses on his garden. The childless couple is indeed haunted by past events, including her miscarriage and his affair. Into their unremarkable lives steps young Hazel, there to collect an old dress Gladys is selling off. Jack becomes obsessed with Hazel, who supports herself by teaching elocution. Soon he's taking lessons while passing himself off as a widower. He pays for them with items from Gladys' cherished wardrobe. As the depletions become evident, a bewildered Gladys turns detective. It can't end happily, of course.

O'Brien stuffs this odd tale with obviously symbolic language (the lost child was "conceived on the black mountain," Jack would like to return to his native Ireland to "see the old haunts") and poetic monologues to the audience, yet Gladys' dialogue shows an acute ear for idiomatic speech. Director Braham Murray lifts the action out of realism through such touches as doors that open and close by themselves, Johanna Town's frequently stylized lighting (a glaring table lamp that's been knocked to the floor is particularly well used), Simon Higlett's scrim-filled set of looming curving walls, and especially Jack James' video projections of growing tangled vines, furiously blossoming roses, and rushing clouds. Akintayo Akinbode's moody score helps as well.

Murray's canny direction pitches the actors one full notch above realism while maintaining access to it. Blethyn and Buggy rise to the challenge, emphasizing the dialogue's musicality and at times almost incantatory quality while also providing detailed psychological portraits of Gladys and Jack. Blethyn is very funny emphasizing Gladys' social pretensions, while Buggy glows with a forceful energy ideal for such an obsessed character. Their final confrontation scene is blistering and brilliant. Cooke is appropriately tentative as the meek Hazel, then blossoms convincingly as Hazel and Jack become friendly.

Just as I was getting fed up with all the fussy artifice, a symbol suddenly struck home. I realized that what Jack is doing is giving away his wife's youth—her clothes—to Hazel in order to gain access to hers. Surprisingly, the intellectual realization somehow registered with real emotional force. I can forgive any author who manages that trick a lot. No, "Haunted" isn't perfect, not by a long shot. It is, however, undeniably haunting.



Presented by Royal Exchange Theatre, Manchester, in association with Karl Sydow, as part of Brits Off Broadway at 59E59 Theaters, 59 E. 59th St., NYC. Dec. 8–Jan. 2. Tue. and Wed., 7 p.m.; Thu. and Fri., 8 p.m.; Sat., 2 and 8 p.m.; Sun., 3 and 7 p.m. (Fri., Dec. 24 and 31, performances are at 7 p.m.; no performances Sat., Dec. 25; no matinee performance Sat., Jan. 1.) (212) 279-4200 or www.ticketcentral.com.