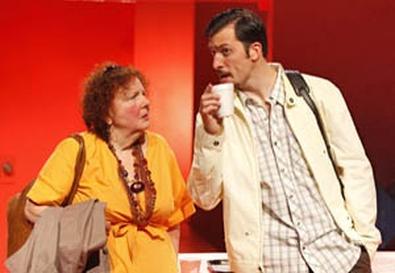 The dialectics fly fast and furious in "Havana Journal, 2004," Eduardo Machado's patchy but provocative new play, in which the Cuban-born American playwright once again revisits his native land with a mixture of love and wrath. This time around the visitor is Ruth, a Columbia University professor and a deeply unhappy radical who describes herself as being "left of Jane Fonda" during the Vietnam War and now—in 2004—feels obsolete. We first see her in her office spilling choler into a tape recorder as she rails against her privileged students aiming for master's degrees in fiction writing, the Republican administration, and a lover who has recently dumped her. The scene then shifts to Havana, where Ruth is on a summer visit defying the U.S. embargo against Cuban tourism. On a mission to deliver funds to the male conductor of an all-female classical orchestra, this dashing character reignites her idealism. But the high-mindedness Ruth sees in this man proves to be illusory. She returns to New York even more deeply embittered, until a late-night meeting with the janitor cleaning her office—a victim of Russian oppression—seems to awaken in her a new and cathartic sense of compassion.
Machado's ability to combine seriousness of purpose with humor in crisp dialogue is admirable, but his sketchy plotting seems perfunctory. Things aren't helped by a fourth character named Tom, a mysterious American wandering through the byways of Havana exuding a vague sense of malevolence. Nevertheless, the well-mounted production, with a quartet of arresting performances and tight direction by Stefanie Sertich, holds attention.
Crystal Field, a doyenne of downtown theater, stamps Ruth with her own unique personality, endearingly awkward and befuddled one moment and raging with visceral fury the next. When she wails to the heavens, "Am I the last standing Marxist?," it's both comic and moving. Juan Javier Cardenas has genuine matinee-idol charm as her Cuban foil, and David Skeist engenders sympathy as the janitor. Liam Torres manages to make Tom convincing and takes on various other roles, from a boorish tourist to a gay man looking to get his Cuban lover on a boat out of the country.
Maruti Evans' moody set and lighting help create suspense, while Michael Moricz's music and Elizabeth Rhodes' sound design add spicy Cuban flavor.

Presented by Theater for the New City and Intar at Theater for the New City, 155 First Ave., NYC. April 3–18. Thu.–Sat., 8 p.m.; Sun., 3 p.m. (212) 352-3101, (866) 811-4111, www.theatermania.com, or www.theaterforthenewcity.net.