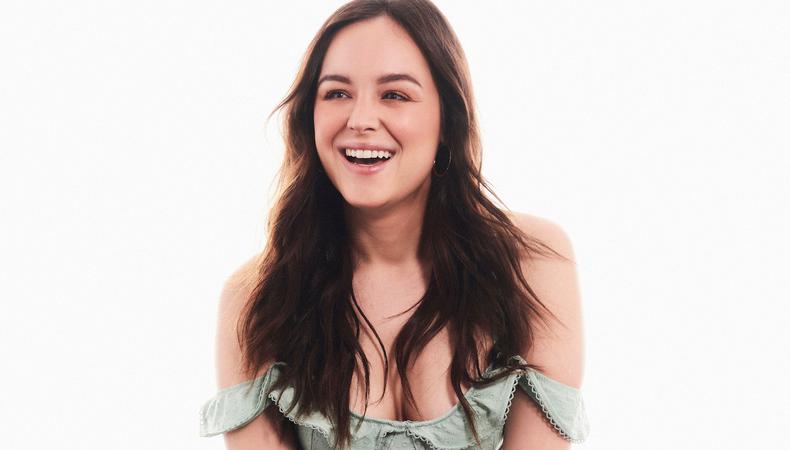 The following interview for Backstage's on-camera series The Slate was compiled in part by Backstage readers just like you! Follow us on Twitter (@Backstage) and Instagram (@backstagecast) to stay in the loop on upcoming interviews and to submit your questions.
ABC's hit family comedy, "The Goldbergs," is currently in its eighth season and still as funny and endearing as ever. According to show creator Adam F. Goldberg, Hayley Orrantia was the first person they saw for the role of the only daughter in the titular family, Erica Goldberg, and it's pretty easy to see why she almost immediately booked the show. Orrantia recently took over our Instagram to answer your questions, and discussed her own beginnings singing background vocals, the help she had when looking for an agent, and the biggest struggle she has faced working in comedy. She also shared advice for actors who are currently auditioning and those who are trying to get started, as well as the importance of perseverance in the industry.
How did you get your SAG-AFTRA card?
I got my SAG card in a unique way. I'm a singer first, and I actually became SAG eligible by singing the background vocals on a "Camp Rock 2" and "Hannah Montana" soundtrack, as well as acting in a commercial that was in movie theaters telling you to turn off your cell phone.
How long did it take you before you landed a big role?
I got my first acting agent at age 15, went on countless auditions, and it was at age 19 that I ended up auditioning and booking my role that I currently work on on '"The Goldbergs." So it took a few years, but I did get very lucky that it happened early on.
How do you get the auditions? Any websites you used or tips?
When I was first starting out in Dallas, Texas, I had a local agency that was helping me get auditions there. I did some cattle calls for Disney Channel looking for their next star, but I did end up getting my foot in the door with a Los Angeles agent that ended up getting me the audition. My mom and dad, who helped me with everything, kept their eye out for auditions via Backstage, too!
What advice do you have for aspiring actors?
It seems so cliché, but do not let the word "no" get to you, because you have to build tough skin in order to do this. There's gonna be auditions you think you nailed and you never get a callback on, but there's also gonna be the ones that you thought you did terrible that you end up booking. So just keep going.
Did you get rejected from jobs a lot? How did you overcome the rejection?
Yes. And, by crying a lot. But, you just have to remember that it's not about rejecting you as a person, it's about something they are specifically looking for. So there is a role that you are made for and you just have to keep looking for it.
What was your biggest challenge?
I would say, specifically in comedy too, letting go and allowing myself to look ridiculous or be embarrassed. I have a hard time with that, and such a big part of comedy is just getting out of your own way.
READ: How Network TV Star AJ Michalka
Auditions for Pilot Season
Best tip for making your acting look natural?
This may be controversial, but I don't go by a specific acting method. I read the line as I naturally would just wanna say it to somebody off my instinct rather than picking my favorite of eight different ways to say it. I feel like if you overthink it, it gets in the way of your performance.
Do you have any advice for self-tape auditions?
Make sure you have a good, clean background, a decent quality camera, and a reader across from you that is not too distracting. I mean the beauty of doing self-tapes is that you can do it over and over again until you feel like you get it right, but don't obsess too much. It's gonna be OK.
How was your audition for "The Goldbergs"?
Fun fact: I booked my role from "The Goldbergs" off of a self-tape. I had two callbacks and a screen test and that was it. And from the words of Adam F. Goldberg, the creator of the show, I was the first person they saw for that. So you never know!
Looking for remote work? Backstage has got you covered! Click here for auditions you can do from home!