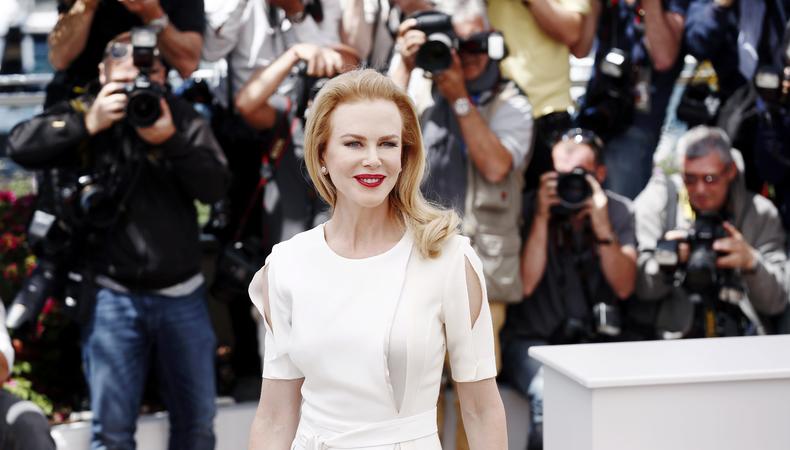 Filmmakers and movie buffs will, for the 70th year running, make the French Riviera the place to be from May 17–28 at the 2017 Cannes Film Fest. Fans of Todd Haynes, Sofia Coppola, Noah Baumbach, and especially Nicole Kidman should pay attention to updates from the glamorous, seaside festivities.
The international festival's president, Pierre Lescure, announced April 12 that there would be 49 films from 29 countries presented this year. Kidman, fresh off an Oscar nomination for "Lion" and currently wowing TV watchers in HBO's "Big Little Lies," stars in a whopping four projects to be screened at Cannes: Coppola's highly anticipated adaptation of "The Beguiled" and Yorgos Lanthimos' "The Killing of a Sacred Deer," both co-starring Colin Farrell, plus John Cameron Mitchell's sci-fi rom-com "How to Talk to Girls at Parties" and a glimpse of Sundance TV's second season of Jane Campion's "Top of the Lake" starring Elisabeth Moss.
Showtime's "Twin Peaks" revival from David Lynch will also be presented to audiences, as well as other non-feature film screenings; Alejandro G. Iñárritu helms a virtual reality project titled "Carne y Arena." French director Arnaud Desplechin's "Ismael's Ghosts," starring Charlotte Gainsbourg and Marion Cotillard, will open the fest.
Other notable highlights include period dramas—Julianne Moore in a buzzy role in Haynes' latest period drama, "Wonderstruck," as well as Michel Hazanavicius' "Le Redoutable"—and offerings due to be distributed by nontraditional streaming networks: both Baumbach's "The Meyerowitz Stories (New and Selected)," starring Ben Stiller, Adam Sandler, Dustin Hoffman, and Emma Thompson, and Bong Joon-ho's "Okja," starring Jake Gyllenhaal and Tilda Swinton, hail from Netflix, while Lynne Ramsay's "You Were Never Really Here" is an Amazon Studios production.
Which of the above projects will take home the Palme d'Or, one of film's most prestigious awards? A jury led by filmmaker veteran Pedro Almodóvar will decide. For the full list of slated films, click here. Stay tuned for more updates and film festival coverage from Backstage!
Looking to star in a festival entry? Check out our film audition listings!