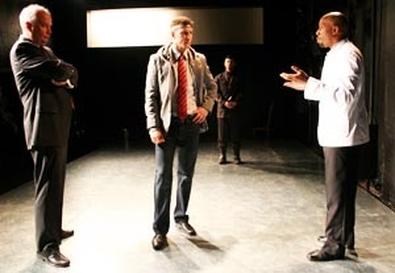 Writer-director Jessica Bauman's
Into the Hazard
[
Henry V
] may be billed as an adaptation of Shakespeare's popular history play, but it really is just a modern-dress multimedia production in which an overreliance on video to craft a commentary on warfare in the electronic age immeasurably dilutes the power and potency of Shakespeare's work.
The staging's focal point is a television suspended above the stage on which theatergoers watch Austin Switser's expertly crafted video sequences. Some transform the Chorus speeches into easily recognizable "product," such as a History Channel–like special or a Ken Burns–style documentary. At other times, such as Henry's infamous speech rallying his troops at Agincourt, the TV is used for a live video feed as the young king (Nick Dillenburg) delivers the usually galvanizing and emotional speech with a measured matter-of-factness into a camera at the side of the stage. In effect, the technology turns "Once more into the breach, dear friends" into a staid State of the Union–like address, and while this certainly underscores the play's relevance to our times, the sequence diminishes the impact of the young prince's charismatic oratory on his troops.
The same can be said of the reality-TV treatment Bauman gives the scene in which the French princess (Erin Moon) attempts to learn English with her maid. Although initially amusing, the electronic version quickly transforms what can be a charmingly innocent bilingual scene into something tiny and tiresome.
When theatergoers aren't watching the television,
Into the Hazard
proves more engaging, albeit sporadically. Particularly successful turns from the six-member ensemble include Dillenburg's fey French Dauphin, Moon's cunning spin on a French messenger who demands that Henry ransom himself, and Scott Whitehurst's sly portrayal of the manipulative Canterbury. When such work is center stage, one feels the pull of live performance, and the play shines much more brightly than any electronic media can.
Presented by New Feet Productionsat Walkerspace, 46 Walker St
.,
NYC
.
June 4
–
20. Thu
.–
Sat
.,
8 p.m
.;
Sun. and Mon
.,
7 p.m
.(
212
)
279-4200 or www.ticketcentral.com
.
Casting by Judy Bowman
.