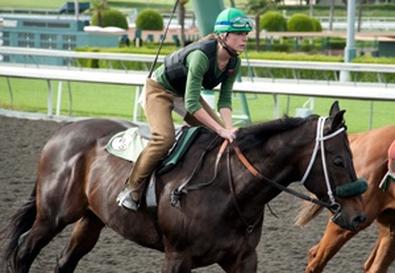 HBO has decided to shutter production for good on its drama
"Luck"
after a third horse was injured on set and later euthanized.
The series was never a ratings powerhouse, but it garnered critical praise and was a passion project for executive producer David Milch. HBO's cancellation came
following reports
that a third horse died on the show's Southern California set, prompting an investigation by the American Humane Association. In 2010 and 2011,
two horses
broke their legs and were euthanized during production of the show's first season.
HBO released this statement: "It is with heartbreak that executive producers David Milch and Michael Mann together with HBO have decided to cease all future production on the series 'Luck.' Safety is always of paramount concern. We maintained the highest safety standards throughout production, higher in fact than any protocols existing in horseracing anywhere with many fewer incidents than occur in racing or than befall horses normally in barns at night or pastures. While we maintained the highest safety standards possible, accidents unfortunately happen and it is impossible to guarantee they won't in the future. Accordingly, we have reached this difficult decision."
The People for the Ethical Treatment of Animals supported HBO's decision in a statement: "Knowing that old, unfit, and drugged horses were forced to race for this series, PETA is glad that HBO has finally decided to cancel the show." In the past, PETA had encouraged the show "to use stock racing footage instead of endangering horses for entertainment purposes."
The already completed episode of the show's second season will not be broadcast. "Luck"'s remaining two episodes of its first season will air as scheduled. The season finale will serve as the series finale.