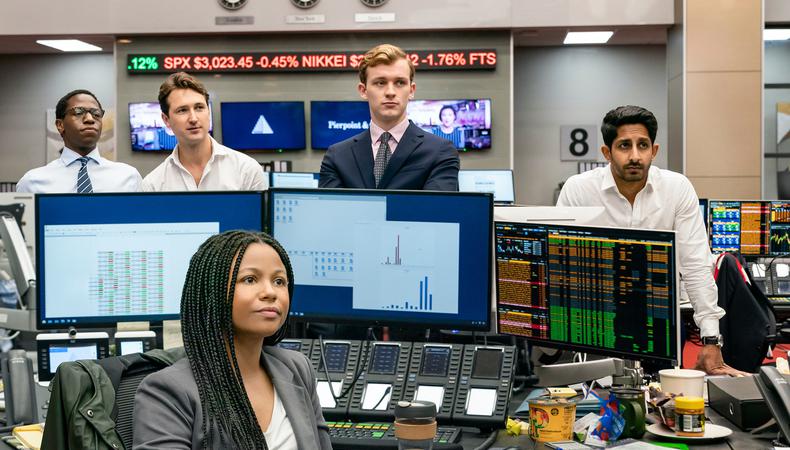 The first script that Mickey Down and Konrad Kay ever wrote together was set in the world of banking. The longtime friends met in college, where they and their fellow classmates were aggressively courted by financial institutions.
"[Recruiters] were taking you out to dinner and they were buying you drinks and they were doing these mixers, and it felt like everyone seemed to be getting a job at these places," Down recalls. "You feel like, God, I'm doing my finals and everyone seems to have a job around me and I need to get one as well. So, you sort of scramble around and you essentially—these are highly competitive jobs, but you essentially do fall into these places."
After a few years working in investment banking, they both began to see potential for story and drama all around them: the outsize personalities and extreme behavior of their colleagues, the stressors everyone was experiencing, the questionable coping mechanisms many of them turned to. But that didn't necessarily translate to a riveting script on the first try. "It had 10-page scenes of people called Mickey and Konrad talking about how much they didn't like their jobs," Down admits with a laugh.
Fortunately, their new HBO series "Industry," premiering Nov. 9, is considerably more compelling. The show is centered on a group of recent graduates starting their first jobs at fictional London investment bank Pierpoint & Co. Think early "Grey's Anatomy," but with hundreds of thousands of pounds on the line every day instead of human lives. Interns Harper (Myha'la Herrold), Robert (Harry Lawtey), Yasmin (Marisa Abela), Gus (David Jonsson), and Hari (Nabhaan Rizwan) find themselves on the lowest rung of a highly competitive world of trades and sales and well, frankly, the sort of things a financial journalist could probably explain better.
But Down and Kay insist that the jargon isn't really the point. Though set in the world of finance, "Industry" is a fundamentally character-driven drama. "We thought if we picked five characters with enough difference between them," explains Kay, "socio-economically, attitudes to privilege, attitudes to stuff in the world—if they each had a very [different] take on their experience, we thought there were enough entry points for an audience to be like, I see part of myself in that character."

READ: HBO's 'The Undoing' Director on Getting 'Seduced' by Nicole Kidman
When it came to finding those characters, both Kay and Down were adamant that they cast relative unknowns in the show's lead roles. "Practically, we didn't want people to be distracted by people they recognized," Down says. "We wanted to feel quite verité and realistic and almost that you were just putting a camera on a trading floor."
It also allowed the actors to really put their own stamp on their characters. "Some of them, it was their first job which is the same for the characters," Down continues. "We felt like that sort of wide-eyed, rabbit in the headlights thing worked really nicely. You can see it in some of the first scenes. I think it really captured that fear and anticipation."
One name viewers are sure to recognize in the credits is Lena Dunham. The "Girls" creator and star served as an executive producer and director on the pilot episode—and also as inspiration for the sort of television Down and Kay wanted to make. "I remember the first time I watched ["Girls"], I was like, I can't believe this is on TV," says Down. "Showing young people this flawed and messy and real, and treating them with respect; showing sexuality as frankly as she does. It was a great hang-out show. It was also deeply flawed characters who sometimes were not very likeable, which is obviously what Konrad and I write towards."
Just as Down and Kay were careful not to judge their characters, they also felt it was important that their series present the world of banking as it is without a heavy-handed message. "We didn't want to moralize at any point," Kay explains. "We were very careful in the first few episodes to make sure that you could never hear the writers telling you what they thought about what was happening. I think that show in this world would be totally unwatchable."
Still, he and Down were very cognizant of the fact that they couldn't tell eight hours of story without commenting on late stage capitalism. "By the time you get to the end of Episode 8," Kay says, "I think the embedded critique of this world and what it does to people—it's unmissable."
Looking for remote work? Backstage has got you covered! Click here for auditions you can do from home!