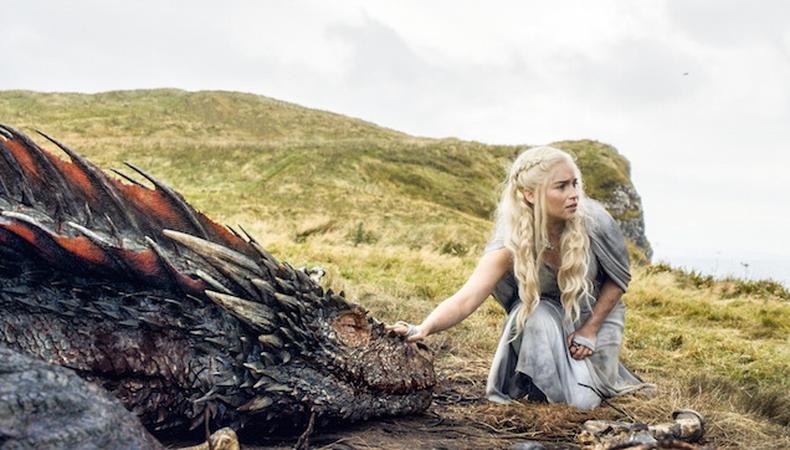 Both scripted and unscripted content got much recognition in the online sphere today. "Game of Thrones" and "Comedians in Cars Getting Coffee" were nominated for the 20th annual Webby Awards for best social presence, and best comedy series, respectively. Jerry Seinfeld's documentary-style, coffee date show was also recognized with a best web personality/host nom. Also nominated were child actor Kid President, YouTube star Tyler Oakley, basketball player Carmelo Anthony, and science-focused Web series creators the Slow Mo Guys.
Having starred in viral videos, Tracy Morgan, John Oliver, and musical artists Beyoncé, the Weeknd, and One Direction, join first lady Michelle Obama as other notable names announced. Ellen Degeneres and Conan O'Brien were tapped for having the best fan sites. Another late night host, Jimmy Kimmel, was nominated under comedy's long form or series category for his bit, "Celebrities Reading Mean Tweets."
The Webby Awards are celebrating its 20th anniversary this year. PBS, the Onion, and Smithsonian were among the first group of nominees in 1997, and all three are nominated once again this year. Alongside the Onion, Funny or Die, Cracked.com, late night British host Oliver, and Clickhole were recognized in the humor websites category. Netflix, Snapchat, Slack, Hotline Bling, and WhatsApp are nominated for the People's Special Achievement Webby category.
"Since its inception in 1997, The Webby Awards has celebrated inspiring talent and visionary innovation on the Internet," said David-Michel Davies, executive director of the Webby Awards. "This class of 20th Annual Webby Nominees, both veterans and newcomers alike, continues to challenge convention and transform the world in ways we could have only imagined in 1997."
VICE Media (16 nominations) lead the pack as the most nominated organization with National Geographic (14), VRSE.Works (12), Google (11), HBO (10), and the New York Times (10) following close behind. CollegeHumor and Onion, Inc made off with six nominations and Team COCO Digital with five.
The International Academy of Digital Arts & Sciences (IADAS) revealed that its members including Kimmel, Reddit co-founder Alexis Ohanian, Instagram's Eva Chen, Questlove, inventor Vint Cerf, and Crisis Text Line founder Nancy Lublin will choose this year's winners.
Additionally, the public can vote for the Webby People's Voice Awards allowing them to select their favorite videos from the last year. Voting for the Webby People's Voice Awards is open now until April 21.
This year's Webby Awards received nearly 13,000 entries from across the entire United States, and more than 70 countries.
The Webby Award winners will be announced Tuesday, April 26. The IADAS will honor the winners Monday, May 16 at Cipriani Wall Street in New York City.
The ceremony is set to air on demand on the Webby Awards website May 17 with their video channel planning to feature show highlights.
Below is a partial list of this year's nominees for the 20th Annual Webby Awards. Visit the Webby Awards for a complete list of nominations.
Animals (Social)
- Catstacam
- Doug the Pug
- Goats of Anarchy
- Jimmy the Bull
- National Geographic Social Media

Best Overall Social Presence (Social)
- CNN's Social Media
- Game of Thrones
- Mashable
- NASA Social Media
- The Tonight Show Starring Jimmy Fallon

Best Podcast (Mobile Sites & Apps)
- Reply All
- Stuff You Should Know
- 99% Invisible
- The New Yorker's Podcasts
- Re/code Decode with Kara Swisher

Best Use of Mobile Camera (Mobile Sites & Apps)
- GIPHY CAM
- musical.ly
- Splice
- Heads Up!
- Layout

Best Web Personality/Host (Online Film & Video)
- Tyler Oakley
- Comedians in Cars Getting Coffee
- The Slow Mo Guys
- Kid President
- Carmelo Anthony

Celebrity/Fan (Websites)
- U2.com
- One Direction: Made in the A.M.
- Team Coco
- ellentv.com
- Kendall Jenner

Comedy: Individual Short or Episode (Online Film & Video)
- Anaconda – The Education Version (with Nicki Minaj)
- Go to College Music Video (with First Lady Michelle Obama)
- Dennis Quaid's On-Set Freak Out: The Full Video
- Fight Club for Kids (with Chuck Palahniuk)
- Trumptastic Voyage (The Simpsons)

Comedy: Long Form or Series (Online Film & Video)
- If Google Was a Guy
- Comedians in Cars Getting Coffee
- Billy on the Street with First Lady Michelle Obama
- Celebrities Read Mean Tweets #9 (Jimmy Kimmel Live)
- Epic Rap Battles of History

Culture & Lifestyle (Social)
- Los Angeles County Museum of Art's Instagram Account
- MoMA Instagram
- Refinery29 Facebook
- Tastemade Snapchat Discover
- The Metropolitan Museum of Art's Instagram Account

Entertainment (Mobile Sites & Apps)
- Star Wars app
- Marvel Unlimited
- Saturday Night Live app
- The A-Z of YouTube: Celebrating 10 Years
- Phallania

Events (Social)
- Coders vs. Cancer
- #RugbyBattle
- Instaconcert
- The 69th Annual Tony Awards: An Integrated Digital Experience
- The 16th Annual Latin GRAMMY Awards – Social Media Celebration

Fashion & Beauty (Social)
- #MINDFCUK
- Madewell Social Media
- Kiehl's Act Any Age
- Lilly Pulitzer for Target
- W Magazine

Games (Mobile Sites & Apps)
- You Must Build a Boat
- Star Wars Galaxy of Heroes
- Vainglory
- Her Story
- Two Dots

Humor (Websites)
- Cracked.com
- Funny or Die
- John Oliver – Leap Second
- ClickHole
- The Onion

Media Streaming (Websites)
- 92Y On Demand
- TED
- HBO NOW
- PBS.org
- Pluto TV

Music (Websites)
- triple J Hottest 100
- Inside Abbey Road
- Pitchfork
- Spotify – Year in Music 2015
- Beyoncé – Official Site

News (Websites)
- CNN.com
- The Guardian
- Quartz
- The Intercept
- NYTimes.com

Public Service & Activism (Social)
- Hurts Me Too
- I Am A Witness
- Kids Read Mean Tweets
- #nofilter campaign
- MTV's Look Different campaign

Sports (Social)
- Wall of Jordan
- NHL #MyPlayoffsMoment
- #SendBadLuck
- Wimbledon 2015: Sharing the Moments that Matter
- Gamedayplus

Virtual Reality: Gaming, Interactive or Real-Time (Online Film & Video)
- Cardboard Crash VR for Google Cardboard
- Insidious Chapter 3: Into the Further
- House on Hallow Hill
- William Hill: Get in the Race
- The Neymar Jr. Effect

Weird (Websites)
- Adventure Cats
- Emoji Party
- Run Wars
- 2 Kinds of People
- National Corndog Day
Inspired by this post? Check out our television audition listings, which include Web series!