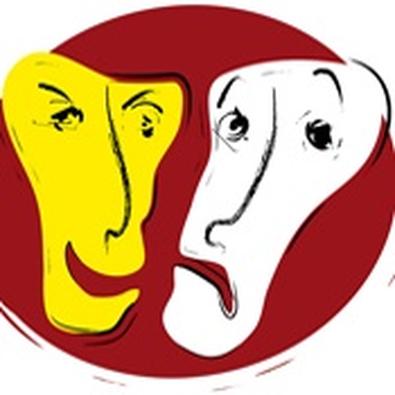 Annie Quinn
Em-Braceable Me
When I was 13, I had braces. They were heavy and awkward and permanently stuck to my teeth. I remember how I tried to conceal them by not smiling, and I begged and pleaded with the orthodontist to take them off. Who can start acting with a mouth full of metal? I wanted them off. And I got my wish. They were taken off six months early, and I was ready to perform — only problem is now I think I might be facing braces karma.
I left last month's Take Five a cliffhanger: My episode of My Name Is Earl was preempted and my birthday was a bust. This month my episode aired. Yes, the episode where I play a cheerleader with headgear. Everyone who watched was extremely thrilled that I was in the entire episode. The irony was that after bracing myself the first time for my episode to premiere, I didn't even get to watch my episode the night it aired.
Rehearsals for a play called Massively Horrific Long-Island Geeks With Tremendous Ego-Problems kept me from my night of overanalyzing my performance on Earl and replaying it on TiVo 62 times. It's nice to lose yourself in new work so that you don't have time to obsess over your previous work. It's also nice to be immersed in a play for the first time this year and keep growing as a comedic actress. But I must say it's a little bit odd to reattach headgear for your new work when you just filmed in headgear for your last role. Yes, you heard that right. My braces karma has come back to haunt me. Soon I may be officially known in Hollywood as the headgear actress.
When I read the script for the play, I noticed that the lead I was reading for wears headgear in the first scene. During the audition, I didn't mention my already-equipped headgear ensemble from Earl, but once I was cast and pulled out the goods, smiling, "I come complete with headgear," the writer and director flipped. The play has been extremely fun to work on, as well as physically demanding. In the opening scene, we are a bunch of kids on roller skates, trying to break out of our geekdom and, through various wild transitions, attempting in some way to also grow up. I guess part of also growing up as an actor is realizing that it's the imperfections and the awkwardness of characters that make all of us, or least some of us, remember when we were in such a rush to be something else. I'm forever grateful for my braces karma, and while I will someday grow out of my headgear roles, for now I hope you'll be nostalgic about your own geeky moments.
And if you can, come see my headgear live at the Malibu Stage Company. www.geekstheplay.com.
Jamie Silberhartz
Working the Workshops
Fall is my favorite time of year. Although it has been unbelievably hot in California and only a few of the leaves change color, I still think of these months as a new beginning. October was exciting. I booked a job, had some callbacks, and worked on a Web series. A month ago I took a casting director workshop with Mike Nicolo from CFB casting. I felt good about the workshop and even better when I was called into the office for Joss Whedon's new show, Dollhouse. A week later I found out I booked a co-star on the show.
Following through with my goal of doing casting-director workshops has paid off. I took a workshop with Scott David of April Webster Casting. I booked a job through that office two years ago but have not been in since. Three weeks after the workshop, I was called in two days in a row. The first was for TNT's new show Leverage, and then straight to producers for Criminal Minds. I was bummed out about not getting Criminal Minds. I really loved the audition scene, but, hopefully, they will call me in again.
A year ago I did a part on a Web series called Lone Wolf, playing the love interest of one of the lead characters. It is a beyond-silly, funny story: "Hollywood stuntman Derek Lightning, who was in search of the perfect Hollywood stunt when he lost his memory while being tracked by investigative reporter Tab Wilson for a series of crimes he didn't commit, now searches the Greater Los Angeles area for his own identity." A few months after we did the second episode, the series was offered an online distribution deal. Each episode takes place in a different part of the city. The creators and actors are comedians, making for such a joyous work environment.
I am a major fan of Steve Martin. I love watching him but get even greater pleasure reading his plays. When I was 15 my parents took me to see Picasso at the Lapin Agile; it's clever, historical, and quite moving. In my acting class, my partner and I are doing a scene from Martin's play The Underpants. He writes such interesting female characters. It's fabulous to sink your teeth into something you believe in.
As the new year approaches, I can only hope that the days that follow are as productive as the last two months have been. Of course, in this crazy acting business the future is unknown. But a girl can dream.
Seth Caskey
Pick Me, Choose Me, Love Me
I'm a fan of Grey's Anatomy. I think the show is smart, well-written, and full of talented actors. However, the character of Meredith Grey gets on my nerves. One of this character's most memorable quotes is "Pick me, choose me, love me." This could easily be considered a driving force of her subconscious. Uck! It reeks of desperation. It's whiny, self-centered, and allows her to keep choosing to be the victim.
I had a general this month with the office that casts one of the episodics on which I would most like to work. The piece I prepared was spot-on for my primary type, consistent with the tone of the show, and accurately showcased my emotional range and availability. Before the meeting, I did my work. I put in the time to memorize the scene, personalize the moments, and make clear, specific choices.
About an hour before I go in, I start freaking out. My mind starts swimming with all these thoughts: Oh God, I hope he likes me. Did I pick the right scene? Am I really ready to be in front of this guy? You only get one opportunity to make a first impression; what if I blow it? He's never going to call me in. I'm a terrible actor. Why am I even doing this? Who am I kidding? It was endless mind chatter that sends my blood pressure through the roof.
My wife, Erica, is in the kitchen, and all of sudden I hear, "All right, Meredith, knock it off." In that moment I had instant clarity as to what I was doing. I thought I needed something from this guy, that somehow his approval or acceptance of me as an actor would validate the fact that I was in front of him. I was going in with a Meredith Grey mindset. Was I seriously willing to give all my power away and let myself be defined as an artist by the opinion of some casting director? Seriously?
So I go in and actually do what my acting coach has been telling me for years: to put all the work away and just be in the moment. So I was. And this overwhelming sense of peace came over me because I didn't want or need anything from him in that moment. I did the scene, we said our goodbyes, and I left. The feedback I got was great. He loved my work, I had made a positive impression, and he will definitely keep me in mind for anything he is looking to cast.
When we don't give our power away and look to other people to give us value as artists and individuals, we allow our true selves to shine through. And when we stand in the truthfulness of who we are, it's powerfully attractive to others. Hey, Meredith, maybe you should give that a try.
Deon Lucas
Ties and 'Tails'
In October I was finally able to put together a reel with the help of a few friends. I used a few scenes from some films I did and used a friend's Mac and editing software. However, some of my work is not yet available, because it's either still in postproduction or it's next to impossible to get a copy. I'm now searching for a creative digital artist to assist me with the disc imagery.
I also shot my first episode of Trend Setter, an online show about discount fashion and style. I met the creator of the show, D. Gulley, last month at the screening of Miracle at St. Anna, and she asked me to be on the show. I appeared as the guest celebrity stylist and offered tips and advice on how men can upgrade their image and wardrobe without breaking the bank. We used Melrose as the backdrop and had a lot of fun doing the show. My episode, along with others, can be viewed at www.discounttrendsetter.com or on YouTube.
I was fortunate to meet director Anthony Hemingway, who is good friends with a close friend of mine. While at a dinner party, I casually conversed with him, allowing him the opportunity to get to know me as a person. It just so happens that he is directing the upcoming George Lucas war epic, Red Tails, about the Tuskegee airmen. A few calls were made (it's a long story), and I was able to audition for one of the leads in the film. Shortly after, I'm hanging out with the director and mutual friends at Hooters for a birthday party.
While at another dinner party, I met a couple of producers who are also from Chicago. That was an instant connection because Chicagoans have somewhat of a camaraderie in L.A. Turns out, there is a Chicago happy hour on the 15th of every month. It afforded the rare chance to chill and vibe with industry people from my hometown.
We all know the economy is shot, but I had no idea how it would affect the industry. My agent tells me fewer commercials are being shot because it's cheaper to play reruns. My agency has sent me out on only five auditions since I signed with them in June, and two were my own leads. As actors, we still have to be in control of our careers. After submitting in response to a breakdown, I got an audition for a feature film titled Speed Dating. The read went well, but it was difficult to gauge whether the casting director was impressed. Either way, I kept it moving. I also responded to a notice in Back Stage for a theatre workshop. I landed a spot in the workshop, which ran earlier this month at the Actor's Playpen. It was a great opportunity to get on stage, create, perform, collaborate, and maybe even "get discovered."
Achieving and maintaining success as an actor in Hollywood can be very conflicting, especially for those who are spiritual and morally intact. Sure, we face industry perils every day, just as there are the fruits of the business that bring accolades, wealth, and happiness. As long as you know who you are, completely, then you can never lose sight of your destination within the maze of show business.
Richard Lewis Warren
'Father' Knew Best
Another month has passed, and with it the final performance of my latest role as the lead in Conversations With My Father. I understand now why being the best actor I can be has become an obsession. There wasn't anything I wouldn't do during all the rehearsals and performances to search out new and different ways to be and express my character — whatever the personal cost to me physically, emotionally, and mentally and, sometimes, even to the rest of the cast, on and off the stage. But the ultimate goal of becoming the kind of actor I could be proud of — and maybe one day my peers will look to with respect and admiration — made it all worth it.
The beauty of the stage for me, at least so far, is that with every rehearsal and performance I could experiment and examine every lesson I'd learned and was learning, in and out of the theatre. And other than with my private coach, I almost never talked with anyone about the things I wanted to do differently that night. And the rest of the cast was unbelievably supportive (and forgiving), making it all possible to do.
For the two hours and 40 minutes it ran, I was on stage all but maybe 20 minutes of it, so I worked on everything I could think of: fourth wall, substitution, emotional memory, repetition, etc. Before and after the performances, I'd either remove myself from or interact with the cast to see if that affected my performance and how, and theirs too — if I walked left instead of right, said my lines as I moved or stood still, faster or slower, facing them, turned away, looking up/down, with/without a prop, how I used the prop and which one. I taped pictures around the set only where only I could see them, or in the wings where only I knew they were, to see if they influenced a moment, a word, a reaction. It was a never-ending stream of options, and it made going to work the most exciting, most fun thing I've ever done. To do the play, I gave up my day job for six weeks and went through all my savings. It was a risk, but who better to make an all-in bet on than myself? And two days before the play ended, I got an agent: Angela Hutchinson from RPM Talent Agency.
It really feels like a drug, and right now I'm going through horrible withdrawals as I find myself back on the hamster wheel of audition upon audition until I land the next role and get, for a short time, the chance to run free again. I can't imagine ever doing anything else with my life, and I understand now why every actor I admire has started on the stage and gone back to it time and time again. For me, as an actor, it is the elixir of life — and it's only just beginning. What an amazing and wonderful journey this is to be on. I have my family and my acting. I want for nothing. I am truly one of the lucky ones.