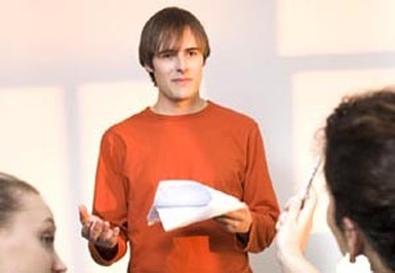 To border or not to border... that is the question.
Recently a reader sent me a question about the latest headshot trends. He had been hearing many conflicting opinions (shocking in our industry) about whether a headshot should have a border or be full bleed (i.e. no border). Every five or so years the "in" headshot format alters. Who the hell determines this? I have no f-ing clue. The start and persistence of some trends is as mysterious as Donald Trump's reddish-blonde mop.
As to who cares about the headshot trends? Actors and photographers. Who doesn't care as much? The people who don't hire photographers but hire the actors. The casting decision makers want your talent. Your headshot is an introduction and/or reminder to us of who you are.
So the question... to border or not to border? It doesn't much matter but the current trend is full bleed. What
does
matter is that the headshot looks like you each and every time you step in front of an auditor for the life of that headshot. Not a glamour shot. An honest picture of your puss without gimmicks, an overtly distracting background, poor lighting or worse too much make-up.
More headshot quandaries:
– Matte finish or Sears Picture Studio glossy? Matte finish.
– Horizontal or vertical? Just like sexual positions it doesn't really matter much as long as both are done well.
– Color or black and white? If you're still using black and white headshots we know that your headshot is at least 5 years old. Color headshots began in L.A. around 2001 and spread to New York like a virus. Color is the new black and white.
In my book, I have a full chapter on headshots including good, quality headshot examples (like the ones below):
and Freak File mishaps (similar to the following... Note: Don't let this happen to you):
So what have we learned this week? The current headshot trend to border or not is; it doesn't matter much to us, the call is your choice. Color is key. Matte finish is in. Plus your headshot and sex in any position is ok as long as both are done well.
Paul Russell's career as a casting director, director, acting teacher and former actor has spanned nearly thirty years. He has worked on projects for major film studios, television networks, and Broadway. He is the author of
ACTING: Make It Your Business – How to Avoid Mistakes and Achieve Success as a Working Actor
.
For more information, please visit www.PaulRussell.net.