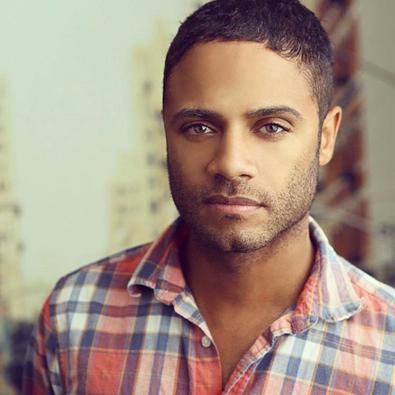 So you finally saved up and selected the right photographer to take your headshots. You found the perfect outfits, you know your type and how you tend to get cast, and you feel completely comfortable with the person taking your pictures....
But why does your makeup and hair look like you fell into a cosmetics counter and stuck your finger into a light socket while trying to get back up? Oh…you decided to do your own hair and makeup for the session.
Clients always ask me if I think it's necessary to hire a hair and makeup artist for a photo session. For guys, I typically say no. I don't like the way makeup looks on men in headshots. If a guy has long hair or needs to tone down excessively red skin, I tend to break this rule. Otherwise, it's much easier to correct a blemish here or a dark circle there with Photoshop than to try and make a guy look like he is not wearing makeup. And I can always tell when a guy is wearing makeup.
If a female client is under the age of 15 or a skilled hair and makeup artist (who knows the photographer's lighting), she may be fine without hiring a professional hair and makeup artist, but everyone else should really hire a professional, and preferably someone who works with your photographer.
You may be amazing at making yourself look like a super model on a day-to-day basis. However, day-to-day makeup doesn't always transfer well to the still image. Some makeup will give you a nice shimmer to the naked eye, but will make your skin appear oily in a photograph. Some makeup shifts color in pictures and suddenly your beautiful, natural day-to-day makeup looks like you are about to run out of your photo session and join the circus.
Most headshot makeup artists also do hair. You really do want someone there to monitor your fly-aways and strays while the photographer is working on directing the best performance out of you.
Here are some suggestions to think about when hiring a makeup artist:
1. Ask to see the makeup artist's website. Are there people that look like you on there? Your complexion? Your face shape? Your age?
2. Look for a makeup artist who can do clean natural makeup well. Headshot makeup is not fashion and glamour makeup. Even if you are doing a "hot girl" look, you should look like a real person. You are looking for a makeup artist that has range.
3. The photos on your makeup artist's website shouldn't look overly retouched. This is a red flag that the retoucher had to correct a poor makeup job.
4. Bring in a photo of yourself, showing how you typically do your makeup. The makeup artist and photographer need to see how you normally like to do your makeup. We can give you some suggestions and tips, but at the end of the day we want your headshot to look like the best, most authentic version of yourself once you leave the photo studio.
5. Show up to the shoot with a clean face and clean hair. Sometimes your products might not go well with the makeup artist's products, tools, or technique.
6. Don't overdo your makeup. For example, just because you have beautiful light eyes, doesn't mean you should cake on the black eyeliner to make them stand out. There are ways to showcase your eyes without making you look like a raccoon.
7. Most importantly: Speak up at your shoot! This is your photo shoot and you are spending a lot of money to get these very important images. If you don't like the makeup, let the photographer know immediately. Do not be afraid to tell your photographer if your makeup isn't representing you well. Don't wait until after the shoot. Collaborate with your makeup artist and photographer. It is much easier to correct a problem during a photo shoot than it is to reschedule a session because you weren't honest. Trust me, you're not hurting anyone's feelings. However, poor communication does lead to unhappiness, resentment, and wasted time.
The entertainment business is a high-stakes business. As an actor, you are competing with performers who are hungry to get into that audition room. They make certain that every element of their marketing packages are strong. They understand that succeeding in this business is about professionalism. If you don't look like you know what you're doing in your headshot, casting will see it as a direct reflection of what you bring to set.