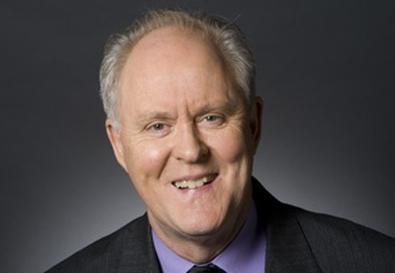 A star football player who undergoes a sex change operation. A clueless extraterrestrial masquerading as a college professor. A seemingly loving family man who happens to be a serial killer. A crazed Italian physicist inhabited by a lizard-like alien. One could never accuse John Lithgow of playing the same role time and time again. For four decades, the actor has been mastering all mediums: stage, screen, television, even writing children's books and recording albums. Along the way, he landed two Tony awards, five Emmys, two Oscar nominations, and scores of rabid fans. Some know the actor for his zany, over-the-top antics in cult films like "The Adventures of Buckaroos Banzai Across the 8th Dimension" or his six years on "3rd Rock From the Sun." Others are fans of his dramatic work, such as the music-hating preacher in "Footloose" or his recent, Emmy- and Golden Globe–winning turn as the Trinity Killer on "Dexter." Suffice to say, there's a Lithgow performance for everyone. Or, as Lithgow puts it, "I get around."
Lately, he has been getting around with his one-man show "
Stories by Heart
," which has enjoyed successful runs at Lincoln Center in New York and the National Theatre in London and is currently playing at the Mark Taper Forum in Los Angeles through Feb. 13. Part memoir, part performance piece, the show has Lithgow embodying several characters—including his own grandmother. He intersperses his own story with the telling of two others that affected him growing up: "Uncle Fred Flits By," by P.G. Wodehouse, and "Haircut," by Ring Lardner. The Lincoln Center production prompted Back Stage critic Erik Haagensen to write, "No doubt about it: John Lithgow is a formidable raconteur."
Lithgow was born to the stage; his mother was a former actor and his father a theatrical producer who managed Shakespeare festivals throughout the Midwest. He had appeared onstage several times before "having any conscious memory" of it, in professional productions of "A Doll's House" and "The Emperor's New Clothes." His first proper role was as one of the four fairies in "A Midsummer Night's Dream," and Lithgow would go on to perform in approximately 20 Shakespeare plays for his father's festivals before graduating from high school. Still, he had never considered performing as a career, until he got to college. There, at Harvard University, Lithgow says he came to realize "acting was going to be my destiny."
Back Stage:
Growing up in a theatrical family, was it a forgone conclusion you'd be in arts?
John Lithgow:
In the arts, yes, but the theater, no. I actually didn't want to go into the theater; I wanted to resist it. It was the family business. I grew up doing a huge amount of acting in my dad's companies; but through my whole childhood, I wanted to be an artist—a painter and a printmaker. But I got to college and fell into the theater gang, and that was that. I was already an experienced actor in spite of myself, so I went with the flow.
Back Stage:
Was there a particular moment where you had the epiphany this was what you wanted to do?
Lithgow:
I think the first real sensation I created on stage was so ecstatic, it's pretty much when I decided. It was in a Gilbert and Sullivan operetta called "Utopia Limited," one of the very obscure ones. But I absolutely stopped the show and did two encores. We'd planned the two encores because the number always stopped the show, but they kept on applauding and cheering. And I thought, "Well, that's that." During that applause, I decided to be an actor. For better or for worse.
Back Stage:
How did your parents feel when you told them you wanted to pursue acting?
Lithgow
: Ambivalent. Your heart kind of sinks when your child tells you he wants to be an actor. It's just such a hard profession. I've had a wonderful time. I've been a very successful actor but only after a lot of hardship. And no matter how successful you are, you're still terribly vulnerable to disappointment and rejection and failure and self-doubt. It's just the nature of acting.
Back Stage:
Your son, Ian Lithgow, is also an actor. How did you react when he told you?

Lithgow:
Same way. In fact, I always discourage young people from being actors. But I also tell them, "If you are really burning to be an actor, you're going to ignore what I say anyhow. But brace yourself, because it's a murderously hard profession."
Back Stage:
Did you have a backup plan of any kind when you were starting out as an actor?
Lithgow:
It's an odd thing: My backup job, before I got going as an actor at all, I was quite a successful director. I was even asked to be the associate artistic director of Baltimore Center Stage. I was on a trajectory to be a working director. It was a great disappointment to me that I had not gotten going as an actor, outside my father's companies. I came back from London and worked for my dad for a year and then decided I really had to do this by myself. So I went to New York, and for two years I got nowhere. That's not a long time, but it seemed like a long time. That was my taxicab driving and auditioning for commercials period. I just got nowhere. So I had just accepted the artistic director job when I finally got a great job offer, which was a season at Long Wharf Theatre. And the second job I did was a new play from England called "The Changing Room," which came to Broadway intact, exactly as we'd produced it. Two and a half weeks after it opened, I won a Tony for it. So that was that.
Back Stage:
Did driving a taxi teach you anything you could use as an actor? I imagine you met some characters.
Lithgow:
Well, I didn't last long; I was too tall. You'll notice there are no tall taxi drivers; they don't fit in the car well. I was crippling myself. But I learned a lot of things. Mainly, I learned the terrible indignity of being a taxi driver. [Laughs.] I never worked in a restaurant. I had the most awful desk job at BAM. Now it's a great avant-garde mecca, but I worked there the first or second year under Harvey Lichtenstein, and my job was group sales for their dance programs. And I absolutely hated it and was terrible at it. And not only that, it was right across the hall from a very hot Brooklyn theater named the Chelsea Arts Center. They were doing all these great plays, including British plays—including a play called "Saved," and I had seen the original production in London two years before. My office where I was working was right across the hall from where they were auditioning actors for "Saved," and I could not get in for an audition. I tried to crash. It was so awful. And I think it's important for actors to experience those indignities, because there's worse to come.

Back Stage
: Did you have an agent who was helping you?
Lithgow:
Not really. I had various agents who basically took me on; it was no skin off their nose to take on another neophyte actor. But I heard very little from them. I finally got going and got an agent with William Morris, and my agent there, Rick Nicita, remained my agent for the next 35 years. He only just recently left CAA to become a movie producer.
Back Stage
: So did you land "The Changing Room" on your own?
Lithgow:
Yes, I did. The way I got "The Changing Room" was I phoned Long Wharf and said, "I'm coming up for a general audition, and I would like to see a show and meet your director, Arvin Brown." And I went up to New Haven and did exactly that, and heard nothing from them for about four months. Then, suddenly, I got the call from out of the blue, and that was "The Changing Room," along with three or four other productions in one season. I took the initiative because I wanted to be in their Rolodex, basically. This is another thing I always tell young actors: Just go to wherever there are jobs and tell them you're interested in auditioning for them. I made a lot of those trips and visited a lot of theaters, and Long Wharf was the only one that hired me. But that was my gigantic break. After that season, I've never been out of work—except when I've wanted to.
Back Stage:
Was the plan to just be a theater actor, or did you always intend on transitioning into film and television?
Lithgow:
I never dreamed of doing film and TV; I only intended to be a theater actor. But I think that's the best way to proceed; I think theater is the taproot of everything. It also teaches you your skills and your weaknesses and it teaches you how to handle an audience from the stage and it teaches you humility. It's by far the best way to begin an acting career. There's really no comparison.
Back Stage
: So who's responsible for you getting into movies? I know Brian De Palma directed you in "Obsession," which was one of your first big screen roles.
Lithgow:
My first screen role was a movie called "Dealing," and, actually, Brian was involved. I had known him briefly when I was in college; he was in Columbia and we met each other. He saw me act and he recommended me to another filmmaker, and that was "Dealing." Brian got me that just by recommending me. And my second film, "Obsession," was directed by Brian; that was the first of three. He's wonderful. He just loves actors. He's responsible for so many great actors starting out; DeNiro was one of his first, and so many others.
Back Stage:
What was your first time in front of a camera like? Did you have to learn to bring down the performance?
Lithgow
: Pretty much. I was so bewildered, and nobody really tells you what to do on a film set; you've got to figure it out yourself. I remember doing a simple makeup test and going to see it, and I was so completely freaked out by the sight of myself. I felt like an aborigine seeing a photograph of himself for the first time or something. It was so freaky to see my own face and my features moving that way. And you never completely get over that.
Back Stage
: Your film career took a while to really take off; were you actively pursuing it, or happy doing theater?
Lithgow:
I was ready to do film and TV work, but nobody was asking. Actually, I got an interesting offer: I was asked to be in "The Candidate" with Robert Redford. But by that time, I had committed to my season at Long Wharf. So I was getting close. Marion Dougherty was aware of me, who was a great doyenne of film casting. Her then-assistant was Juliet Taylor, and I auditioned for quite a few things. And Doherty was the person who eventually brought me in to George Roy Hill for "The World According to Garp." But I somehow never thought I would be big in movies. I'm still not—I'm still basically a character man. My very best work and the best roles I think I've ever done have been in plays.
Back Stage:
Can you talk about landing the role in "Garp"? Was it an audition process?
Lithgow:
Yes, a very interesting one. As I said, Marion brought me in for it. I was the very first person she wanted George to see, and he rejected the idea out of hand because I was so tall. He thought it wouldn't work, me and Robin [Williams], side by side, it would be too bizarre. Literally eight months later, I was called back in to do a screen test. He had seen maybe a hundred people in that meantime, including transvestites and real athletes and real transsexuals and every actor in town. He'd hired Kevin Kline and then did a makeup test and said, "This isn't going to work" because he looked just like a pirate. So they came back to me, and I had a screen test day with Richard Jordan, Jeff Daniels, and Victor Garber. The four of us were final contenders, and I nailed it. He literally decided on the spot that I was it. Marian called me that afternoon.

Back Stage:
Were you intimidated to play a transsexual?

Lithgow:
No, I was crazy to play the part. I'd read the novel a couple years before, and I loved the character. But I hadn't imagined it would ever be a film and I'd certainly not fixed my cap on it. I remember my agent's assistant calling me and telling me they wanted to see me for "The World According to Garp," and I thought, "Oh great, but for what part?" And he said, "I don't know, there's a typo. It says the character is named Roberta." I thought, "That's it! I am perfect for this!" And I still think there's nobody who could have done it better, this odd combination of a burly man with a fey affect. It just worked out just right.
Back Stage:
I imagine you haven't had to audition in years?
Lithgow:
When did I last audition? It's funny, it's been a long time, but I was asked in 2007 to be Malvolio in "Twelfth Night" with the Royal Shakespeare Company, and I was thrilled by the idea and met with the director, Neil Bartlett, in New York. And he didn't know my work at all. So we met in a hotel bar, which my agency picked. Neither one of us would have picked it; we each thought the other had. And we chatted for a while, and I said to him, "Look, Neil, clearly we're here to audition each other. You don't know my work and I don't know yours. Why don't we ask them if we can use a conference room or something, and I'll do some scenes, and you can direct the hell out of me." And he was so relieved that I'd asked him that. The funny thing is, I was there with this extremely camp, British director, and I called someone over and said, "Would it be possible for us to get a room?" [Laughs.] When Neil tells the story, he says everybody in the room did a huge double take. But we went to a conference room, and somehow I knew practically the whole role of Malvolio, and we just had a wonderful time. It was a done deal, I was hired, and I had an incredible time working with the RSC.
Back Stage:
I find it hard to believe there are directors out there who don't know your work.
Lithgow:
I remember auditioning for "M. Butterfly" very much the same way. A great British director, John Dexter, just didn't know my work at all, and I was glad to audition, because in a way it was like feeling the role out myself. I did the same thing when I auditioned for "Dirty Rotten Scoundrels"—again, I told them, "Why don't I come down and sing songs and make sure we all feel good about this?" Because I'd already been given the offer. It's the same reason I like to do play readings, to just feel the role and how it works for you. The thing is, when you're starting out, you're terrified of auditions. Everything is at stake. But by the time you no longer need to audition, in a sense you're auditioning the situation yourself. You have other choices, so why not plumb the depths of it?

Back Stage
: Do you remember any of your really bad auditions?
Lithgow:
Well, if you don't get the role, the audition is by definition bad. But I always try to enjoy them. I always tried to think of it as, "Well, they're giving me a chance to act."
And having directed early on, I'd seen hundreds of actors audition. And I remember realizing this great truth: The actors that you want desperately are the ones who don't appear to need it. It's not that they don't want it; they don't seem to need it. Those are the ones you're just dying to have. So I realized you have to cultivate that affect; I'm coming in to audition you. Do I really want to work with you?
Back Stage:
Earlier this year, you were the subject of a retrospective at the L.A. Film Festival called "Over the Top: An Evening With John Lithgow." Some actors would chafe at that title. How do you feel when someone calls a performance of yours over the top?
Lithgow: Well, I do think of myself as primarily a theater actor, and I'm often hired for bringing theatrics to the roles I play. But my theory is, no matter how big I am, life is bigger. Every time I see somebody behaving truly insanely in real life, I think, "Yes! I'm not over the top after all!"
Back Stage:
But, as an actor, you have to justify the behavior, correct?
Lithgow: It's like what Shakespeare says: "Suit the action to the word, the word to the action." I work very hard on motivating everything I do as an actor. Explosive moments have to be completely motivated; whether they're explosive comedy or explosive horror, they have to come organically out of a scene and an interaction with another actor. I really don't like to showboat, but I feel it's my job to grab people's attention and pin them back in their seats.
Back Stage:
You spent six seasons on TV going gloriously over the top with "3rd Rock From the Sun." But had you been looking to do television? You'd never done a series before, had you?

Lithgow
: I'd never even guested on an episode. I think I did a voice on "Frasier." But I loved Bonnie and Terry Turner, who created the show, and they created it with me in mind. If I hadn't done it, they wouldn't have done it. They tailored the role for me, and I thought the premise was hilarious. I just said, "Uh-oh, I'm in trouble. The last rule I had was never do a TV series and now I'm going to break it." I just loved it. It was the coolest choice I ever made.
Back Stage:
Why had you been against doing a series?
Lithgow:
Because it makes you so famous in one persona. People do remember you more vividly from a TV series than anything else, for several years afterwards. And I was worried about that; I didn't want to be identified as one thing. And there wasn't a lot of TV that I really wanted to be a part of. They asked me to play Frasier Crane on "Cheers," and I turned that down. Kelsey is a lot better than I would have been anyway in that role. Kelsey Grammer is the only Frasier Crane. But I'm the only Dick Solomon.

Back Stage:
Did you find you encountered typecasting after "3rd Rock"?
Lithgow
: Not really, but I made the mostly conscious choice of coming back to New York and doing mostly theater for quite a few years after "3rd Rock." I thought it was best to lie low. The first time I was really noticeable again was with "Dexter." I had a little part in "Kinsey," but "Dexter" was kind of my comeback. Which is sort of how I planned it. I wanted to stay active and just be a theater actor again.
Back Stage:
Is it true that when the "Dexter" offer first came your way, you turned it down?
Lithgow:
I was told about the offer on a Wednesday night, and on Thursday morning, about 12 hours later, I met with the executive producer, Clyde Phillips. He told me every single detail of the plot and described the duality of the character, and I told him, "You have come to exactly the right actor; I know just how to play this." On the other hand, I had just come off working very hard in New York all year doing my one-man show and in "All My Sons" and had planned a long summer break with my wife; we were going to Europe. And I actually turned the role down on Friday, believe it or not. By Sunday, my wife said, "John, you've got to play this part." So I called and said, "Listen, have you given it to anybody else yet?" And fortunately, they hadn't. And God knows, I'm glad they hadn't. It was even richer than I thought it would be.
Back Stage:
You've played your share of villains. Did you ever worry about being typecast?
Lithgow: I didn't get worried about it; in fact, I almost got the role of Hannibal Lecter. At first, Anthony Hopkins was not available for it, and if he couldn't get out of his other commitment, it would have gone to me. And I was crazy to play it. But I did do two or three bad guys right in a row—"Ricochet," "Raising Cain," and "Cliffhanger"—and it was one of the reasons I was enthusiastic about doing "3rd Rock": I loved the idea of changing gears. But I don't stay awake at night worrying about being typecast. If I'm not getting roles in TV and film, I can always go back to New York and do theater.
Outtakes
--Played Lucas Sergeant, a character rumored to be based on director-choreographer Michael Bennett, in Bob Fosse's 1979 film "All That Jazz." Says Lithgow, "It's a fantastic movie. There's actually no film that creates the ambiance of backstage the way that does."
--Won Tony and Drama Desk awards for his roles in "The Changing Room" and "Sweet Smell of Success." Also earned a Drama Desk Award for "Requiem for a Heavyweight," for which he received a Tony nomination. Other Tony nominations include "M. Butterfly" and "Dirty Rotten Scoundrels."
--Will next be seen on the big screen as James Franco's father in "Rise of the Apes," a prequel to "Planet of the Apes"
--His memoir, "Drama: An Actor's Education," will be published by HarperCollins in October.