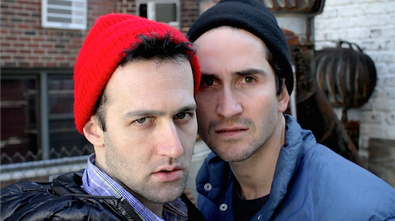 Ben and David are extremely, extremely successful actors who also give free acting advice. If you listen to them you will most likely become famous. If you don't, things probably won't pan out for you.
As acting experts, we probably seem like we always have the answers— because most of the time we do. But even we've had our weak moments. It's hard for us to admit, but there was a time when we came close to quitting the business. We had just opened our newest self-produced/written/directed social action theater piece called, "Lunch Money, or Punch Money?: America's Bullying Epidemic and the Tainting of U.S. Currency," when we received one of the worst reviews of our lives.
A local critic started his blog post by saying, "Are these guys serious? This has to be a joke. I literally can't tell if these guys are joking or not. They are terrible in a way that I have never seen." As you can imagine, this was quite a blow. It was at that moment when we almost threw in the towel. But instead of letting this defeat us, we used it as motivation. We took those feelings and created another show called "Getting Bad Reviews: The Ben and David Story."
Long story short, "Bad Reviews" was a smash hit, and critically lived up to its name. Now, we are constantly auditioning a couple times a year, and writing the most respected advice column on Backstage.com! (BTW: If you guys at Backstage are reading this, please respond to our emails about removing the "humor" tag that you've accidentally included on our posts. Thank you.)
So now that we have completely figured out how to overcome any obstacle, we wanted to share our wisdom with you. We've identified several essential qualities that are crucial for the actor's survival. Embodying these qualities is what we call having, "The Heart of the Actor."
Now, an easy way to remember these qualities is with the acronym A.C.T.O.R.!.
Attitude. Any obstacle can be overcome with a little 'tude. Always carry an attitude that says, "I'm 'bout to show you how it's done Mr. Telsey," or "Hey, Telsey, back the eff up," or maybe, "You do you Bernard, but I'm gonna do me!"
Chekhov. During tough times, any lack of success can be easily turned into Chekhovian research. You consistently suck at auditions and are miserable? You've just entered into the mind of an early 20th century peasant child. You feel like a has-been who's completely lost touch? You're one step closer to your future turn as Astrov. Everyone in your family wonders aloud if you should quit acting because literally every review calls you "shockingly robotic?" You're just researching what alienation feels like, so you can someday bring life to your street-dance-theater production of "The Seagull." Water into wine, people!
Tongue twisters. When you've lost your mojo and you need to regain that edge over the competition, you can always rely on your good friend Theophilus Thistle. Yes, tongue twisters improve your diction. But even more importantly, they are the quickest way to intimidate other actors at auditions and in rehearsals.
Outlandish (acting). Over-the-top choices are the way to always feel good, because no matter what, at least you know you're making waves. Your acting needs to be shocking. Sure, some people may get upset, give you bad reviews, or become physically ill, but at least you've made an impression. For example, you know how they say that at auditions you should remain fully dressed? Think again.
Really sexy. Just to clarify, this has nothing to do with the way you look, nor does it really have anything to do with overcoming obstacles.We've just noticed life's kinda awesome when you feel really, really sexy.
Exclamations! This is simply to remind you to always exclaim to others any of the successes you may have achieved by following our previous points. If a tree falls in the forest and nobody's around, does it get multiple "likes" and "shares" on Facebook? If you're not tweeting, posting, or blogging about a compliment, then it might as well have never happened.
So stay strong, people. It ain't easy. To quote ourselves, "Haters are likely always going to continue to hate." But you can't let them get you down. And when all else fails, don't quit. Just keep your head up, act loudly, and let everyone know that whether the weather be cold or whether the weather be hot, it doesn't really matter, because your sexy self is in it to win it whether they like it or not.
For more satirical advice and humor, visit benanddavid.com.
Inspired by this post? Check out our audition listings!