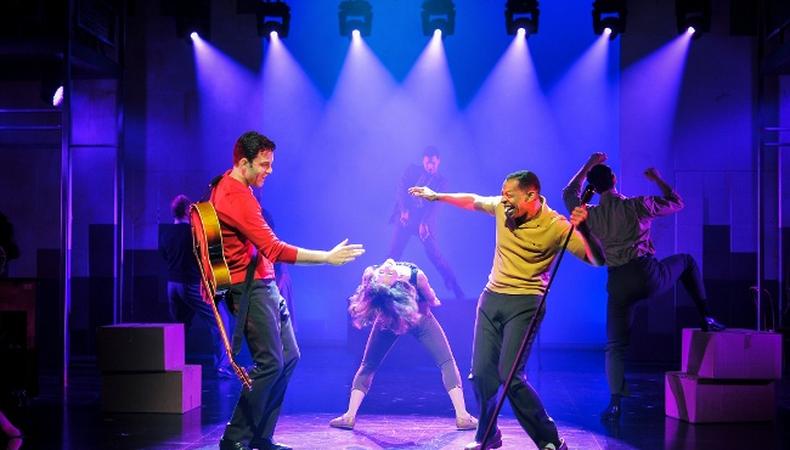 The Brill Building is taking over the musical stage! Already represented on Broadway by the Tony-winning "Beautiful" (Carole King) and "Jersey Boys" (the Four Seasons), the iconic songwriters' building has now given birth to Off-Broadway's "Piece of My Heart: The Bert Berns Story," playing through Sept. 14 at the Pershing Square Signature Center.
Starring Zak Resnick as the charming singer-songwriter and Leslie Kritzer as his adult daughter, the musical uses Berns' most loved songs ("Everybody Needs Somebody to Love," "I Want Candy," "Twist and Shout") to tell the story of both Berns' rise in the music industry and his grown daughter trying to reconcile who he was with the father she remembers.
"The catalog of Bert Berns is very well-known and beloved to our American rock 'n' roll songbook," says director-choreographer Denis Jones, who will soon be choreographing "Honeymoon in Vegas" on Broadway. "People have a personal connection, but he was entirely unknown to some people. We were both in a position to protect music that's beloved but also to give the gift of new music to a new audience." The show also includes 10 little-known songs from the artist who died at the age of 38 in 1967, at the height of his career.
While the show features popular period dances, such as the monkey and the mashed potato, Jones says that he made sure to use them as a "jumping-off point" instead of relying on re-creating them.
"I definitely like to take authentic dance moves of a certain dance period and begin the language there," he says. "What's interesting about 'Piece of My Heart' is it's the past told through somebody's memory; it allows me to abstract the movement a little bit because it's someone's specific view of what those moments were. There are songs like 'Show Me Your Monkey' that showcase popular dances of the day, but you look at footage of these dances and you see how they lived on people's bodies was different."
The show was a juggling act of sorts for the director-choreographer, who felt his two roles eventually melding. "The challenge of delivering the parallel stories of Bert and his daughter in both the past and the present is difficult," he admits. "But delivering the show from the musical as well as the play standpoint was supported by a company that was dedicated and virtuosic. I was blessed with these incredible actors who are also amazing musicians and singers."
Jones says he and his cast aimed to embrace the structure of the jukebox musical with Berns and his story as their guiding light. "Bert's songs have a clear voice to them and a clear point of view," he says. "We found it to be a great opportunity to apply them to the score of a theatrical musical."
Inspired by this post? Check out our theater audition listings!