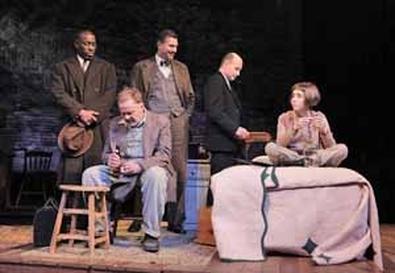 Adapting a classic novel short on plot, storied for the originality of its prose, and admired for its detailed observation of time, place, and character is a tall order. Unfortunately, though respectful and thoughtful, Rebecca Gilman's dramatization of Carson McCullers' breathtaking debut novel fails to set the heart of this "Hunter" fully beating.

Contemporary when published in 1940, "The Heart Is a Lonely Hunter" is set in a small Southern town in an America soon to change forever due to World War II. At its center is John Singer, a mannerly deaf-mute who works as a jewelry engraver and whose best friend, the somewhat simple Spiros Antonapolous, also a deaf-mute, is institutionalized by a relative as the story begins. Traumatized by the separation, Singer moves out of the house the two shared and into a boarding house, where the proprietor's 14-year-old misfit daughter, Mick, befriends him. Singer's new routine soon draws others into his orbit: Biff, a student of human nature who owns the town's bar and restaurant; Dr. Copeland, a black doctor and frustrated political activist; and Jake, a hard-drinking Communist labor organizer. All look to Singer to fill a need for companionship and understanding; none know of his own problems. McCullers observes their interactions and unsentimentally presents the limitations an unforgiving world will place on them.

To her credit, Gilman refuses to superimpose artificial narrative drive on material that forgoes it. But her short scenes stubbornly refuse to accrete, and she must excise characters and detail to such an extent that everything flattens out. Her controversial choice to have Henry Stram as Singer speak to the audience in a prologue and epilogue, however, turns out to be a good one. The novel makes clear that the character can speak but chooses not to. The prologue dramatizes this choice and the reason for it effectively, while the epilogue is made up of letters Singer has written to Antonapolous, making it direct communication of sentiments never shared with the speaking world.

Director Doug Hughes has a keen eye for the small things but keeps the emotions a bit too remote. Stram is an effective Singer, emphasizing the character's gentleness and repressed passion. Singer can read lips and so understands much of what others say, and the sympathetic Stram makes his reactions clear and present. Cristin Milioti deserves special mention as Mick. A ringer for McCullers, the 34-year-old actor is utterly convincing as an adolescent and compellingly projects Mick's boundless yearning as a would-be artist. Her understated final scene is haunting. James McDaniel emphasizes the unforgiving anger in Dr. Copeland, while Jimonn Cole is a sweetly lost Willie, Copeland's son. As the doctor's fervently religious daughter, Portia, who works in the boarding house where Singer lives, Roslyn Ruff is focused and fierce, though she has an unfortunate tendency to swallow the ends of her sentences. Biff's big heart shines through Randall Newsome's smooth work, and Andrew Weems makes the quixotic Jake addled and driven in equal measure.

Neil Patel's restrained set—all browns, brick, and wood—allows the short scenes to flow seamlessly through the smart use of preset palettes. It combines with Catherine Zuber's muted period costumes, Michael Chybowski's quiet lighting, and Jan Hartley's back-wall projections to successfully create a sense of poverty, but a pervading antiseptic quality prevents any strong evocation of atmosphere or community.

The Acting Company has a long tradition of commissioning stage adaptations of classics it then tours, introducing them to college students and others across the country. Here, however, the whiff of academia hovers, and audiences are unlikely to be seduced into doing the one thing they should: Read the book.


Presented by New York Theatre Workshop and the Acting Company at New York Theatre Workshop, 79 E. Fourth St., NYC. Dec. 3–20. Tue., 7 p.m.; Wed. and Fri., 8 p.m.; Sat., 3 and 8 p.m.; Sun., 2 p.m. (No performance Fri., Dec. 4; additional performance Thu., Dec. 17, 8 p.m.) (212) 239-6200, (800) 432-7250, or www.telecharge.com. Casting by Liz Woodman and Jack Doulin.