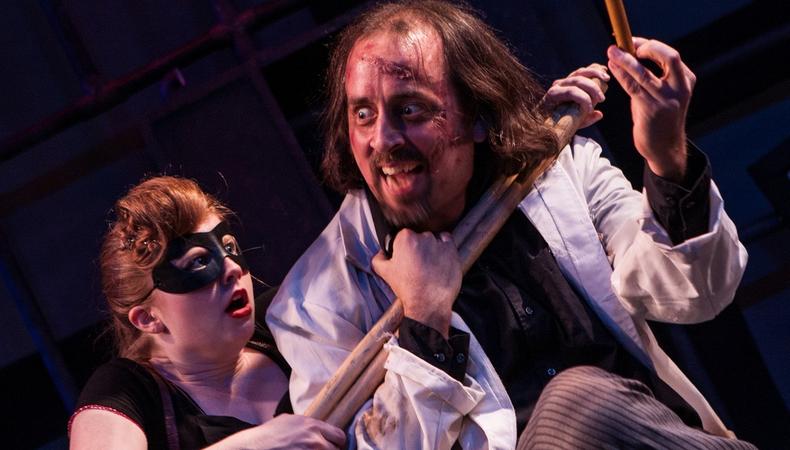 In the program for Flux Theatre Ensemble's production of "Hearts Like Fists," which describes Adam Szymkowicz's play as a "superhero noir comedy about the dangers of love," artistic director August Schulenburg offers a brief thoughtful note about how the difficulty of love pushes people to "settle" for having a purpose in life and how the characters in the play are "each trying to keep their balance between the pulls of purpose and passion." But should we really listen to the demented Doctor X, who goes around injecting sleeping lovers with a hypodermic needle full of poison? That's the character Schulenberg plays in this theatrical version of a comic book—excuse me, graphic novel—which pits the evil doctor against a quartet of lovely and graceful costumed female crime fighters.
One of the masked four, Lisa (Marnie Schulenburg), is late to the superhero biz, recruited by the others after she acts the Good Samaritan and wards off an attack by Doctor X. Injured in the confrontation, she is treated by another doctor, Peter (Chinaza Uche). Peter tells Lisa that she has a strong heart; he has a damaged one, which is why he is working on creating an artificial version, planning to be his own first patient. Peter and Lisa are drawn to one another, but he has been hurt in love. As she has done the hurting in love, they are both reluctant to go another round, and their ensuing courtship has its ups and downs.
Meanwhile, one of Peter's nurses (Susan Louise O'Connor) has a secret crush on him, to which he is oblivious. Nina (Becky Byers), one of the crime fighters, is irresistibly drawn to our villain. "Doctor X is just so exciting," she says, then adds dutifully, "And wrong. So exciting and wrong." Her attraction leads to trouble. Even Doctor X is in love; the failure of that relationship is what has driven him into his irrational jealousy of all happy couples.
Director Kelly O'Donnell gets appealingly game and silly performances from the 10-member cast. O'Connor and Byers in particular have the comic timing to land the laugh lines and the acting chops to keep their characters relatively credible. Marnie Schulenburg and Uche give the most solid and believable portrayals, helped by their characters being the least one-dimensional. But though the playwright has said that part of his intent is to make serious points about the psychology of love, "Hearts Like Fists" is at its most engaging when the characters are making war. The athletic choreography by fight director Adam Swiderski is playful and graceful, involving slow-motion comic-book action, balletic ninja movement, and impressive flips and kicks. This is a show with rhythm: Even the cell-phone announcement is delivered rap style by a DJ in sunglasses.
At an hour and 45 minutes without an intermission, "Hearts Like Fists" ultimately exceeded my tolerance for its fun and games. True love may last forever, but must it feel that way?
Presented by Flux Theatre Ensemble at the Secret Theatre, 42-02 23rd St., Brooklyn, N.Y. Dec. 1–15. (212) 352-3101, (866) 811-4111, www.theatermania.com, or www.fluxtheatre.org.
Critic's Score: B-