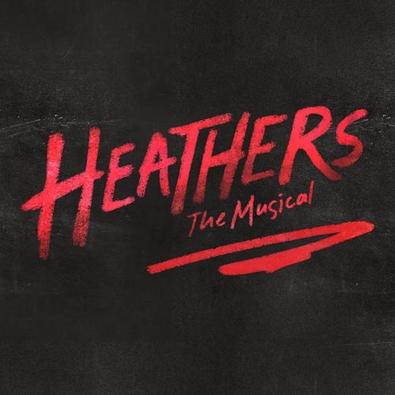 Our first peak at the Off-Broadway show "Heathers: The Musical" at the Snapple Theater Center on Feb. 19 left us wanting more. The show is based off the 1988 high school crime dramedy "Heathers," which starred Winona Ryder, Christian Slater, and others. Director Andy Fickman says he "fell in love" with "Heathers" the first time he saw it, and when he was approached to do a musical adaptation, he said, "That's crazy, let's do it!"
It might have seemed crazy at first, but seeing the show come alive in the Elaine Cancilla Orbach Studio is everything but that. It's fun, lively, and from what we've seen, sure to be an Off-Broadway hit.
But of course, there's a certain distinct pressure in recreating such a beloved movie. When the movie's writer, Dan Waters, came to a presentation of "Heathers: The Musical," Kevin Murphy, who wrote the book, music, and lyrics, says he, Fickman, and Laurence O'Keefe (book, music, and lyrics) were not watching the presentation, but watching Waters watch it. After it was over, having nervously stared at Waters scribble notes the entire time, the three approached him, and were thrilled by his response. The frantic notetaking, Murphy says, was so that Waters could write down everything he loved, and not forget a single detail.
"That was the best moment in my life, professionally," he says.
According to Fickman, they were all nervous for "Heathers" the movie cast members to see the show, but when Ryder came to check out a reading in L.A., she "could not have been more thrilled."
"'Heathers' the movie and 'Heathers: The Musical'—we're kind of simpatico," adds Fickman. "They not only support it, but have become our family."
The last person whose approval would be great to get—"Real Housewife of Orange County" star Heather Dubrow. O'Keefe says, "I was also terrorrized by a beautiful girl named Heather in high school," shortly after revealing it to be Dubrow. The room bursts into laughter as Fickman shouts, "Let it out, Larry!"
A few minutes later, after discussing how much the movie meant to the creative team, the cast explodes into the opening number, which, after only rehearsing for six days, is already impressive. In the midst of it, when the Heathers are announced, the music shifts to an angelic melody as the school's most popular clique walks out.
Starring Barrett Wilbert Weed (Veronica), Ryan McCartan (J.D.), and Jessica Keenan Wynn, Elle McLemore, and Alice Lee as the Heathers, the musical adaptation is certain to have us laughing, reminiscing on a great film, and wanting to head back to New World Stages to see it again.
"Heathers: The Musical" will begin previews on March 15, and the show will open on March 31, on the film's 25th anniversary.