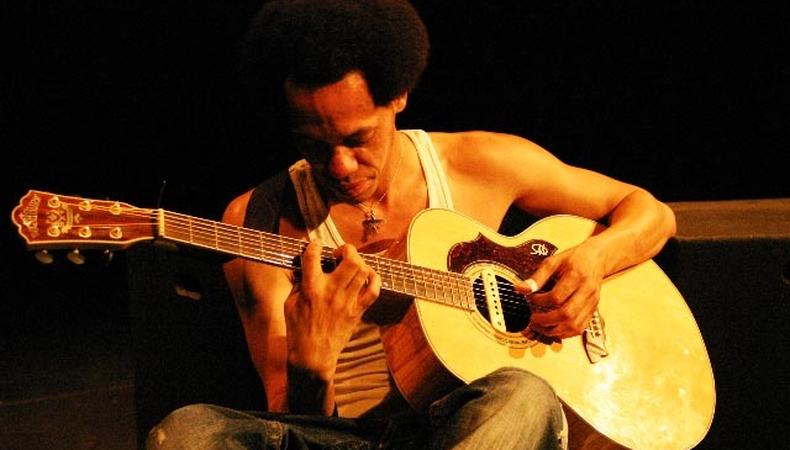 Actor-writer R. Ernie Silva has led a peripatetic and wildly varied life, as revealed in this semiautobiographic solo drama, with a script by Silva and novelist James Gabriel. Silva grew up in the Bushwick projects in Brooklyn, the youngest of 13 siblings. He began his career as a street kid and break dancer; graduated to standup comedian, guitarist (ranging from classical to jazz), and creator of one-man shows; and along the way seems to have bummed around a good deal, riding the rails, sleeping on other people's couches, and at one point arriving at USC.
Silva is a dynamic performer—lean, lithe, and athletic—and he calls upon all his skills in this outing. He sketches his characters with speed and accuracy, and displays a sassy manic wit in regaling us with his adventures—including a marijuana bust, rambles around the U.S., and membership in a gang of guys who lived by panhandling, sharing their resources, and elaborately staging robberies of various Tall Mart stores.
The piece is episodic and picaresque. If there is romance in his life, he doesn't mention it. The only women in his narrative are his fatalistic Puerto Rican mother and his guitar Savannah. In its brisk 70 minutes, the piece has no need for heavy plotting, but one does wish for a little more structure to provide thematic unity and tie the segments together. As it stands, it doesn't feel quite finished, and it has no solid ending.
Director Mary Joan Negro provides a shape that is tightly timed and amiably loose and laid-back in attitude, with movement direction–choreography by Chris Downey. Composer Patrick Kirst provides pleasantly unobtrusive original music, but Bosco Flanagan's lighting seems a bit over-busy, with lights constantly going on and off distractingly.
Presented by and at the Odyssey Theatre, 2055 S. Sepulveda Blvd.
June 26–Aug. 8. Thu.–Sat., 8 p.m. (310) 477-2055. www.odysseytheatre.com.