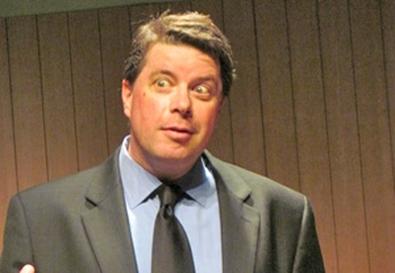 Dave Konig kicks his comedy old school. Really old. Like Old Testament.
In his 75-minute solo show "Hebrew School Dropout," Konig does a unique thing: He uses Borscht Belt humor and delivery to describe a lifelong spiritual journey, which took him from Judiasm to Catholicism and back. Think Buddy Hackett goes to the Vatican, and all he brought back was a lousy T-shirt.
The show follows two tracks: Describing his career as an actor, stand-up comedian, and later radio show host, paralleled with uncertainty about his Jewish faith. As he puts it, "I come from a long line of mediocre Jews," and later adding, "I never fit in with the Jews who were good at being Jewish." This issue was likely exacerbated when Konig married an Irish-Catholic woman. He movingly describes how entertaining rescue workers after 9/11 brought him the "closest to God I ever felt." A short time later, while raising his children under his wife's beliefs, he fell in love with the pageantry of Catholicism—"It's like Vegas!"—and converted.
After starting a radio show under the watchful eye of New York Cardinal Egan, the bloom quickly fell off the rosary as he became embroiled in the thorny world of Catholic politics, causing him to "re-convert" to Judaism.
Konig's old-style delivery and jokes are enjoyable, but mostly better suited to 1958 Catskills than 2010 New York City.
Presented by and at the Actors Temple Theater, 339 West 47th St., NYC. Opened May19 for an open run. Sat., 3 p.m.; Sat.–Sun, 8 p.m.; (212) 239-6200 or www.telecharge.com.