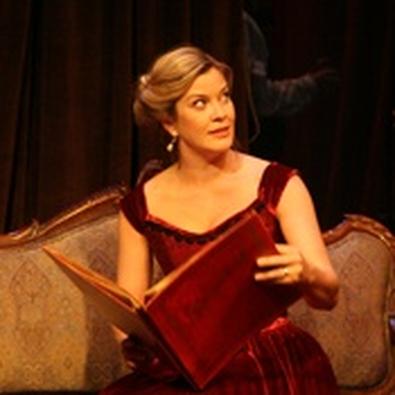 It's not that two directors always spoil the soup. The Coens manage it, as do the Elliotts of local theatre company A Noise Within. But there's a feeling of foreboding when one reads the program, preshow here, and learns that Charles Otte and Rick Pagano are credited as the directors of the Henrik Ibsen classic (translated here by Kenneth McLeish). Trying not to prejudge, one hopes each has brought his considerable proven talents to the metaphoric table. Alas, each did not.
From the outset, there's a whole lot of "acting" going on here -- save for Deborah Van Valkenburgh, playing the stately Aunt Julia graciously and without frills. As the maid, the perennially reliable Ellen Gerstein here groans and sighs and limps as if doing commedia; then the directors leave her onstage to "react" to the familial exchanges. John Livingston brings a touch of The Sopranos to Lรถvborg, apparently a directorial choice that presages the change of era in Acts 3 and 4 to modern times, but which is wholly distracting and unfortunately laughable.
And speaking of those modernized last acts: The misplacement and then destruction of Lรถvborg's manuscript is not the most central of the events, but once copy machines were invented -- nay, once carbon paper came into use -- what's the problem if one copy of the book goes missing? Slightly more troubling is the handwritten note from Julia to announce Aunt Rina's imminent death. But even more crucial than the book or letter, or any updating or staging, is the portrayal of Hedda. Dina Rosenmeier has beauty and bearing, and physically she convinces us as the 19th- and 20th-century versions. But from the outset her Hedda is icy and menacing and spoiled and might have duped Tesman but never his aging, doting aunties. Where can the characterization go? Once we see who she is, there is only plot development to watch. And as this is known as one of theatre's best character-over-plot plays, why watch?
Presented by Freya Films LLC at the Odyssey Theatre,
2055 S. Sepulveda Blvd., L.A.
Thu.-Sat. 8 p.m., Sun. 2 p.m. May 2-31.
(310) 477-2055.