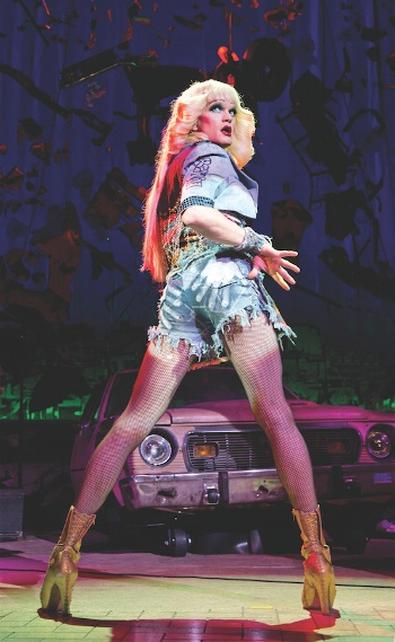 Broadway producer David Binder is enjoying the theatrical season of his dreams. "Hedwig and the Angry Inch" won best revival of a musical at the Tonys last month, and "Of Mice and Men" has not only recouped but attracted audiences of all ages to the theater.
Speaking to Binder just days after the Tony Awards, he is—unsurprisingly—elated. "Twenty years we've been working on ['Hedwig']. Twenty years, and so it just feels so amazing," he says. "We decided to do this thing because we wanted to do it, because we wanted to make it, because [show creators] John [Cameron Mitchell] and Stephen [Trask] had this vision—this crazy character. We made it because we wanted to make it. We didn't know any of this was gonna happen!"
And if you think one show is enough to keep a theater producer busy…well, you're probably right. But Binder had two smash hit shows on his plate. Though "Hedwig" was 20 years in the making, "Mice" (as Binder refers to it) had a much simpler journey.
Noticing the play had remained unproduced on Broadway for 40 years, Binder decided to bring it back to the big city. "These great American voices like [John] Steinbeck or Lorraine Hansberry [Binder produced the 2004 revival of 'A Raisin in the Sun']—they deserve to be on Broadway and they hadn't been done in 40 years, so that's what really appealed to me about it," he says.
Though wildly different, the American classic and the rock musical about an East German transgender singer did share one characteristic: both were extremely difficult to cast.
"The challenge is always in casting. Who could step into those shoes that John Cameron Mitchell created? We waited a long, long time for Neil Patrick Harris," says Binder, noting they had to wait for the hit CBS show "How I Met Your Mother" to wrap up.
Regarding "Of Mice and Men," the Tony-winning producer says casting a play is always challenging. "We all know that on Broadway you need to have stars to do a play. The challenge is to find someone who, commercially, is going to be buyable and is also going to display artistic excellence, and in James [Franco] and Chris [O'Dowd] we have that. We have two fantastic actors who are huge stars and we're really lucky."
Binder says both shows have been successful in more ways than just financially. "A show can be artistically successful; a show can be financially successful; a show can be successful by the transformative experience the audience is having; a show can be successful from the point of view of what is experienced by the cast and the company on a daily basis," Binder says. "Overall, both shows have checked most of or all of the boxes, but that's really rare in the theater," he admits.
But regardless of success or critical acclaim, there's nothing that can stop Binder from producing theater. "It's so exciting to me because at the end of 'Hedwig' every night, people after the show…they just stand there on the street and they don't want to leave because they've experienced something as a community," he says.
"I love the experience the theater creates for a community of people."
Want to read more about "Of Mice and Men"? Check out our cover story with James Franco!