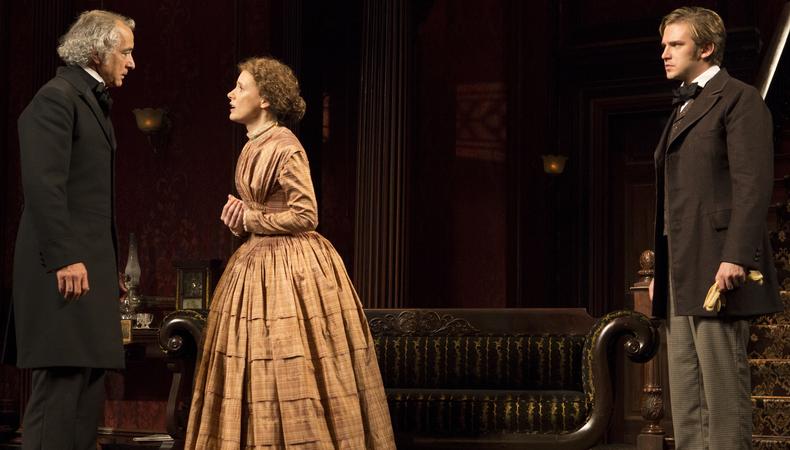 Ruth and Augustus Goetz's "The Heiress," a drama based on Henry James' novel "Washington Square," has shown up on Broadway once every other decade since its 1947 debut and quick 1950 revival and became a now-classic 1949 film starring Olivia de Havilland, Montgomery Clift, and Ralph Richardson. The play's 1995 edition, which made a Broadway star out of Cherry Jones, was a corker. The same, alas, can't be said for director Moisés Kaufman's tepid production at the Walter Kerr Theatre, with a miscast Jessica Chastain front and center.
It seems as if Kaufman is embarrassed to be directing this warhorse, so much does he undercut the script's sturdy melodrama. As the plain Catherine Sloper, the only daughter of a wealthy Manhattan physician whose wife died giving birth to her, the Juilliard-trained Chastain is consistently underpowered. With nothing but a frowzy wig to disguise her beauty, Chastain fails to convince in Catherine's painful shyness in social situations, playing it too often for easy laughs. She doesn't fare much better with Catherine's desperate desire to earn the approval of her wintry, distant father, who holds her responsible for her mother's death. Indeed, in Act 2's blistering father-daughter confrontation scene, what should be chilling generated inappropriate guffaws, mostly because Chastain's Catherine lacks the emotional size to turn on her father so implacably.
The fine actor David Strathairn excessively dials down Dr. Sloper's suppressed anger, which drives much of the character's behavior, coming off at times almost dithery. Dashing "Downton Abbey" star Dan Stevens, as Morris Townsend, the penniless cousin of rich relatives who makes a play for Catherine only to be thwarted by the good doctor, proves in his Broadway debut that he is quite the stage animal, commanding his scenes. Still, his Morris, too sunny and open-faced, lacks mystery, and he affects an aggressive Americanness that seems out of place in 1850 society. As Lavinia Penniman, Dr. Sloper's widowed sister who wants to see Morris and Catherine wed, the redoubtable Judith Ivey is inexplicably allowed to italicize the character into a painful silly-old-biddy stereotype.
The best acting is to be found in smaller roles. Caitlin O'Connell is appropriately pungent and self-possessed as Elizabeth Almond, Dr. Sloper's more grounded other sister. Dee Nelson makes the most out of her one scene as Mrs. Montgomery, Morris' sibling and a struggling widow with young children, and Virginia Kull is spot-on as the family maid, Maria.
The handsome physical production—Derek McLane's well-appointed front-drawing-room set, Albert Wolsky's rich costumes, and David Lander's carefully calibrated lighting simulating the soft shimmer of indoor gaslight—creates the right note of quiet yet assertive opulence. Leon Rothenberg's sound gives life to the world of Washington Square just outside.
Perhaps Kaufman was going for a reconsideration of the Goetzes' canny adaptation. But even though James is its source, there really isn't that much subtlety to "The Heiress." When not confidently embraced, the play, like a pining damsel, languishes.
Presented by Paula Wagner, Roy Furman, Stephanie P. McClelland, Luigi Caiola/Rose Caiola, Jim Herbert, Ted Liebowitz, Stacey Mindich, Jill Furman, Ricardo Hornos, Jon B. Platt, Eric Schmidt, Margo Lion/Rachel Weinstein, and Jujamcyn Theaters at the Walter Kerr Theatre, 219 W. 48th St., NYC. Nov. 1–Feb. 10. (212) 239-6200, (800) 432-7250, or www.telecharge.com. Casting by Tara Rubin Casting.
Critic's Score: D+