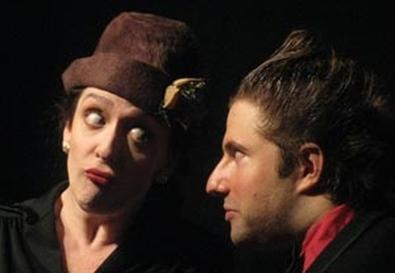 Writers, be very careful about setting your play or musical in the infernal regions, because if it isn't very good you leave yourself open to a host of obvious criticisms. That's the position the creators of the not very good musical "Hell's Belles," currently running at the Midtown Theater, have put themselves in. Example: They don't just take their audience to hell; they put them through it. (And that's not even trying.)
The action revolves around the attempts of a minor demon named Lester to present a floorshow featuring various famous women who've wound up in the underworld. The three most prominent are Lady Godiva, Eleanor Roosevelt, and an unnamed Madonnalike pop star. Lady Godiva happily warbles about her famous ride, but the pop star and Eleanor protest that they shouldn't be in hell at all. When Eleanor asks why Alice B. Toklas and Gertrude Stein have been consigned to Hades, Lester tells her that the sin of homosexuality has damned them—and her.
Other performers in the satanic revue include Janis Joplin, who wails a duet with the pop star; Lizzie Borden, who flourishes her ax like a cane; Marilyn Monroe, who sings a lively number about necrophilia; and Joan Crawford and Bette Davis, who wage a musical battle over which of them is the queen of camp. In the end, Judy Garland comes down from heaven and escorts the pop star out of hell.
Overall, the score is thoroughly forgettable, though Brian D. Leys does get off a few clever rhymes, and Steve Liebman delivers a couple of amiable melodies. Leys' book is stuffed with hoary one-liners that induce groans as often as laughs. John Znidarsic is a director who understands musical theater, but here his efforts seem to consist of forcing his cast to mug constantly and carom frantically about the stage with the desperation of those running from an avalanche.
The cast of four struggles mightily but futilely to bring life to this leaden—or should I say sulfurous—material. Nevertheless, Oakley Boycott's pop star kindles some energy, Kristen Mengelkoch's Eleanor provides a little heart, and Laura Daniel's Lady Godiva squeezes out a few laughs. As Lester, Omri Schein looks suitably and understandably hound-dogged.
The cringeworthy dances illustrate why no choreographer is credited in the program. And unless the design team means to be fiendishly ironic, the set (also uncredited) and Gail Cooper-Hecht's costumes are embarrassingly cheesy.
A ticket is a contract between a patron and the creative team of a play or musical promising good money for at least the attempt at presenting a good show. Those in charge of "Hell's Belles" should be punished for breaking that contract. I can suggest where they should be sent.
Presented by Tweiss Productions at the Midtown Theater, 163 W. 46th St., NYC. Sept. 11–Oct. 2. Sat. and Sun., 5 p.m. (212) 352-3101, (866) 811-4111, www.theatermania.com, or www.hellsbellesthemusical.com.