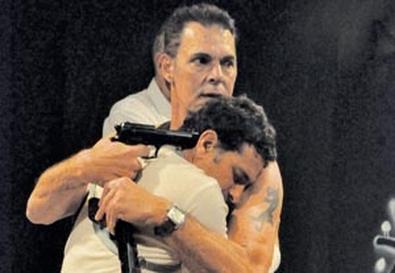 Tommy Carter's gritty 1989 drama holds up well as a lacerating look at police corruption and its inherent moral confusion. Though the plot turns adhere to crime-melodrama conventions, the play imparts powerful and telling portraits of tightly wound males, in a David Mamet vein. Director Barry Sattels guides a superb acting ensemble through an absorbing glimpse at urban malaise at its ugliest and most frightening.
A group of New York narcotics officers convenes in an abandoned Hell's Kitchen warehouse, ostensibly to hold a private wake for a colleague, gunned down during a recent drug bust. Yet it becomes apparent that the true purpose of this meeting is to divvy up the hefty loot the officers confiscated during the crackdown. When Detective Freeman (Tim Starks) is dispatched to retrieve the money and bring it over, a series of suspicions arises among the officers that there might be a betrayer among them, ready to expose their criminal abuse of power. This exacerbates racism, paranoia, greed, and other ignoble traits that fester among civil servants who face severe danger each day and grapple with the sewer of violence and moral anarchy in the city's mean streets. An explosive resolution packs a potent punch.
There's no weak link in Sattels' meticulously calibrated round of performances. As Camagitello, an Italian-American cop who finds that fallout from his messy work entanglements is ruining his home life, Michael Camacho delivers a multishaded portrayal, juxtaposing the humane sides of this character to a thick-skinned ferocity. As L'Arena, Camagitello's closest partner, offering hints of homoerotic involvement, the excellent Sal Landi projects a cauldron of suppressed evil waiting to explode. Starks likewise brings his initially low-key character to a slow boil in a skillfully nuanced characterization. Charles Taylor achieves a mesmerizing portrait of a small-minded instigator of conflict. Also contributing to the electric interplay are the fine performances of Robert Mangiardi, Phil Parolisi, Gary Werntz, Jay Duncan, and Lisa London.
Paul Miller's minimalist set (with Sattels) and astutely conceived lighting and the unnerving sound effects and music design by Nick Machado and London accentuate the harrowing milieu in this timelessly resonant tragedy.
Presented by the Actorhood with and at the Pan Andreas Theatre, 5125 Melrose Ave., L.A. Sept. 4 - 26 Thu.–Sat., 8 p.m. (213) 712-5021.