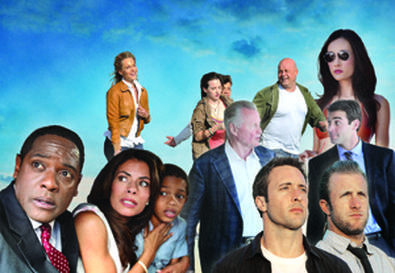 You won't find the crew position "showrunner" on IMDb, despite the fact that this job is one of the most vital to any series. Showrunners handle the daily operations of a show; they report to the network and make sure that episodes come in on time and on budget. Quite often showrunners are also writers or producers on the show, but not always. They are generally regarded as the top boss, also responsible for managing the creative aspects of the series. Because new TV shows mean new casting opportunities for actors, Back Stage spoke with an executive producer and/or showrunner from one new fall show on each broadcast network to see what actors can look forward to.

"The Event," Drama, NBC
When it comes to casting actors on NBC's conspiracy thriller "The Event," executive producer and showrunner Evan Katz has a very simple edict. "It sounds pretty basic, but it's surprising how hard it is to find sometimes: We want people who have chops, who really have technique," he says. "I've said to the casting directors, 'I just want good actors.' "
The show focuses on average guy Sean Walker (Jason Ritter) as he attempts to unravel a massive government conspiracy. "We're trying to combine a thriller with a 1970s-style conspiracy-mystery construct," explains Katz. "We use time and flashbacks in a creative way, and we have a big, sprawling ensemble cast." Central to that cast is Ritter ("Joan of Arcadia"), whom Katz feels is a perfect fit for this Everyman type of role: "He's inherently natural. He doesn't feel like he's acting. He's got numerous credits, but I haven't seen him in this kind of role, and I think he's very appealing."
Joining Ritter are established TV thespians Blair Underwood ("In Treatment"), who plays the U.S. president, and Laura Innes ("ER"), portraying a mysterious figure who may be at the heart of the conspiracy. In both cases, Katz enjoys the depth and presence the actors bring to their roles. "It's always great when you can see actors thinking," he says. "With this kind of television, which kind of lives in close-ups and in pauses, it's my favorite thing to hold on the actor and see what's going on in their minds."
Katz will work with casting directors Jason La Padura and Natalie Hart to populate this world with an array of diverse figures. "We're casting a very wide net in terms of types," Katz says. "The president's world is really going to be populated by people who feel appropriate in every way in the White House—age, experience. Whereas with Jason's world, which sort of exists on the run, he can run into a wider variety of characters." Sometimes Katz is drawn to actors "who can take straightforward material and bring their own eccentricity to it. Other times, you really want the straight-ahead, very natural types."
Just remember: Given the mysterious nature of the show, you might not know right off if you're playing a good guy or an evil mastermind. "That's because a) the writers haven't decided yet or b) we're purposefully keeping it cryptic," Katz says. "There's a big wide-open canvas here."
Casting: Natalie Hart and Jason La Padura, La Padura & Hart Casting, c/o Sunset Gower Studios, 1438 N. Gower St., Box 41, L.A., CA 90028.
—Sarah Kuhn
"Hawaii Five-0," Drama, CBS
Executive producers Alex Kurtzman and Roberto Orci have been responsible for writing the 2009 "Star Trek" reboot, the high-concept procedural TV series "Fringe," and many other popular projects, making them one of the most exciting writing partnerships in Hollywood. Now they're giving the hit 1968-80 series "Hawaii Five-0" a high-energy re-imagining.
Although Kurtzman and Orci will not be the showrunners (that responsibility will go to Peter Lenkov), they have been and will remain closely involved with the show. "Right now we're definitely deep in the trenches together," says Kurtzman. "We were involved in every stage of casting. The funny thing is that you write a script, you have a voice in your head, but it's always an amazing process when an actor breathes life into the words and brings things to the table that you didn't necessarily know were there, or surprises you with some kind of choice that is exciting and different and adds a dimension to the dialogue that's different. That's always great."
Although the show will be filmed entirely in Hawaii, the writers' office and the main casting office will be in Los Angeles. Jennifer Cooper Casting will handle the recurring characters and major guest spots, while Rachel Sutton in Hawaii will be responsible for casting the smaller roles. "There is a lot of great talent in Hawaii that we would really like to use," says Kurtzman.
Because of the series' procedural nature, the producer believes there will be a variety of roles available for guest cast, and multiple parts per episode. Obviously, as the show takes place in Hawaii, many of the "locals" will be Hawaiian, but all ethnicities will be needed. "I really can't think of any type we won't be casting for if we play our cards right," says Kurtzman. "Every episode brings a different challenge, a different demand, and hopefully different characters."
For actors auditioning for the show, know that even though "Hawaii Five-0" will be lighthearted and funny, the comedy is not tongue-in-cheek and shouldn't be played that way. Kurtzman says the first "Lethal Weapon" movie is "a good model: It was a lot of fun, but it was definitely a movie that was very grounded."
For Kurtzman, the way actors walk in and out of the casting room can be as telling about what you'll get from them as their auditions. He and Orci "are the kind of writers who tend to like to tailor words to the person, not the other way around." He says he's always interested in seeing how actors carry themselves "or some quirk that they bring in or just a point of view. Let's be honest: It's so difficult for actors to go into auditions and be one of 50 people who walk through the door, which is why I think it's so important to find a way to stand out. The tricky part about that is if you overdo it and it backfires, it doesn't help. So for me, it's mostly about who is that person really when they're coming in. My job in those casting sessions is to try to see the person underneath the words. And if I find something that I think is unique or interesting, try to pull that out of them as much as possible."
Casting: Jennifer Cooper (L.A.), Jennifer Cooper Casting, 4024 Radford Ave., Building 1, Suite 100, Studio City, CA 91604
—Jessica Gardner
"Lone Star," Drama, Fox
"Lone Star" is the latest drama from executive producers and showrunners Chris Keyser and Amy Lippman, who, as the creators of "Party of Five," brought Matthew Fox and Scott Wolf to prominence. Keyser and Lippman may have another star in the making in newcomer James Wolk, who plays the lead in "Lone Star," a con man leading a double life: As Robert, he runs cons with his father (David Keith) and lives with a small-town girl (Eloise Mumford); as Bob, he is married to a wealthy society girl (Adrianne Palicki) and works for her father, a Texas oil tycoon (Jon Voight).
Keyser says the casting of Wolk was critical to the success of the show. Robert/Bob "was a huge character to cast, so we started with him. We needed a guy so likable that you believe these two amazing women could both fall for him. We got lucky with Jimmy. He has an easy charm to him that makes him seem at home in any surroundings and a look that feels utterly genuine."
Keyser and Lippman also had to cast essentially two families for the con man. "So individual talent was important, but so was chemistry between characters," Keyser says. "With Jon Voight as the patriarch of the notorious Thatcher family, the bar was set pretty high. But through casting, we were able to fill out the family in a very complete way, to where each Thatcher child is a reflection of some aspect of their father."
The show, which shoots in and around Dallas, is cast by Robert J. Ulrich of Ulrich/Dawson/Kritzer Casting, and Keyser says there are many different roles he envisions them requiring: "Because this show takes place in two different worlds, we have a lot of room to play. We'll get to depict all of the quirky and charming townspeople that populate Midland, but also the slick Houston oil men and women, not to mention all the international business players that will be jet-setting in and out of Houston."
Casting: Ulrich/Dawson/Kritzer Casting, 4705 Laurel Canyon Blvd., Suite 301, Valley Village, CA 91607.

—Jenelle Riley
"Nikita," Drama, The CW
There's something enduring about the title character, played by Anne Parillaud, in the 1990 French action hit "La Femme Nikita." She was first re-imagined by Bridget Fonda in the 1993 American remake, "Point of No Return," before returning in the form of Peta Wilson in the TV series "La Femme Nikita." Now the CW is taking a crack at the character with "Nikita," starring Maggie Q ("Mission: Impossible III," "Live Free or Die Hard") in the title role.
According to executive producer Craig Silverstein, Q was the first actor to be cast. "I didn't write the part with any particular actor in mind—I never do, actually," says Silverstein, who wrote the pilot with David A. Levinson. "I did have a fear of not finding the right person for the role. Chances are if you're an actress in your late 20s/early 30s who is beautiful, intelligent, and can convince an audience that you can shoot a gun and kick someone's ass, you're already a movie star. That trifecta is hard to find. You can find many people who have two out of the three, but if one attribute is lacking, it won't work. So we went and got a movie star."
It was casting directors Dan Shaner and Michael Testa who first brought up Q's name, Silverstein says. "Danny Cannon, the director, and I looked at each other and just said, 'Yes,' " he recalls. "Maggie had never done TV, so it was just a process of coaxing her to give it a try. The hardest part turned out to be easy, and the rest of the roles proved harder to cast."
Though it shoots in Toronto, the show will be casting an average of two guest-star roles per episode out of L.A., according to Silverstein. Rebecca Mangieri of Fiorentino-Mangieri-Weidman (FMW) Casting is casting the series; she also worked on the pilot. As for upcoming roles, Silverstein says, "There will be a case of the week, with a need for interesting villains and clients/victims to save and/or avenge. Almost every character has a twist to play. There will also be a few recurring roles down the line, and anyone who survives becomes part of our continuity and thus could be brought back. Although the series is on the CW, it's not exclusively centered on teens and 20-somethings. It's an adult spy show, and we'll be casting roles with an international vibe as Nikita's adventures take her all over the world."
Casting: Rebecca Mangieri, Barbara Fiorentino, and Wendy Weidman, Fiorentino-Mangieri-Weidman (FMW) Casting, 6767 Forest Lawn Drive, Suite 100, L.A., CA 90068.
—Jenelle Riley
"No Ordinary Family," Drama, ABC
Michael Chiklis was the first actor to sign on to ABC's "No Ordinary Family," and in many ways he set the tone for the cast as a whole. The show, about a normal family suddenly blessed with superpowers, has to maintain a tricky balance between weighty emotional drama and light comedy. And Chiklis ("The Shield"), notes executive producer and showrunner Jon Feldman, excels at both. "He can move from the extraordinary portion of the show to the ordinary portion of the show," says Feldman. "He's as adept and compelling as a superhero as he is being a suburban dad. And he's as adept at the family drama as he is with the comedy."
Feldman and casting director John Papsidera were on the lookout for this quality when casting the show's other leads, primarily brainiac scientist Stephanie, Chiklis' onscreen wife. "We were lucky to find someone as likable as Julie Benz," says Feldman. "Other actresses might accentuate some of her traits that people might not embrace quite as readily. She's basically a workaholic, but in Julie's hands, it became this incredibly sympathetic thing."
In future episodes, Feldman says, he'll be looking for actors to populate each of the show's distinct worlds, "so there are actually a lot of different kinds of casting opportunities." For instance, Chiklis' character, Jim, is a police sketch artist who also fights bad guys. "We'll have some ordinary criminals and some supercriminals," says Feldman. "The kids in the family are in high school, so you have teachers and students and romantic interests. And Stephanie works as a scientist at Global Tech, which also carries a lot of the mythology of the show. There will be people who come in and out of her life."
But no matter what world you find yourself cast in, it's important for all the actors on the show to maintain that balance between high emotional stakes and pure comedy. "What is important to the show is humor and emotion, but it's got to be real and it's got to be grounded," says Feldman. "It's such a big concept, it needs to be as grounded as possible. We're trying to capture a very real tone, because we have scenes of real family drama juxtaposed with scenes of comedy. We're looking for actors who can convey that."
Casting: John Papsidera, Automatic Sweat, 5243 W. Washington Blvd., L.A., CA 90016.
-Sarah Kuhn