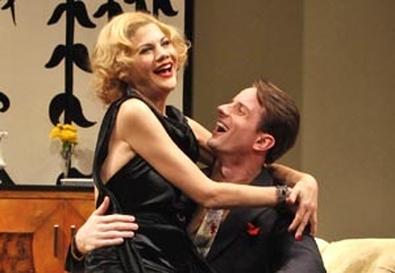 Voracious show-biz divas have been a staple of American comedy since maybe forever. Still, when Maurine Dallas Watkins' "So Help Me God!" closed out of town in 1929—apparently a victim of the stock-market crash, not bad reviews—the playwright's gimlet-eyed backstage view of Broadway was probably much fresher. As long as you don't mind the expired sell-by date, there's enjoyment aplenty at Mint Theater Company's production. Incidentally, this marks the first time the play has been seen since Watkins—a successful screenwriter of the 1930s and author of the play upon which the musical "Chicago" is based—found religion and suppressed her "immoral" past writings. She's an original voice in the American theater, and Mint is doing a good deed by allowing us to hear it once again.
The story is simple. Beloved but self-absorbed glamour puss Lily Darnley is out to prove her serious acting chops in the drama "Empty Hands." From rehearsals through out-of-town tryouts to Broadway opening night, she lays waste to the script; castrates her leading men; decapitates her green-at-the gills understudy, also the show's ingénue; gives her directors and producer multiple heart attacks; and in general wreaks havoc. It seems impossible for Watkins not to be writing from experience, and it's revelatory that the play's sanest character, Bart Henley, a former leading man who now plays "Strong Men Who Suffer Silently," is also its most cynical. (That phrase comes from Watkins' stage directions, which are even funnier and more waspish than the play.) It's also probably inevitable that the poor put-upon playwright, a college professor trying to make art, is the butt of many jokes, most of which land thanks to Ned Noyes' impeccably wide-eyed performance.
Bart describes Lily as having "the face of Little Eva and the heart of Simon Legree," and, happily, Kristen Johnston delivers all that and more. She is a symphony of mood swings: melodrama, insincerity, hunger, lust, saintliness, frivolity, and cruelty being just a few. It's a grand creation that Johnston nevertheless keeps anchored in honest emotion, which leads to a startling moment in Act 3 when Lily dispatches her insurgent understudy: "Nobody ever gave me anything! I fought my way up—every inch of the way," snarls Lily. Johnston does it with such sudden feeling that we understand in one moment exactly how Lily became the monster she is.
Under Jonathan Banks' rapid-fire direction, the other 15 members of the company support Johnston ably. Particularly notable are the ingénue of Anna Chlumsky, who skillfully charts the journey of this upstart from innocence to incipient divadom; Allen Lewis Rickman's sly producer; Jeremy Lawrence's frazzled stage manager; and John Windsor-Cunningham's authoritative Bart.
There is an interesting exchange in Act 2 between playwright and producer about the impossibility of producing serious work on Broadway due to the high costs. Substitute the dollar amounts and they could be talking about the Main Stem of 2009 rather than 1929. The rest of "So Help Me God!" may not have aged as gracefully, but as a period piece it provides a fascinating and funny look at a bygone Broadway.
Presented by Mint Theater Company at the Lucille Lortel Theatre, 121 Christopher St., NYC. Dec. 7–20. Tue.–Thu., 7 p.m.; Fri. and Sat., 8 p.m.; Sat. and Sun., 2 p.m. (No performance Tue., Dec. 8.) (212) 279-4200 or www.ticketcentral.com. Casting by Stuart Howard, Amy Schechter, and Paul Hardt.