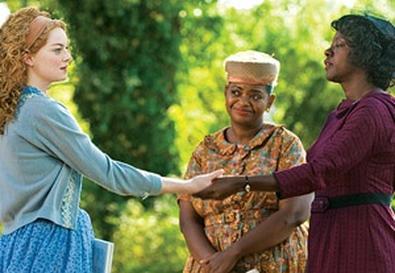 On "the only award show where every award goes to an actor," the 18th Annual
Screen Actors Guild Awards
gave top honors to the ensembles of "The Help," "Boardwalk Empire," and "Modern Family" at the Los Angeles Shrine Exposition Center on Sunday.
The night has its share of both comedy and drama. The nominated cast of "Bridesmaids" led an ongoing drinking game regarding the name "Scorsese," which garnered many laughs. The presentation's more dramatic elements were a surprise win by
Jean Dujardin
for lead male actor in "The Artist" and a statement by SAG president Ken Howard.
For those who have been following SAG's long journey toward merger with the American Federation of Television and Radio Artists, Howard's speech was a big one—symbolically, at least. He appeared midway through the two-hour show and momentarily upstaged the awards-season horse race with a long-anticipated announcement.
"This weekend, our boards have overwhelmingly endorsed a plan for merger of SAG and AFTRA," Howard said. "As one union, SAG-AFTRA will support a future of great entertainment for all of us."
The merger plan must next go to members of SAG and AFTRA for a ratification vote. The last attempt at merger failed in 2003, when SAG fell just short of the 60 percent approval needed from its members to ratify.
The show was also filled with many touching moments. After a standing ovation from his peers, Dick Van Dyke presented
Mary Tyler Moore
with a life achievement award.
Christopher Plummer
, who won for supporting male actor in "Beginners," thanked his wife for saving his life. He admitted to the press backstage that he had been a "terrible drunk" and it was his wife who made him quit.
In the press room, the winners were very candid. Alec Baldwin, who won for male actor in a comedy series, admitted he wished he had been less "outspoken" in his past. "The most successful film stars are the ones that you know nothing about," he told reporters. "Who keep it very sanitized. I wish I had done it myself back then."
Octavia Spencer
, who won for supporting female actor for "The Help," took her time with the press to speak about racism and weight issues. "We need to start standing up for ourselves and say, 'This is who I am.'…To be silent is to be passive."
Jessica Lange, winner of supporting female actor for "American Horror Story," spoke about her acting process on the show. "I found it an interesting way to work and not limiting in what you were able to do," she explained. "It's a big character and I have a lot of fun with it. I'm open to the possibility of anything happening in the moment. I find it exhilarating and surprising and enjoy kicking it to another level. But again, the only way a role like this can work is when it's supported by powerful writing."
The complete list of nominees and winners is below. (Winners are indicated with an asterisk.)
MOTION PICTURE
Outstanding Performance By A Cast In A Motion Picture
"Bridesmaids"
"The Artist"
"The Descendants"
"The Help"*
"Midnight in Paris"
Outstanding Performance By A Male Actor In A Leading Role
George Clooney, "The Descendants"
Demian Bichir, "A Better Life"
Leonardo DiCaprio, "J. Edgar"
Jean Dujardin, "The Artist"*
Brad Pitt, "Moneyball"
Outstanding Performance By A Female Actor In A Leading Role
Michelle Williams, "My Week With Marilyn"
Glenn Close, "Albert Nobbs"
Viola Davis, "The Help"*
Meryl Streep, "The Iron Lady"
Tilda Swinton, "We Need to Talk About Kevin"
Outstanding Performance By A Male Actor In A Supporting Role
Nick Nolte, "Warrior"
Kenneth Branagh, "My Week With Marilyn"
Armie Hammer, "J. Edgar"
Jonah Hill, "Moneyball"
Christopher Plummer, "Beginners"*
Outstanding Performance By A Female Actor In A Supporting Role
Octavia Spencer, "The Help"*
Berenice Bejo, "The Artist"
Jessica Chastain, "The Help"
Melissa McCarthy, "Bridesmaids"
Janet McTeer, "Albert Nobbs"
Outstanding Performance By A Stunt Ensemble In A Motion Picture
"The Adjustment Bureau"
"Cowboys & Aliens"
"Harry Potter and the Deahtly Hallows: Part II"*
"Transformers: Dark of the Moon"
"X-Men: First Class"
TELEVISION
Outstanding Performance By A Male Actor In A Television Movie Or Miniseries
Laurence Fishburne, "Thurgood"
Paul Giamatti, "Too Big to Fail"*
Greg Kinnear, "The Kennedys"
Guy Pearce, "Mildred Pierce"
James Woods, "Too Big to Fail"
Outstanding Performance By A Female Actor In A Television Movie Or Miniseries
Diane Lane, "Cinema Verite"
Maggie Smith, "Downton Abbey"
Emily Watson, "Appropriate Adult"
Betty White, "The Lost Valentine"
Kate Winslet, "Mildred Pierce"*
Outstanding Performance By A Male Actor In A Drama Series
Patrick J. Adams, "Suits"
Steve Buscemi, "Boardwalk Empire"*
Kyle Chandler, "Friday Night Lights"
Bryan Cranston, "Breaking Bad"
Michael C. Hall, "Dexter"
Outstanding Performance By A Female Actor In A Drama Series
Kathy Bates, "Harry's Law"
Glenn Close, "Damages"
Jessica Lange, "American Horror Story"*
Julianna Margules, "The Good Wife"
Kyra Sedgwick, "The Closer"
Outstanding Performance By A Male Actor In A Comedy Series
Alec Baldwin, "30 Rock"*
Ty Burrell, "Modern Family"
Steve Carell, "The Office"
Jon Cryer, "Two and a Half Men"
Eric Stonestreet, "Modern Family"
Outstanding Performance By A Female Actor In A Comedy Series
Julie Bowen, "Modern Family"
Edie Falco, "Nurse Jackie"
Tina Fey, "30 Rock"
Sofia Vergara, "Modern Family"
Betty White, "Hot In Cleveland"*
Outstanding Performance By An Ensemble In A Drama Series
"Boardwalk Empire"*
"Breaking Bad"
"Dexter"
"Game of Thrones"
"The Good Wife"
Outstanding Performance By An Ensemble In A Comedy Series
"30 Rock"
"The Big Bang Theory"
"Glee"
"Modern Family"*
"The Office"
Outstanding Performance By A Stunt Ensemble In A Television Series
"Dexter"
"Game of Thrones"*
"Southland"
"Spartacus: Gods of the Arena"
"True Blood"