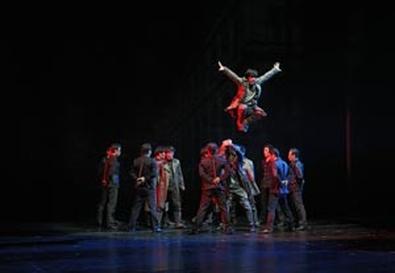 American musicals frequently travel to South Korea these days, and Korean musicals are beginning to return the favor, as evidenced by "Hero: The Musical," currently running at the David H. Koch Theater at Lincoln Center. Cross-pollination is good for art and audiences, but ultimately the success of works seeking to cross borders depends on their universal qualities. "Hero" proves to be a spectacularly produced Broadway-style show with subject matter that remains somewhat provincial.
The story follows An Chunggun, a Korean patriot who fought against the Japanese domination of Korea in the early years of the 20th century. To draw the world's attention to Korea's plight, he decides to assassinate Ito Hirobumi, a hated Japanese leader. With the aid of a small band of conspirators, he shoots and kills Ito at a railroad station. A Japanese court tries and convicts him, but before being hanged, Chunggun impresses his Japanese jailer with his intelligence and his dream of a peaceful Asia.
"Hero" won a raft of awards in Korea, where Chunggun is a major figure, and the show, which is a cross between "Jesus Christ Superstar" and "Les Misérables," is as gargantuan as his larger-than-life persona. As often happens in large-scale historical pieces, though, human values are sacrificed for spectacle, with characters reduced to broad types and little time made available for exploring complex ideas. While that's not a problem for "insider" audiences, such an approach can leave outsiders (like me) feeling detached.
As the show is performed in Korean with subtitles, I can't comment on A. Reum Han's dialogue or lyrics, but the narrative seems more like a pageant than a probing musical drama. Sang Joon Oh's music, on the other hand, is immediate and stirring. Ho Jin Yun's direction is a masterful and seemingly effortless marshaling of dozens of characters and scene changes.
Three performers stand out in the cast of 43. Chung Sunghwa, as Chunggun; Kim Sunggee, as Ito; and Lee Sang Eun, as a female Korean spy who becomes Ito's companion, all find ways within the sound and fury surrounding them to bring splashes of humanity to their characters.
Mention must be made of Dong Woo Park's amazing scenic design and Kwang Nam Park's breathtaking special effects. Their re-creation of Ito's railroad car hurtling through the snow and a frantic chase through the streets of Vladivostok is astounding. However, I wish the producers had opted for a real orchestra; the prerecorded music gives "Hero" a mechanical feel.
There is a moment in "Hero" when two would-be assassins break into a nervous song-and-dance and the musical suddenly bursts into life. More such emphasis on people would have made the show more affecting. That advice is universal.
Presented by ACOM International at the David H. Koch Theater, 20 Lincoln Center Plaza, NYC. Aug. 23–Sept. 3. Tue.–Fri., 7:30 p.m.; Sat. and Sun., 1:30 and 7:30 p.m. (212) 721-6500 or www.davidhkochtheater.com.