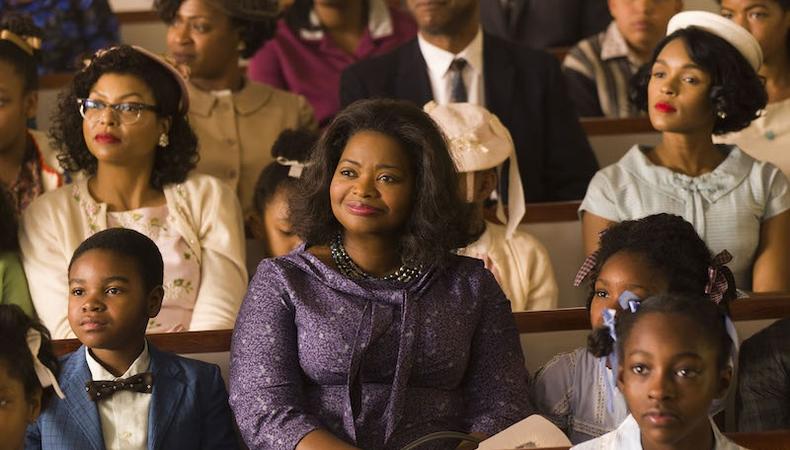 When writer-director Theodore Melfi ("St. Vincent") first got hold of the book proposal for Margot Lee Shetterly's "Hidden Figures," it was a no-brainer opportunity to adapt it for the screen. But it was also a wake-up call.
"It's shocking at how far we've come and how far we haven't come," Melfi says of his look into the real-life story of three unsung heroes. The layman may not know them yet, but Katherine Johnson, Dorothy Vaughan, and Mary Jackson were three black women and whip-smart mathematicians who helped calculate essential mathematical formulas and data for NASA's earliest missions. Working together on Project Mercury and Apollo 11, they were an invaluable force in boosting America ahead of Russia in the 1960s Space Race.
Still, if it weren't for this season's awards contender "Hidden Figures," from 20th Century Fox, and the book on which it's based, these women may never have become household names. "How far we haven't come," indeed.
"The story of these three women runs parallel to everything this country is experiencing in regards to sexism and glass ceilings and racism today," Melfi adds. "It is so relevant to our current environment."
While the talents of actors like Kevin Costner as NASA manager Al Harrison, Jim Parsons as top mathematician Paul Stafford, and Kirsten Dunst as their administrative colleague Vivian Mitchell (not to mention Mahershala Ali as swoonworthy U.S. veteran Jim Johnson) round out a fine cast, it's the three leading ladies that were key to the film's success. Not only did they have to do right by the real-life women they portray and those survived by them, but they needed a certain ferocity that embodies and emboldens the film's sociopolitical undercurrents. Enter Taraji P. Henson as Katherine Johnson, Octavia Spencer as Dorothy Vaughan, and Janelle Monáe as Mary Jackson.
Melfi says that casting Henson as his central protagonist was a particular treat; he's been itching to work with her since seeing her Oscar-nominated performance in "The Curious Case of Benjamin Button." She was the first person he dialed when he signed on. "I've had her on my mind for the longest time," he says. "I called her and just pitched what the story would be, and she said, 'I'm in.' " Spencer, too, joined after being offered the role in the early stages of preproduction. Mary was the only main role Melfi auditioned out.
READ: "Octavia Spencer's 4 Tips to Making a Career Last"
"We saw a bunch of the best actresses out there, and they were all fantastic, but no one had the fire of Janelle Monáe," he says. "When she came in, she just knocked it out of the park." Though Monáe doesn't quite have the filmography offered by her co-stars ("Hidden Figures" and this year's "Moonlight" are the R&B musician's only live-action features to date), she was the obvious choice because Jackson's no-knocks edge and truth-telling bite is "how Janelle lives her life in general," Melfi says. "It's the fighter in the movie. It's the person who cannot not say what's on their minds, who cannot not speak up about injustice, who cannot not tell it like it is. And that's who Janelle Monáe is."
It makes for a mainstream acting debut for Monáe that's well worthy of the awards speculation going into 2017; Spencer, too, has already racked up Golden Globe and SAG Award nominations. Melfi looks beyond his film's awards contention, however, to the bigger picture at hand.
"The big dream is that [audiences] leave understanding that there was a time in this world's history and in this country's history where black and white, male and female came together, and we all worked together to achieve the greatest mission at the time," he says. "If we did it then, we can do it again."
Want to break into Hollywood? Check out our film audition listings!