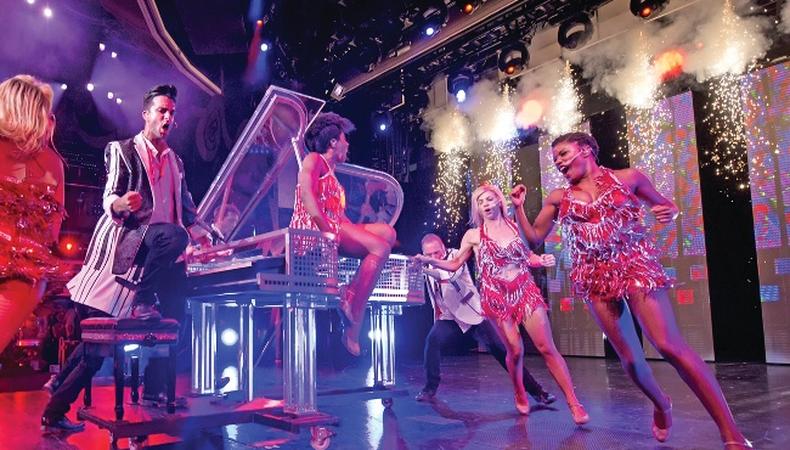 To work on a cruise ship is to acquire a vast array of new skills. Of course, performers have to first possess the sort of multitalent mastery that allows them to jump, dance, swing on ropes, and act, all while singing and making it look easy, but once hired, cruise ships like Carnival will add to that arsenal.
"You're always learning something new, like how to puppet a towel animal, which is not easy by any means!" says six-year Carnival Cruise Lines dancer-singer Kristin Alexis Turner. "Maybe you weren't that great at dancing or lifting, but as a guy you learn that skill [performing on a ship]. Maybe you can get better at your singing because you took more voice lessons throughout the years to try and keep your job. We go out and teach dance classes during the day, so you learn a new dance style to be able to teach on the ship. You're not just entertainers, so you have to be able to do everything."
In addition to being able to dance and sing an array of styles ranging from '70s disco to piano classics, cruise ship performers learn to remain flexible.
In 2012, Carnival upped its game and revamped its onboard entertainment to bring audiences the new Playlist Productions, story-based and themed shows featuring an array of well-known songs. With shows that require powerhouse pop singers to belt Beach Boys tracks for the "Getaway Island" show, and hardcore rock tracks for "Epic Rock," Playlist has something for everyone on- and offstage.
"With Carnival it's about working with this amazing group of people coming from so many different places; they're so international," says John Tartaglia, a Tony-nominated actor from the original cast of "Avenue Q" and now puppetry teacher for the onboard staff's family-friendly towel animal show. "I'm actually teaching an art form that they've never experienced before. They're all singers and dancers who are all very talented in their own right, but they've most likely never done puppetry."
Tartaglia's presence with the cruise line demonstrates the level of talent the line is working with. In addition to his New York theater puppetry experience (he was one of the youngest puppeteers hired for "Sesame Street"), he also directed the original production of Broadway-bound musical "Because of Winn-Dixie."
Also on the Carnival creative teams are Devanand Janki, who's worked with the likes of Broadway legends Bebe Neuwirth, Lauren Bacall, Kristin Chenoweth, and Alan Cumming; Paul Roberts, a choreographer for Katy Perry, Sir Paul McCartney, Gloria Estefan, and Prince; and Peter Flynn, director of Broadway concerts including the Whoopi Goldberg–starring "Funny Girl," and "Chess."
It's no wonder, then, that "Playlist shows require the same amount of dedication and hard work that a Broadway show or a West End show requires," according to Turner, who began strictly as a dancer and honed her singing skills (necessarily so) when Playlist was introduced. "The stereotype is that [performing on a cruise ship] is your last resort as a job. Carnival has worked really hard over the years to [dispel] that stereotype."
Many dancers utilize their cruise ship experience and new connections when they're once again firmly planted on land, being cast in shows in New York City and London.
"There's such a shift in the cruise line industry where you have all these amazing people who work on these ships, and it gives performers the opportunity to work with people they might not have the chance to otherwise," says Tartaglia. "These are amazing, floating, high-tech theaters doing productions that are going to challenge you and give you the level of training, endurance, professionalism, maintenance, respect, and all those things you can only learn on the job and not from taking classes."
Inspired by this post? Check out our dance audition listings!