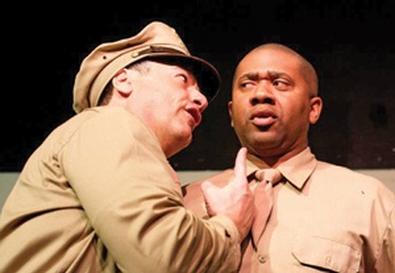 In 1999, Jackie Alexander was working with jazz legend Weldon Irvine on a music and spoken-word CD. The actor was happy to have the job but upset about the state of his career. He said that agents would tell him, "We don't know what you are. You don't look black enough, so we can't send you out for this. You don't speak Spanish, so we can't send you out for this." Irvine was the bandleader for Nina Simone and wrote the lyrics to her civil rights anthem "To Be Young, Gifted and Black." He heard Alexander's lament and then "just lit into me: 'I've been listening to you complain for about three years. Why don't you do something about it?' " the actor recalled. "That's the polite, short version of it."
The result of that conversation was Alexander's movie "Joy," which premiered in 2002 on the film festival circuit and won a few awards. Ten years later he is still writing, and this season the Billie Holiday Theatre in Brooklyn, N.Y., is producing three of his plays, including "The Legend of Buster Neal," which opened Feb. 18 and runs until March 27.
From Pulitzer Prize–winning playwrights David Mamet and Tracy Letts to Layon Gray, whose "Black Angels Over Tuskegee" has been running Off-Broadway for more than a year, the story of a frustrated actor who turns to writing to sustain a career is a familiar one. However, there was a particular urgency for Alexander and Gray, African-American actors who felt that their choices for roles in the theater and elsewhere were limited.
In 2000, "when I first moved to L.A., it was just acting," Gray said between sold-out performances of "Black Angels" on a recent Saturday. "I was getting cast frequently, but it was Thug No. 1 or Gangster or Drug Dealer. I was like, 'You know what? I don't want to do this anymore.' That's when I started to create my own opportunities.… If we're going to make it, we have to do it ourselves."
Indeed, black theaters are making it, as TheRoot.com reported last September, "flourishing all across the country, offering communities access to excellent plays and musicals that touch on the African-American experience." But it's not happening without a struggle, the website said: Houston's Ensemble Theatre, the St. Louis Black Repertory Company, and L.A.'s Ebony Repertory Theatre have had to find creative ways around budget challenges.
More broadly, budget problems in California, New York, and other states have led to steep cuts in arts funding—cuts that often disproportionately affect black theaters, which are, historically, not well-funded. Additionally, intense competition for attention from all media and cuts in school budgets that eliminate or severely curtail arts education, particularly in urban school districts with large African-American populations, are making it difficult for some theaters to build and sustain an audience.
"It is so necessary for us to tell our stories," said Nancy Renée, co-founder and co-producer of Towne Street Theatre in Los Angeles. "If we don't tell our stories, I really don't think they will be able to be done."
Maintaining Altitude
Gray and Thom Scott II, a producing partner and castmate in "Black Angels Over Tuskegee," founded the company Black Gents of Hollywood to present positive images of African-American men and educate others about African-American history. Gray said that when the company presented a portion of the play to a school in New Jersey recently, only three or four students out of more than 300 knew who the Tuskegee Airmen were: black pilots who flew and fought during World War II.
"Black Angels" has weathered an uncertain economy in its Off-Broadway run. "We were really hot when we first came out," in early 2010, Scott said. "We did cool down a bit.... There were some times when we thought, 'Should we close it down or tough it out?' We just toughed it out." Things steadied to the point where he and Gray could surrender their L.A. apartments, and the show has been extended at least through April. Meantime, Gray and Scott are working on a Broadway transfer.
For some, the economic challenges are more daunting. The National Black Theatre, a Harlem institution for more than four decades, is threatened with foreclosure due to $1.8 million in unpaid taxes and a dispute with business partners, according to a recent report in The New York Times. In addition, cutbacks in public and private funding have forced the theater to trim its season, said Sadé Lythcott, the company's chief executive officer. It used to offer five or six shows a season; it now offers three or four.
Mission Control
Moreover, the changing face and tastes of a gentrifying neighborhood make it more difficult for the National Black Theatre to fulfill its mission. Barbara Ann Teer, who died in 2008, founded the company in 1968 on the idea that "the purpose of theater is for social change and social transformation," said Lythcott, Teer's daughter. "We only put on shows and produce shows that speak to the highest form of ourselves." But those types of productions don't always make money.
"If you look at Broadway, the pieces that are very provocative or thought-provoking or inspirational close early," she said. "Everyone's looking for the big musical that's spun off of something that's already proven itself to be a big moneymaker. I think when you do that, which is fine to do, you often have to compromise the integrity of the stories that you tell."
Still, Lythcott said the National Black Theatre will remain committed to giving "African Americans an opportunity to use arts as an instrument for social transformation and the empowerment of our people. That's what NBT is committed to, and that's what we'll stay committed to."
'Transformational Year'
Towne Street Theatre, which stages its productions at the Stella Adler Theatre in Hollywood, is experiencing "a transformational year, in that grants are harder and harder to come by," Renée said. About 10 years ago, the company was producing three or four mainstage shows a year, she said, plus a children's program. For the past five years, it has produced two mainstage shows and a mainstage children's show.
Over that same period, she added, things have been difficult for the stage in general: "There are so many theaters in the Los Angeles area that have lost their homes. Landlords see that a retail space will bring in more money than a theater will…. But the theater audiences are very strong out here. We have a show running now and another show that's touring [locally]. Both shows are being well received."
In a conversation before a recent rehearsal, Alexander and three actors were talking about the state of black theater. Patrick Mitchell, the eldest of the three, was optimistic, but a little less than his younger counterparts. "I haven't necessarily given up on hope," he said, "but I am getting tired, so I try to create my own things."
Talk soon turned to reality shows and, worse, films of reality shows, such as "Jackass." Kesi Foster, an intern at the theater and an aspiring playwright, asked, "If that's what people are eating up as entertainment now, where's the bridge to the younger crowd that's going to keep them in the theater?"
Alexander responded, "The bridge has to be built by the people who are still passionate about it…. The work is there. The artists have to put in the time and effort. It's not going to be easy. It's never going to be easy. There is always a generation that comes through that brings it back. And, hopefully, I'll be a part of that."