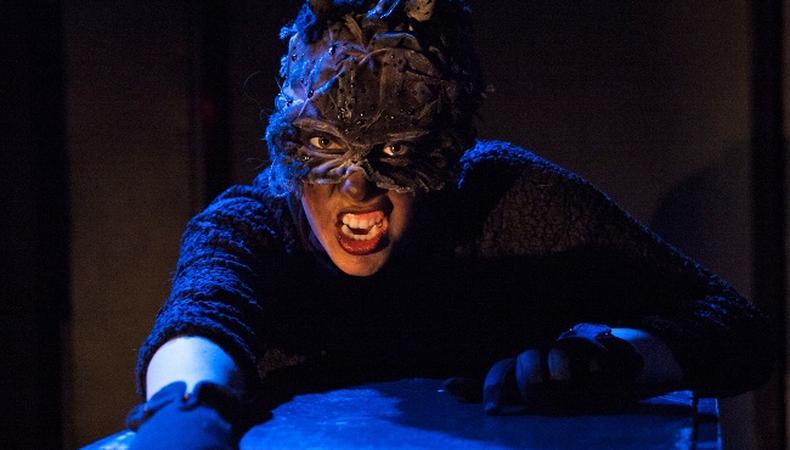 The New York International Fringe Festival is back and weirder than ever. This year's crop of 200 shows will run Aug. 14–30 in theaters all over Manhattan. Whether it's cartoony cosplay or a Mexican monster musical you're craving, there's always something to satisfy audiences that prefer their theater off the beaten path. Here are eight (random) highlights from FringeNYC 2015.
"Beware The Chupacabra!" Aug. 19–29 at the Lynn Redgrave Theater @ Culture Project
This dark and dazzling new musical from Mind the Art Entertainment draws from the legend of the Mexican goat-sucking beast, the Chupacabra. The story follows a dressmaker who embarks on a quest from 1920s New York to the mysterious jungles of Mexico.
"The Curious Case of Phineas Gage," Aug. 15–22 at DROM
This inventive comedy is based on the seemingly impossible yet all-too-real story of Gage, who survived a 3-foot iron spike through his brain. With Monty Python–esque laughs, Split Knuckle Theatre's exploration of the scientific wonder's bizarre journey will blow your mind.
"Kamikaze Cutesauce Cosplay Club," Aug. 27–30 at The Celebration of Whimsy Theater
Quasimondo Milwaukee Physical Theatre is bringing to NYC its hit show combining choreography, martial arts, puppetry, Japanese pop art, and horror. If you're a fan of manga or anime—and don't mind mature content featuring samurai businessmen and schoolgirls in creepy masks—this show is for you.
"The Magic Jukebox: New York City World Tour," Aug. 17–30 at The Celebration of Whimsy Theater
Serious Theatre Collective's comedy style perfectly matches the eclectic tone of the Fringe. Featuring 12 action-packed live musical sketches spanning everything from Lovecraftian gods to dolphins, the troupe provides a guaranteed good time.
"Naked Hamilton," Aug. 14–22 at DROM
From Ontario, Canada, Naked-On-the-Run Productions presents a tale New Yorkers know all too well. Centering on an aging sex worker and her ex-lover who are kicked out of their local bar, this production asks thought-provoking questions about the character robbed from gentrifying neighborhoods.
"She-Rantulas From Outer Space in 3D!" Aug. 14–23 at Lynn Redgrave Theater @ Culture Project
Run for your lives! This trippy comedy hails from San Diego and is bound to titillate and delight fans of camp, extraterrestrial horror, and, of course, she-rantulas.
"Th' Burning," Aug. 14–28 at Flamboyan Theatre at the Clemente
From Birmingham, Ala., comes a tale of two girlhood friends—one white, one black—who face the bus-burning riots of 1961 in the wake of Southern school integrations. This original play dramatizes how hope continues to live throughout the uprisings in our national history.
"The Waste Land," Aug. 19–29 at 64E4 UNDERGROUND
This adaptation of T. S. Eliot's famous 1922 poem from Austrian artists Daniel and Christopher Domig blends acting, poetry, and, most interestingly, painting. The multidisciplinary art installation will consist of only one performer, a table, two chairs, and a remarkably evocative puppet.
For tickets ($18 per show!) visit fringenyc.org.
Inspired by this post? Check out our theater audition listings!