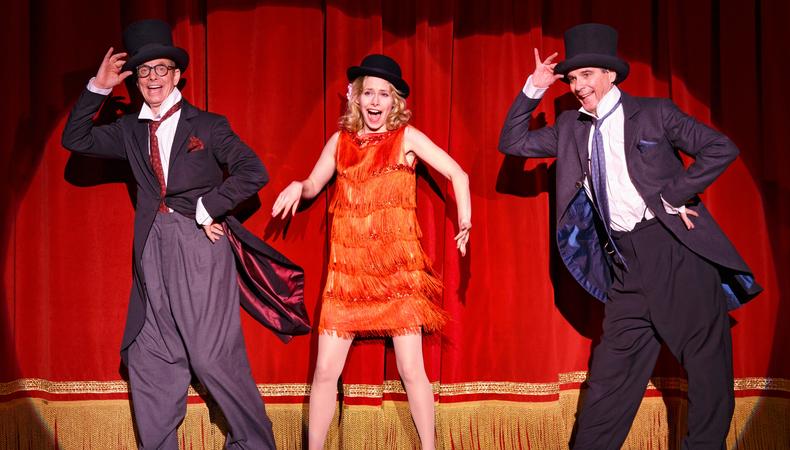 An uproarious comic revue, "Old Hats" stars the superheroes of clowning, Bill Irwin and David Shiner, supported by musical interludes and interactive accompaniment from enchanting singer-songwriter Nellie McKay. Created by Irwin and Shiner and fluidly directed by Tina Landau, the show is structured in vaudeville style as a series of freestanding scenes. It's reminiscent of the clowns' Broadway hit from the 1990s, "Fool Moon," from which viewers will recognize this production's climactic routine: a zany Western helmed by Shiner as an irritable silent-film director and cast with game volunteers from the audience.
What makes an evening with Irwin and Shiner so special is how profoundly they complement one another. They do the same thing—make us laugh hysterically—but they reach our funny bones via different channels. Irwin is a dancer's clown. His physicality is extraordinary. His body seems to transform into a gooey substance that gracefully stretches into all sorts of nuanced postures, gestures, and attitudes that make poignant statements about the human condition. The highlight of the show is Irwin's solo, "Mr. Business," in which he takes aim at furious-paced, self-obsessed, technology-dominated urban professionals. Racing around the stage, smartphone and tablet in hand, spine all askew, and knees bending every which way, he abstracts computer scrolling actions into large, floppy hand movements that will have any contemporary viewer in stitches. Frightening skeleton photos appear on his gadgets showing deteriorating images of his vertebrae. By the end he is eaten by an enormous video image of his face, a victim of self-absorption.
Shiner, on the other hand, is an actor's clown. While Irwin's language is of the body and mind, Shiner targets our emotions. His physical work is more about character, narrative arc, and the slick design of funny actions to conjure feelings and happenings we all recognize. His depiction of a slimy, washed-up magician with a gray ponytail performing a shopworn club act of illusions and sleight-of-hand tricks (with Irwin, in drag, as his voluptuous blond assistant) is a dramatic gem. Together, Irwin and Shiner run the full gamut of the ways physical comedy can speak to an audience.
Their two-hour revue has something for everyone, no matter your clowning or musical tastes. There's a smart political parody of presidential debates, plenty of old-fashioned slapstick, sight gags, and a traditional sad-hobo routine. With her four-man combo of terrific instrumentalists, who double as (not so good) backup singers, composer–musical director–instrumentalist McKay performs beguiling jazz, country, and rock songs between the Irwin and Shiner routines and grows more integrated into their acts as the evening progresses. A petite, wavy-haired blonde, McKay is an endearing entertainer and a brilliantly sly artist. She sings in dulcet tones and speaks in a naive voice that feels modeled after a young Judy Garland, but the content of her dialogue and lyrics is sharply satiric. Strumming on a ukulele, she sweetly sings of how "feminists don't have a sense of humor," detailing how unable they are to laugh about such things as rape and unequal pay.
Presented by and at Signature Theatre, 480 W. 42nd St., NYC. March 4–June 9. (212) 244-7529 or www.signaturetheatre.org.
Critic's Score: A