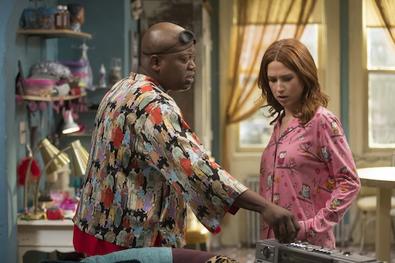 NBC's "Saturday Night Live" has always been a breeding ground for some of today's most impressive comedic voices. Whether it be classic cast members such as Bill Murray and Eddie Murphy or today's standouts like Kate McKinnon and Leslie Jones, there's no doubt the actors cast by creator Lorne Michaels know how to make a room laugh.
And that holds true for their post-"SNL" days, too! The series' fan favorites often go on to create other TV and film projects to keep the laughs coming. Below, we've rounded up six "SNL" alum of the last 10 years and the ways they've kept us laughing after their final "live from New York" moments!
"Unbreakable Kimmy Schmidt," Tina Fey
Since leaving "SNL" 10 years ago, audiences are on board for just about anything Fey attaches her name to! Critical darling and 16-time Emmy-winning series "30 Rock" made her one of comedy's go-to ladies, and the wonderful wackiness of Netflix's "Unbreakable Kimmy Schmidt" (the second season of which is available on Netflix today!), continued that legacy. The only question about Fey's career is what can't she do—and what will she do next?
"Portlandia," Fred Armisen
Armisen was always a scene-stealing standout in his whopping 11 years with "SNL," but the actor really came into his own with IFC's cult-favorite sketch comedy, "Portlandia," which he co-created with Carrie Brownstein and Jonathan Krisel. While satirizing Portland, Oregon's resident hipsters and eccentrics, the main wonder is how he doesn't crack a smile with his absurdist humor!
"Documentary Now!" Bill Hader, Fred Armisen, and Seth Meyers
After building a résumé of unforgettably silly supporters—his spots in "Pineapple Express" and "Superbad" first come to mind—Hader got behind the camera with co-creator and fellow "SNL" alumni Armisen, Meyers, and Rhys Thomas to create "Documentary Now!" The IFC series, which premiered last summer to little fanfare but critical acclaim, satires today's obsession with documentaries, in part spoofing and in part paying homage to everything from Vice docs to "Grey Gardens."
"Popstar: Never Stop Never Stopping," Andy Samberg
Samberg excelled on "SNL" for his lightning-fast wit and irreverence, both of which carry over nicely in outings like "Brooklyn Nine-Nine," "Hot Rod," and his laundry list of voice work, including the "Hotel Transylvania" and "Cloudy With a Chance of Meatballs" film series. What really has us excited, though, is the upcoming "Popstar: Never Stop Never Stopping," a mockumentary of the music industry created with his comedy trio and "SNL" cohorts, the Lonely Island.
"The Last Man on Earth," Will Forte
Between stints at "Late Show With David Letterman" and "That '70s Show" before his "SNL" days, Forte is no stranger to writing for TV. Last year's Fox comedy breakout, "The Last Man on Earth," marks his most impressive venture to date. He created the series and stars as Phil Miller, the titular man-child who unexpectedly befriends an ensemble of other apocalypse survivors.
"Bridesmaids," Kristen Wiig
And what "SNL" list would be complete without the indomitable Wiig? With her 2011 R-rated, lady-led smash comedy, "Bridesmaids," she just about redefined the world of female-driven comedy. The only shame is she's yet to get back to the writer's desk (rumors of a "Bridesmaids" sequel aside)! Catch her next in the all-female "Ghostbusters," where she's joining forces with "Bridesmaids" director Paul Feig once again!
Inspired by this post? Check out our audition listings!