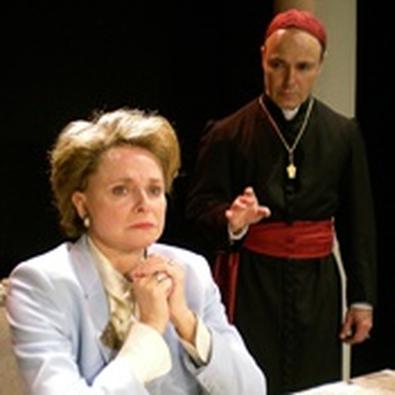 This is the kind of political satire that employs the set (John H. Binkley) to trumpet plot points from the tabletops decoupaged with newspapers, helpfully informing us "Hillary Wins in Squeaker" and the more enigmatic "Daughter Converts Islam." (Dropped preposition? Sudden overwhelming spiritual charisma? Only much later do we find out.) When this newsprint continues to the tops of the set's insubstantial columns, however, it merely looks as if someone forgot a final coat of paint.
Nick Salamone's script posits a distaff Clinton administration, during which -- as reported by Hillary's chief of staff, a flinty Quaker Scotswoman played with admirable commitment by Jean Gilpin -- "willy-nilly piles of clothes" are discovered worldwide, the original inhabitants having simply vanished. Trying to spin this situation to political advantage sounds like the stuff of comedy, particularly when Pat Robertson stages his own disappearance rather than seem unworthy of being called if this is in fact the Rapture, but director Jon Lawrence Rivera never finds the proper tone. The laughs never come, and when the script wanders into pure soap moments -- such as Hillary intoning, "I won't be taken down; they won't do to me what they did to Bill" -- the production seems to be taking itself awfully seriously. The script simply doesn't know what it wants to be.
The center of the production is, of course, Hillary Clinton, in a remarkably unfocused performance by Priscilla Barnes. It's fine to bypass slavish impersonation, but there needs to be a spark, an immediate essence to the woman to anchor the piece. Barnes is just there -- swaggering, dithering, scheming, but never owning the stage. Salamone also plays all five male roles, and during a couple of these outings, particularly while playing the General who spouts compounding absurdities with utter conviction, or as Stephen Hawking using string theory to explain why he has no idea what's going on, the production approaches what it might have been. The introduction of the Antichrist/Chelsea (Rebecca Metz), the former playing as empty grandiloquence and the latter playing as Amy Carter, moves the whole thing to college-level trenchancy. At 75 minutes, this may be the most earnest two and a half hours you spend in the theatre.
Presented by Playwrights' Arena at Studio/Stage,
520 N. Western Ave., Hollywood.
Fri.-Sat. 8 p.m., Sun. 7 p.m. May 9-Jun. 1.
(213) 627-4473. www.playwrightsarena.org.