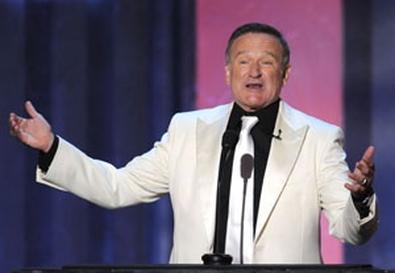 NEW YORK – Comedian Robin Williams will make his Broadway acting debut next year, playing the captive subject in "Bengal Tiger at the Baghdad Zoo," a play set in Iraq after the fall of Saddam Hussein.
Williams told the New York Times that the play "just hit me hard" with its darkly comic look at the country as seen by a tiger.
"I read it, and I was going: 'I'm in. I can come into it and create it from the ground up.' And I'm hairy enough to be a tiger, so that's good," Williams told the Times.
The play, written by American playwright Rajiv Joseph, premiered in Los Angeles last year and went on to become a Pulitzer Prize finalist. The Los Angeles Times said it marked "the breakthrough of a major new playwriting talent."
The Broadway production is expected to open on March 31, but no theater has been booked or other cast members hired.
Williams previously performed standup comedy shows on Broadway, and he starred with Steve Martin in a 1988 Off-Broadway production of "Waiting For Godot." But "Bengal Tiger" marks his first acting appearance on Broadway, the New York Times said.
(Reporting by Bob Tourtellotte in Los Angeles; Editing by Dean Goodman)
---
COPYRIGHT: (c) Reuters 2010. All rights reserved. Republication or redistribution of Reuters content, including by caching, framing or similar means, is expressly prohibited without the prior written consent of Reuters. Reuters and the Reuters sphere logo are registered trademarks and trademarks of the Reuters group of companies around the world.