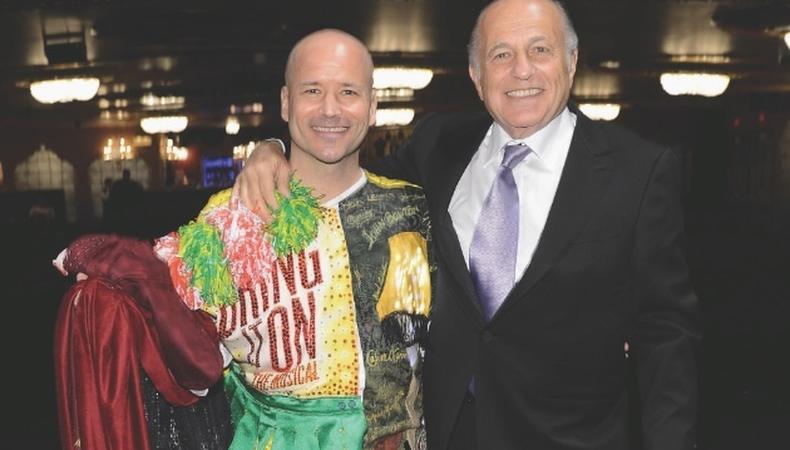 The theater business is nothing if not superstitious. But some opening night traditions are kept under wraps—robed, if you will. As another season of Broadway premieres draws to a close April 25 with the opening of "Pippin," one of the Main Stem's most cherished backstage rites connects this year's casts to decades' worth of their predecessors.
On opening night of every Tony-eligible Broadway chorus musical, the cast, crew, producers, and box office team gather for the Gypsy Robe. Presented to the show's ensemble member with the most Broadway chorus credits, the robe pays homage to gypsies—those cast members traveling show to show, following the work, slogging it in the ensemble. Endowed with the history of its Broadway predecessors, the robe brings luck to the new arrival.
The tradition dates to the 1950 production of "Gentlemen Prefer Blondes," when dancer Bill Bradley used to steal cast mate Florence Baum's dressing robe and run around backstage in it to entertain the company. Baum and Bradley decided to pass along the robe to their friend, Arthur Partington, in honor of his opening in "Call Me Madam."
According to David Westphal, national business rep for chorus affairs with Actors' Equity Association and keeper of the robes, "[Bradley] and Florence had crafted a story, which they included with the robe [to Partington], saying that the robe had been worn by all the Ziegfeld beauties and had been blessed by [their] show." After "Call Me Madam" opened, Partington attached a rose dropped from Ethel Merman's gown to the garment for extra luck and passed it to the next show. Thus began the tradition of conferring the robe and branding it with a memento from each musical.
While the ceremony (and the robes) has become quite elaborate, at its core the robe is an appreciation of an actor's dedication. The person in the cast of a new Broadway show with the most Broadway chorus credits wins the robe for that production. "The great thing about the robe is that you can't receive it until you have had enough experience with it to appreciate it," said Krysta Rodriguez, who won the robe in 2006 for "Spring Awakening."
Last week, the opening of "Motown: The Musical" marked number 280 of 281 Gypsy Robe presentations since Actor's Equity formalized the practice in 1982. Appropriately, "Motown" marked honoree Michael Arnold's 10th Broadway ensemble contract since his Broadway debut in 1990.
The Gypsy Robe also connects each show—be it smash or flop—to the greater Broadway legacy. The recipient not only blesses his own show; he must then present the Gypsy Robe to the new heir at the next opening—à la Partington and company. "It's one thing to have the tradition sort of bestowed upon you," said Arnold, "but it actually felt even more special to pass it on because I thought, 'Now I'm introducing a whole group of people—who at that particular theater were a whole bunch of people who were having their Broadway debut—and they didn't know what [the robe] was all about.' I felt like I was passing it on to another generation."
That feeling of community and support is why the Gypsy Robe started. "People hear so often how hard show business is, and it can be very difficult, but this is a nice window into how tight-knit and supportive [people in] this business can be for each other," said Arnold. Westphal agrees. "It's an incredibly generous community, and all of that spirit is in the Gypsy Robe ceremony."