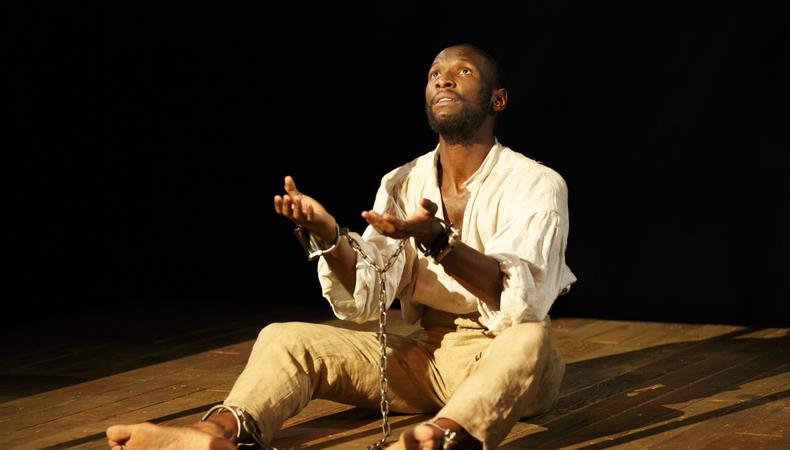 "I feel like plays are living in me for a while before they come out," says Nathan Alan Davis when asked about the playwriting process. Although he doesn't have a set routine or approach, he's protective of his "personal, meditative time," when he's not so much brainstorming ideas for the stage as wondering about topics big and small as any thinking person does. "It's something you've been meditating about and mulling over, even unconsciously, and there's a sense that this is good territory to explore as a play."
In other words, it's pretty difficult to pinpoint how his plays are born. "It's a very mysterious, sort of chaotic process in some ways," offers Davis. "When something really needs to be taken ahold of and the space is there to do it, I think [it's about] trusting that when the inspiration is needed, it will come."
In the case of "Nat Turner in Jerusalem," Davis' two-hander depicting the final night of the titular slave rebellion leader's life, the space was indeed there to do it. New York Theatre Workshop, one of NYC's foremost development centers for new plays, chose the play for its 2016–17 mainstage season (playing through Oct. 16) after hosting a workshop reading earlier this year; Davis is a former member of the 2050 Fellowship, NYTW's yearlong residency for emerging writers.
READ: "1 Way Theater Internships Can Pay Off"
Inspiration, meanwhile, came in the form of a document from 1831 titled "The Confessions of Nat Turner: The Leader of the Late Insurrection in Southampton, Virginia" by Thomas R. Gray. The public record, which Davis discovered via Google, left the playwright wondering what that fateful conversation was like between Gray, a Virginian attorney who had a questionable relationship with God, and Turner, a preacher often referred to as a prophet, due to be executed at sunrise. "I didn't know much about Nat Turner, to be honest," remembers Davis. "I knew he'd led an uprising. I felt I needed to know the details. That was definitely a big part of the spark."
In addition to the obvious question—"How much of it is actually Nat Turner's words and how much are T.R. Gray's choices in how to depict him?"—Davis says he was most struck by the document's lyrical language; in it Turner reports receiving visions, as a child, of events that occurred before he was born, as well as the hieroglyphs on leaves and "drops of blood on the corn" that led him to carry out a divinely influenced insurrection. "The way that Nat Turner speaks in the document, the sense of complete conviction and faith, even at the very end of his life, really spoke to me," says Davis. "I found it to have all this mysticism and poetry."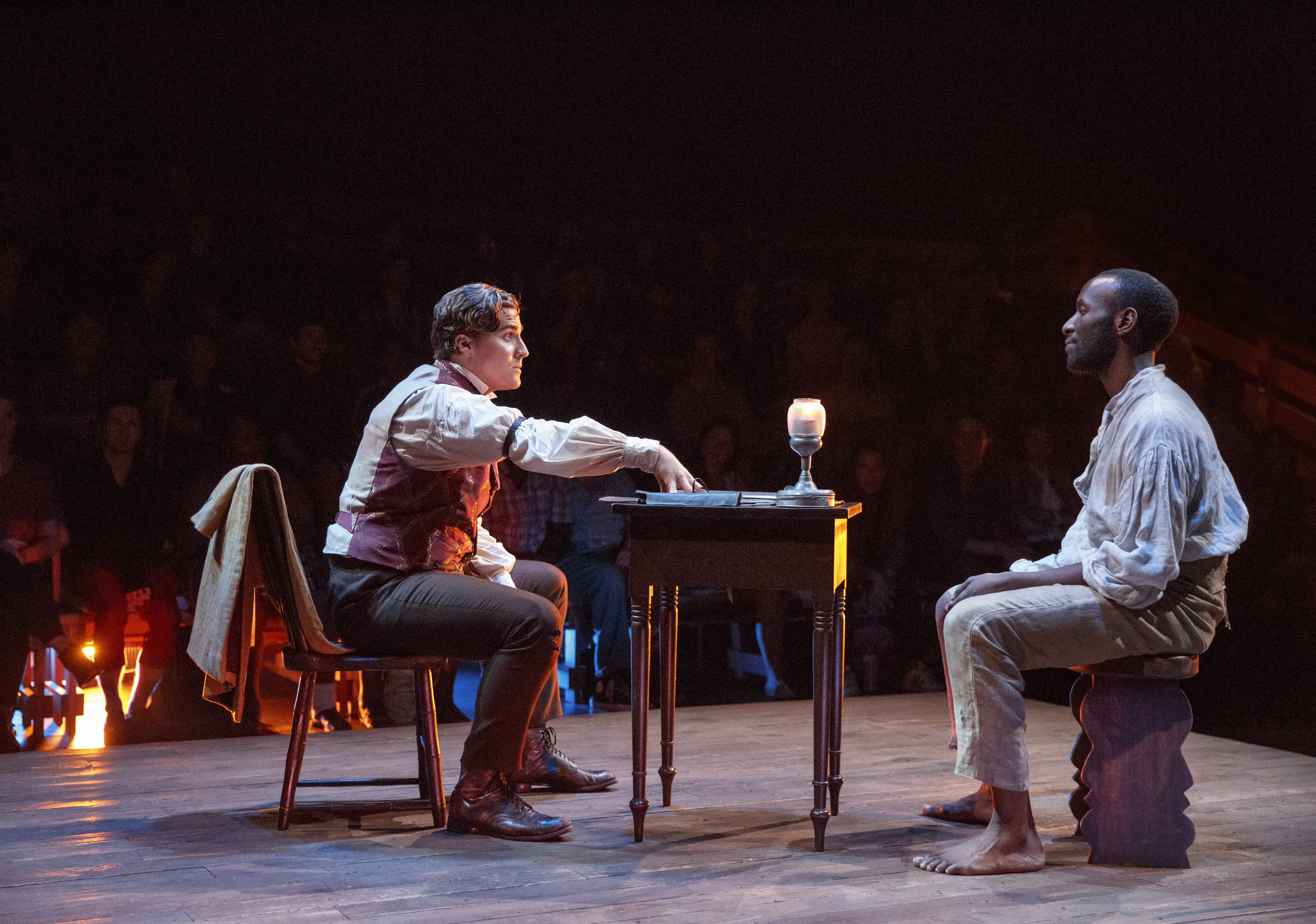 Rowan Vickers and Phillip James Brannon in 'Nat Turner in Jerusalem' at NYTW. Photo by Joan Marcus.
That mysticism emerges in NYTW's Off-Broadway production in subtle ways. In the hands of director Megan Sandberg-Zakian and actors Phillip James Brannon and Rowan Vickers, Turner's eerily moonlit jail cell becomes a philosophical sparring ground, a moment in history both vast and minute. Although in his document Gray depicts Turner as a crazed religious fanatic, he also calls him one of the most intelligent people he'd ever met; in Davis' play, that dynamic plays out in endlessly fascinating ways—encompassing race, religion, slavery, justice, and the notion that morality depends, perhaps, on perspective.
"I certainly don't view him as a fanatic," says Davis. "This portrait of him as a human being, trying to imagine what it would be like to be him in that situation, certainly led me to a compassionate [depiction]." Although there's no denying Turner's rebellion was violent, Davis seized the opportunity to explore the difference between zealotry and righteous indignation.
"There's a lot of research and information about those people killed in the insurrection, but of course it's not going to list the thousands and thousands of black people being murdered and enslaved over years and years. So there's an imbalance of, 'Why is this life more important?' But there's also this reality of, 'Yeah, that was a baby you killed.' The violence of slavery was an all-encompassing, daily extreme and I think there's a way to understand, if not justify, why somebody would use religious inspiration to rise up against an oppressive system.
"In a lot of ways it's put me in some uncomfortable places. Like, what do I really believe? Where do we draw the lines when it comes to religion and violence?"
Apply now to Broadway and Off-Broadway casting notices!
Those uncomfortable places are of course exactly where a playwright should live as they seek truth onstage. Even better is the opportunity to develop an idea with a staff of experienced theatermakers. Davis says NYTW launching his play onto the mainstage within a few short months allowed him to get out of his head and focus only on honing it in rehearsals. "They blindsided me," he says of Artistic Director James C. Nicola and the company's other producers. "I think the context is set up in terms of just taking a risk and grow as an artist in the [2050] Fellowship. They really give a very sincere and real support to artists developing work."
For more information about NYTW's theater fellowships, visit nytw.org.
Want to take the New York City stage? Check out our theater audition listings! And visit Backstage's YouTube channel for acting advice from industry professionals: