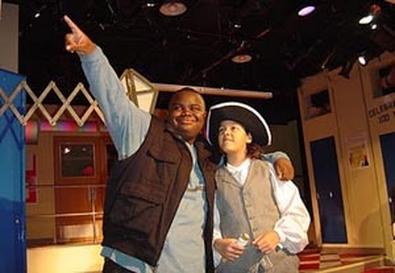 What a happy surprise is "The History Mystery." Instead of the barrage of cutesy mugging and wavering pitches I expected, this hourlong musical, being produced by the Tada! Youth Theater's Resident Youth Ensemble, delivers bushels of laughs, a genuine emotional kick, and a clever dramatization of why history matters to all of us. Janine Nina Trevens (book), Margaret Rose (lyrics), and Eric Rockwell (music) have created a show that really does appeal to all ages, whether you're related to a cast member or not.

The curtain rises on a library, where Toni, Marty, and Jenny complain about studying history, a subject they feel has nothing to do with their lives. They then magically go back in time and encounter the Wright brothers, Ben Franklin, and Laura Ingalls Wilder as children. Seeing these historical characters as kids much like themselves, with many of the same likes and dislikes, causes the modern trio to look at history differently.

Toni shifts the three to 1895 New York, where she encourages a hesitant Eleanor Roosevelt to participate in a suffragette rally. Marty delivers them to 1938 Georgia, where he convinces a young Martin Luther King Jr. to stand up for his rights. Jenny travels to 1942 California and prevents her future grandmother Anna from running away from the internment camp her family's been assigned to, because she knows Anna will meet Jenny's future grandfather there. The kids return to 2012 with a newfound appreciation of the past and a belief that they too can make history.

Trevens' book is fast-paced and informative without being condescending or politically correct. Rockwell's traditional musical theater score smartly avoids the pitfalls of faux rap and ersatz rock. Rose's lyrics weave as complex and touching a theatrical moment in Jenny's duet with Anna as you'll find anywhere in New York.

As director, Trevens gives each performer in her cast of 33 an opportunity to shine. All deserve praise, but Maddy Abrahams (Toni), Romello Rodriguez (Marty), Elsa Chung (Jenny), Annalee Tai (Anna), and Derek Johnson (Martin Luther King Jr.) merit special commendation for bringing sparkle and solidity to their roles. Joanna Greer's jitterbug choreography in "Freedom" showcases the fledgling dancers' surprising skill.

Steve O'Shea's colorful library easily morphs into different times and places. Virginia Monte and Linda Monte provide costumes that suit period but don't take over the show. Norman Franklin's projections allow us to feel that we're traveling through time, no mean trick.

I realize that adult theatergoers who don't have relatives in "The History Mystery" are unlikely to make their way to the show. However, anyone searching for an antidote to world-weary, irony-drenched drama should seriously consider the revivifying, hope-infused tonic on hand at Tada!

Presented by and at Tada! Youth Theater, 15 W. 28th St. 2nd floor, NYC. Jan. 20–Feb 19. Schedule varies. www.tadatheater.com.