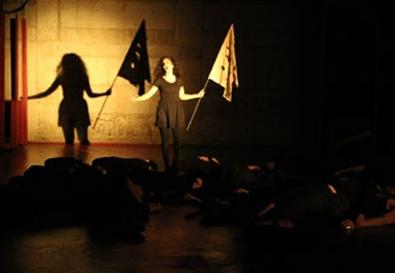 "Who are you in history?" This circularly rhetorical question forms the backbone, flexible though it may be, of Judith Malina's unfettered but ultimately unimposing interactive play "History of the World." A legendary stage artist, provocateur, and co-founder of the Living Theatre, there is surely no question who Malina is in history.
Aside from re-enacting the great wars and revolutions, the Living Theatre's affable 25-person ensemble has another task. Perhaps unsurprisingly, the seats in the theater have been removed, and each spirited performer must chaperone a handful of spectators as Malina's freeform piece leads them, like kindergarteners on a flash-mob field trip, through different eras and to different parts of the theater. For the honor-roll students, there are even some simple dance moves to follow.
Malina's script cuts a narrow, macabre swath through the past, beginning with primordial gender politics and then chronicling the demise of all the free-thinking philosophers throughout history: Socrates, Jesus, Joan of Arc, Gandhi. Most of these martyrs are played with agreeable wryness by Jay Dobkin. Likewise, Sheila Dabney (who also composed the piece's music) and Tom Walker add saucy narration to the proceedings as the Earth Mother and Teacher, respectively. The rest of the company is on call for re-creations of paintings by David, the odd shouts of "Occupy Wall Street!," and even some full-frontal nudity for good measure. Occasionally, audience members are asked to take part in storming an imaginary Bastille, or more important, consider which side they might have come down on in various historical conflicts.
Malina, who wrote and directed the piece, is well-intentioned in trying to cultivate a new crop of artistic revolutionaries, but by the time she herself begins intoning from the sidelines about the "beautiful nonviolent anarchist revolution" on the horizon, the experience takes an unsettling, almost cultish swerve. At these points "History of the World" loses sight of the line between expression and propaganda.
Each viewing of "History of the World" will certainly be different due to the interactive components. It's worth noting that everyone else at the performance I attended was fully absorbed and thrilled by the experience.

Presented by and at the Living Theater, 21 Clinton St., NYC. Jan. 12–Feb. 25. Wed.–Sat., 8 p.m. (212) 352-0255 or www.livingtheatre.org.