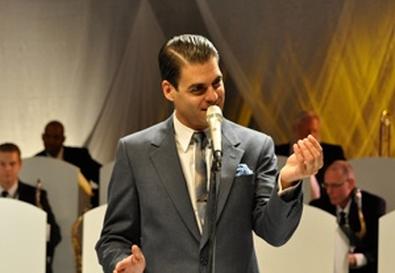 There's a hint of "Louis & Keely Live at the Sahara" and a touch of "Judy's Scary Little Christmas" in this exhilarating new jukebox musical, set in an NBC TV studio during the fictional taping of a mid-1960s network special, spotlighting one of the hottest male singing stars of the era. Director Jeremy Aldridge, who helmed "Louis & Keely," penned the skeletal book for this charming new tuner, in collaboration with actor-singer Luca Ellis and music director Paul Litteral. What drives this richly atmospheric concoction is Ellis' smashing star turn, as this gifted performer channels Frank Sinatra. The star attraction on the TV show is identified only as "The Crooner" from Hoboken, but the character is unmistakably intended as a tribute to the beloved superstar.
Ellis performs more than 20 easy-listening classics, offering remarkable replications of Ol' Blue Eyes' famous facility for charismatic and lushly romantic interpretations of unforgettable tunes from legendary pop songwriters (Sammy Cahn, James Van Heusen, Lerner and Loewe, Rodgers and Hart, Harold Arlen, Johnny Mercer, and more). Backed by the sublime sounds of a 12-piece onstage band, Ellis takes us on a sentimental journey to the glorious heyday of big-band entertainment.
As Ellis suavely makes his way through the greatest-hits score (including "Bye Bye Blackbird," "Young at Heart," and "Blue Moon"), he brings to mind the sexy, dreamy style that Sinatra was known for, highlighted by inspired phrasing and impeccable musicianship. Yet the swoon-inducing Ellis wisely stops short of an all-out impersonation, inserting stylistic touches and a personality that are clearly his own, whetting one's appetite for seeing him in other choice musical roles.
Among the supporting characters, Pat Towne has the best gags, playing a bungling assistant director suddenly forced to run the show, under the stern disapproval of the temperamental crooner. Franci Montgomery and Chandler Hill elicit fun in spoofs of old-fashioned TV commercials, and Jeff Markgraff is amusing as famous orchestra leader Nelson Riddle. Kathi O'Donohue's lighting, Jessica Olson's costumes, Aaron Star and Tom Meyers' projected photography, and James W. Thompson's art direction create an intoxicating ambiance. The silly plot threads sometimes seem more an interruption of the evening's enjoyment rather than an enhancement. Yet when the irresistible Ellis takes stage, his bravura performance becomes the evening's indisputable raison d'être.
Presented by Reasoner Productions at the Edgemar Center for the Arts, 2437 Main St., Santa Monica. Oct. 15-Dec. 19. Fri.-Sat., 8 p.m.; Sun., 3 p.m. Saturday matinees at 3 p.m. on December 4, 11, 18. (310) 392-7327. www.edgemarcenter.org.