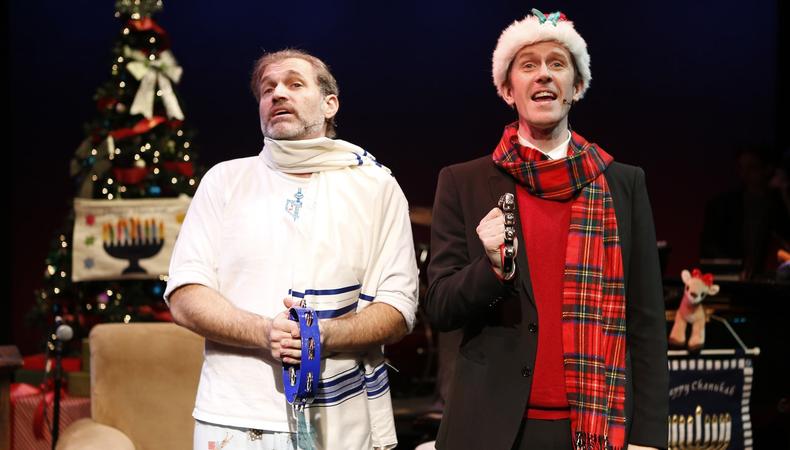 There's a lot going on in "The Holiday Guys in Happy Merry Hanu-Mas," starring Marc Kudisch and Jeffry Denman. Between celebrating Christmas and wrapping up Hanukkah, the pair has a lot of jokes to deliver, songs to sing, and tap numbers to perform. However, one of the reasons people love the holidays is the excitement, the love, and, yes, the stress and the bitterness (come on, we are New Yorkers). Kudisch and Denman capture all of that in this entertaining 90-minute show at the York Theatre Company.
"The Holiday Guys" is essentially a cabaret show that wants to be a play. James Morgan's set puts the pair in a living room that looks like Santa and the Hanukkah fairy threw up on it, in a good way. That festive chaos is exactly what the duo is trying to capture. They don't even have a director! Or a song list! These are the holiday guys. They do things their own way.
Kudisch and Denman are the Bert and Ernie of musical theater. Denman, dressed in red and green festive attire, plays an uptight Christian, while Kudisch embodies the lackadaisical Jew who wears pajamas emblazoned with dreidels and menorahs. He also sports a Snuggie. The best moments are when Kudisch jokes about how Jewish people are jealous of Christmas and how they're so much better at it than the Christians. (There are many Jewish writers of Christmas songs and specials.)
Another highlight of the evening is the special-guest section, and Tyne Daly participated at the performance attended. Not to spoil the joy, but Daly's oration of "The Night Before Christmas" was so wonderful that you almost wish they hadn't turned it into a joke. (Almost. It was pretty funny.)
Kudisch and Denman's admittedly rehearsed off-the-cuff banter struggles to feel fresh at times. They try too hard to force the impromptu feeling, complete with a note in the program with a song list that reads "A List of Songs in No Particular Order to Be Performed as the Spirit Moves Us." (It is clear that the songs are pretty set.)
But who cares? It's fun. It's festive. Daly read a children's book in a storytelling chair, and it was amazing. You'll be laughing right along with the guys and hoping that they draw your ticket for the special gift-giving portions of the evening. Let's be honest: It's great to receive during the holidays. Kudisch and Denman are serving up a pretty special gift this season. Happy Merry Hanu-Mas everyone!
Presented by the York Theatre Company, in association with Holy Moses and Neil Berg and Adam Friedson, at the York Theatre at St. Peter's, 619 Lexington Ave., NYC. Dec. 19–31. (212) 935-5820 or www.yorktheatre.org.
Critic's Score: B+