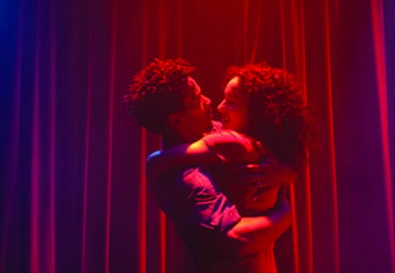 The second annual
Hollywood Fringe Festival
, a three-week celebration of the arts, will generate a flurry of activity in L.A.'s most heavily concentrated small-theater district June 9–26, including a week of previews. The prime fare comprises theater and other performing arts, though film and visual arts also are part of the mix. Several leading local 99-Seat theater companies—such as the
Actors' Gang
, the
Open Fist Theatre
,
Theatre of NOTE
, and the
Elephant Theatre
—will participate. So will offerings from ambitious independent theater artists and fledgling companies eager to showcase their talents in a low-cost, no-frills environment. Styles ranging from avant-garde to the gleefully frivolous can be expected in the festival's highly eclectic bill of fare.
Solo shows are again plentiful this year, but there are many other types of attractions as well. Says festival director and the organization's founder, Ben Hill, "Depending on how you define theater, it makes up 60 to 70 percent of our programming, yet we also consider ourselves a general arts festival. Last year, we had some standup comedians and visual artists. We have a lot of people who classify themselves as cabaret or variety. Live performing can also include clowning and circus, etc., and even more environmental-type stuff."
Besides stage productions, there are group discussions, such as the annual Critics' Panel of local reviewers. There are also networking events, parties, and an awards evening honoring outstanding festival fare. As for the shows, Hill says approximately 17,000 seats were filled during the 2010 festival, and he's projecting the sophomore year tally to be closer to 25,000, spread across the approximately 200 participating productions.
A square-mile area of Hollywood—bordered by Franklin Avenue to the north, Melrose Avenue to the south, Gower Street to the east, and La Brea Avenue to the west—will be the festival turf, anchored by the central hub, Fringe Central, at the ArtWorks Theatre in the heart of Santa Monica Boulevard's Theatre Row. The festival website (www.hollywoodfringe.org) is the best place to keep up with current and added shows, venue locations, and special events. A new ticket-purchasing system on the website this year is expected to make things easier and more efficient for attendees. The goal once again is to keep ticket prices affordable.
What's new and improved? According to Hill: "The good news is a lot is the same because most of what we did worked last year. The model itself came through a two-year think-tank process as we literally did a Ph.D. doctorate study of fringe fests and arts fests, learning how they operated and what could be done. We related all of that to L.A. to decide what we liked and what we didn't, and what fit the environment. The central thrust is an uncurated festival in the style of the Edinburgh Festival [Fringe], keeping the concept of the individual venues as opposed to centrally controlled venues, thus maintaining the idea that the relationship is between the artist and the venue itself."
The registration costs to become a Fringe show are $250 for multi-performance paid shows and $175 for free and/or single-performance shows. The benefits for the registrants are inclusion in the published Fringe Guide and on the Fringe website; ticket sales through Fringe box offices located on the Web, the phone, and at Fringe Central; a support team to help registrants through the Fringe experience; press assistance; housing assistance (for out-of-town artists); discounts on website and Fringe Guide advertising; and plenty of fun—socializing and networking.
Rental fees for the venues are negotiated with the individual venue managers. Hill says, "What a lot of fringe festivals do is go out and rent all the venues to be used. As a result, they have a very large overhead. And they take a big risk every year. For us, every time we add a venue, it's zero risk. It's only more revenue for the festival. There are more venues. The more housing we have for artists, and so on, the more registrations, giving us a lot more money to survive. It works out well."
He continues, "The one concern with that model is the railroading factor, seen in other festivals, where venues will price-gouge. What we're doing with Fringe Central is one of the big changes this year. Our Fringe Fest is a free-market event, but at the same time, Fringe Central serves as a public option. This year we've moved it down to Theatre Row, right in the center of the action. So we have their mainstage space as well as the annex space and Studios A and B. In the parking lot, we're erecting a 40-by-40-foot tent there that will have a café-style environment, with a bar and a cabaret, as well as a revolving set of vendors coming in every day, plus arts and crafts and stuff like that. We're setting the rental prices for Fringe Central performing spaces very low. What we're essentially doing is flooding the market with these new spaces. We're providing some competition, I think it's fair to say—being sure that the artists have a space that will never be too expensive."
Yet he points out, "All of our venues have been very supportive of the artist. That's reflected in their rental prices. They're not, for example, pricing it as they would for a four-week run. The pricing is on a slot-by-slot basis. They can charge much less that way and it works best for them, because the artists don't have to pay as much. Then you can have up to 12 slots or spaces a day. The venues end up doing a lot better and making more money, and that helps them survive. It's a win-win-win situation."
As for new programs introduced this year, Hill says, "We're adding a family program—we call it Fringe Family. About 5 percent of our shows are participating in it. This provides an opportunity for parents with kids or those who are looking for more guaranteed wholesome programming. This helps get young people indoctrinated into the ways of live theater and performance. It gives them an onramp, a place where they can start. We're also introducing a film program. This was much requested because a lot of our theater artists have films. The idea is you submit your film, and all of the venues have the option of running them, or if some wanted to come on board and do exclusive film programming, they could. This year we're starting with just one venue showing film, and that's at Fringe Central, in the Studio B space. We'll be showing upwards of 40 to 50 independent films from emerging filmmakers."
As for future festivals, says Hill, "I have a feeling we will always be tweaking the festival. We have so many ideas of what we could do with this. For example, we'd like a more robust music program. The first year was like covering the basics—just getting it up there. Now that you have this platform, you can just keep adding bells and whistles and new programs. And new venues. It will be a forever dynamic."