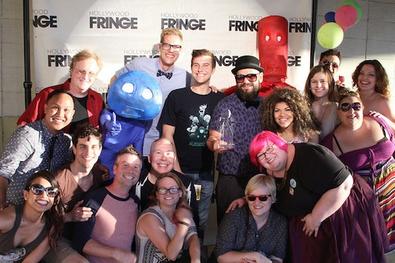 The Hollywood Fringe Festival took in a record haul as the arts event marked its fifth year. Organizers announced the theater festival, which closed June 29, filled 46,000 seats for its 290 productions bringing in a total of $389,000. All of that money goes to the actors and producers.
More than half the tickets were sold directly through the festival's box office with the remaining 48 percent of transactions done at the door of the 64 venues in L.A.'s Hollywood neighborhood. The festival saw a 170-percent increase in ticket sales over its inaugural run in 2010.
"Every year we feel like it was better than last year," Ben Hill, the festival's director and founder, recently told Backstage. "But in the end, it's about community. I think a lot of other festivals miss that. We believe that it's out of that sense of community that comes future great art works."
The two productions singled for recognition by the audience were "NO HOMO - A Bromantic Tragedy," a play about two best friends who have been roommates for six years. All their friends and family are convinced Luke and Ash are secretly a couple, even though neither man is gay.
The second audience-voted award went to "Women," a mash up of "Little Women," the Louisa May Alcott novel, and "Girls." The play was originally produced at the Flea Theater in New York.