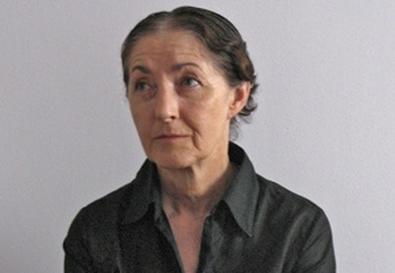 Grief works its own miracles, and it is miraculous how much drama author Dermot Bolger packs into "The Holy Ground," considering that it's a one-hour, one-woman story of an empty, thwarted life.
Monica, luminously performed by Katherine O'Sullivan, is tidying up her living room (Jorge Dieppa's evocative set is complete with Mass cards and long lace curtains) after the death of her husband, Myles. The 60-something widow wears unattractive black, ugly shoes, and her hair pulled tight, yet when she relives her courtship with Myles she transforms into a bright young woman. We know by the way she shoves Myles' scrapbooks into Hefty bags that she's not sorry to see the back of him. But as she talks, a mystery develops: How did their sweet love became so distant that his mourners have never met her?
Bolger does not offer clichés about alcoholism and abuse. Instead, he shows people trapped in boxes of misery and disappointment. Dead inside because of his inability to sire children, Myles felt so lost that he threw himself into working with the local men's club and writing nasty letters to the press about Vatican II, often making Monica sign them to hide his handwriting: "Dublin, mother of seven. Every time he made me sign myself that, I cried."
O'Sullivan's expressive voice and humor overcame a few flubbed lines; her portrayal of a woman destroyed by isolation is haunting. Don Creedon's direction brings out the humor as well as the pain, and there's a twist toward the end that surprises and amuses.
In her final lines, Monica finds she can no longer pray without seeing her husband, which is both an evocation of a traditional poem from a woman to her demon lover and a contemporary expression of grief. The grief is for herself—and for what could have been. It's unforgettable.
Presented by Big Louie Productions as part of the First Irish Theatre Festival at Manhattan Theatre Source, 177 MacDougal St., NYC. Sept. 14–25. Schedule varies. (212) 352-3101, (866) 811-4111, or www.theatermania.com.