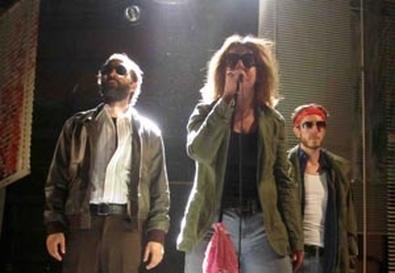 "Home/sick" is exactly what you'd expect from an ensemble play about the Weather Underground created by artists for whom the activism of that 1970s radical organization is history, not memory. The theater collective the Assembly earnestly tries to recapture the romanticized glory of a previous generation of young liberals who, unlike their hipster successors, turned their commitments into rallies, alternate lifestyles, and bombs. The temptation of utopia, the inevitability of its betrayal, and the distraction of human imperfections are in full view. Fortunately, this familiar story is packed into such an intelligent and dynamic package that it's worth a trip to the Collapsable Hole for a lesson in the vagaries of making history.
Director Jess Chayes and set designer Nick Benacerraf have transformed the Hole, an abandoned warehouse turned theater space, into the Weathermen's bohemian lair. Old mattresses, painted brick walls, and window blinds that multiply beyond reason render the space suspiciously akin to a Bushwick artists' loft, with the audience in the living room. Art and politics merge in the plot as we watch six expertly delineated activists—from the brittle-hearted bomb-maker to the brute-realist leader to the bloodthirsty warrior—debate the strategies and the aesthetics of revolution over the decade-long period of the Weathermen's work.
The ongoing concern of "home/sick" is the group's brand of commitment. How is it measured, how long can it be sustained, and when is it worth it? The first-rate performers have their best moments when their characters' loyalties are tested. Watching Edward Bauer repress a nervous breakdown, eyes small and chest heaving, when called out for a "special relationship" with a collective member is searing, as is Emily Perkins' glare of defiance when confronted with the contents of her private diary. Kate Benson and Luke Harlan, as the group's leader and her hard-working lover, anchor the swirling power structures among the ensemble, and Anna Abhau Elliott, as the resident Leninist intellectual, provides a steadying hand. The ensemble's connection with one another is the truest homage they could offer to the memory of the collective they have clearly, though reservedly, come to admire.
Presented by the Assembly as part of the Make Your Own City Arts Festival at the Collapsable Hole, 146 Metropolitan Ave., Brooklyn, N.Y. July 6–Aug. 2. Wed.–Sat., 8 p.m. (800) 838-3006 or www.brownpapertickets.com.