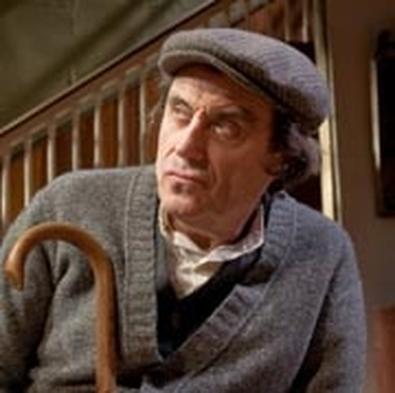 In most Harold Pinter plays — and clearly evident in director Daniel Sullivan's strong Broadway revival of The Homecoming — what the characters say is often neutralized or contradicted by what they don't say. In the rotting flesh and brittle bones of a terror-ridden family drama, Pinter's famous pauses are like connective tissue. We're asked to use our heads and hearts to interpret that tissue — to fill in the gaps that complete Pinter's elegant dramatic puzzle.
In 1967, when the original Broadway production of The Homecoming opened (winning four Tonys, including best play), that puzzle must have been thrilling. Every line seems meant to foster debate and interpretation. Yet as some critics noted when the play was last revived on Broadway (by Roundabout Theatre Company in 1991), The Homecoming seems less inscrutable today; it's certainly less shocking. Grotesquely dysfunctional, offbeat families are ubiquitous across the media spectrum — even on Broadway, as in the current August: Osage County.
Seething patriarch Max (Ian McShane), a former butcher, wields his cane like sword and shield, though what fuels his anger remains unclear. His younger brother Sam (Michael McKean), a chauffeur, is least eager of anyone in this fast-disintegrating house (dilapidated set by Eugene Lee) to uncork the menace lurking inside Max. Menace, too, can be sensed coming from Max's son Lenny (RaĂşl Esparza), who has two talents: pimping women and pummeling them. Max's youngest, Joey (Gareth Saxe), a fourth-rate boxer, is a very dim bulb.
The homecoming of Teddy (James Frain), Max's eldest — a philosophy professor who married Ruth (Eve Best) and had three children with her while away from the family for nine years — lifts the lid from this simmering cauldron. When he first sees her, Max calls Ruth a whore; McShane's performance is so exact you know the name-calling is but a fatherly provocation. (Jess Goldstein's '60s-style black dress for Ruth nicely emphasizes the character's beauty.) And, in fact, Teddy is unfazed. Later, when Lenny makes a brazen sexual move on Ruth, who willingly acquiesces, Teddy is again unfazed. Still later, when the carnally inept Joey keeps Ruth in his room for hours (failing to go "the whole hog"), Teddy appears unmoved when most men would be unnerved. The question is why — and Frain's placid performance wisely never promulgates the answer.
For it can be found elsewhere in Pinter's play. While the death of Max's wife is addressed only sparingly, when Ruth accepts the family's offer to live in the house — to financially pull her own weight by whoring herself to strangers as well as servicing Lenny, Joey, and Max — we don't feel shock but an absurdist pinch. Ruth is Teddy's gift to a dying patriarchy: a surrogate wife, mother, lover, and friend.
Best's terrific performance is a 180-degree turn from her Josie Hogan in last season's A Moon for the Misbegotten — introverted where Josie was outgoing, explicitly sensual where Josie was implicitly repressed. Best smolders so well that it nearly melts McShane's cantankerous Max and turns Esparza's Lenny into a lovelorn if psychotic puppy. If Saxe's role is shallower, it's also less opaque: In the last scene, his head resting on Best's lap, he symbolizes the happy family times this motley male crew will never know again. That includes McKean's keen and earnest Sam, who ends The Homecoming collapsed on the floor, ignored by his kin.
Let's have a round of applause for British and American actors getting their British accents right. That not only shocked me; it also gave me pause.
Presented by Jeffrey Richards, Jerry Frankel, Jam Theatricals, Ergo Entertainment, Barbara & Buddy Freitag, Michael Gardner, Herbert Goldsmith Productions, Terry E. Schnuck, Harold Thau, Michael Filerman/Lynne Peyser, and Ronald Frankel/David Jaroslawicz, in association with Joseph Piacentile
at the Cort Theatre, 138 W. 48th St., NYC.
Dec. 16-April 13. Tue., 7 p.m.; Wed.-Sat., 8 p.m.; Wed. and Sat., 2 p.m.; Sun., 3 p.m. (No performance Tue., Dec. 25; additional performance Mon., Dec. 31, 2 p.m.)
(212) 239-6200 or (800) 432-7250 or www.telecharge.com.
Casting by Telsey + Company.