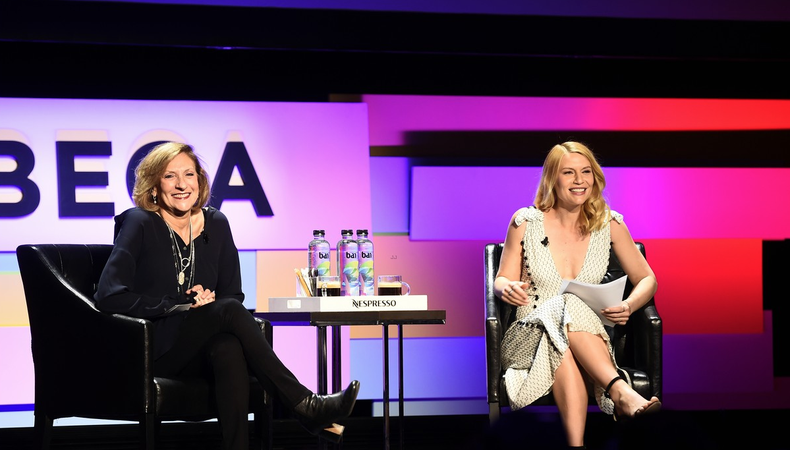 "Homeland" star Claire Danes got to wear her reporter's cap at the Tribeca Film Festival earlier this week, where she sat down with the series' director-executive producer, Leslie Linka Glatter. Beginning her artistic journey as a dancer and choreographer, Glatter's film career was kickstarted after Glatter directed "Tales of Meeting and Parting," which was nominated for the Academy Award for Best Live Action Short Film in 1985. Since then, Glatter has had the good fortune of directing episodes of multiple TV series, including "Twin Peaks," "Mad Men," and of course, "Homeland," which is wrapping Season 7 April 29. The latter two earned her Emmy nods for outstanding director in a drama series.
Glatter and Danes sat down to speak about their experience working on their series, gender equity in Hollywood, and why it's important to be open to the "moose head on the table."
Directors should get in touch with their inner actor.
"Active direction is so much more helpful—a verb—rather than a stated thing. To tell someone to be sadder [is] not going to get you what you want. It's going to be an external reaction, rather than something internal. If any of you out there are directors, and you haven't immediately gone to an acting class, [go]. That's the first thing I did when I started directing, is go back to acting."
It's not bad to learn the ropes by learning all of them.
"I realized, immediately, that I would have to do every job on set. And I had a full-time job. I was teaching at California Institute of the Arts, and doing concerts all over, but I worked on, like, 10 of the other women's films. Like doing the laundry. In a no-budget film, the costume person takes home the dirty laundry. But it was great. I did every job I could do so I could understand what the process was."
Creating safe spaces for creation only yields better performances.
"I think [as a director] you have to be a little bit of everything. If you need to be mom or dad, or therapist, or stern dad or mom—whatever you need to make that a safe place to explore something."
READ: How to Become a Film Director
Glatter uses an editor's eye while filming.
"I have a pretty good plan while we're filming how it should be cut together. Transitionally, how you should go from scene to scene, and the cutting pattern. I think part of a clear point of view of the scene is knowing that. Something I think is too objective, you don't emotionally connect to in the same way. I always love being surprised by what a good editor will do. It's very exciting to get a first cut."
She took away a valuable lesson from working on "Twin Peaks."
"There's a scene where Michael Ontkean and Kyle MacLachlan are in a [vault], and on the table is a moose head, sitting there. [T]hey have this whole conversation about what they're looking for, nobody refers to the moose head. Incredible. And I'm like, 'David [Lynch], where did you get the idea to put that moose head there?' And he looks at me like I'm kind of crazy, and he says, 'Well, the set dresser was going to hang the moose head up on the wall,' and he was like, 'Leave the moose head.' Something cracked open for me. Yes, come in with your plan, but be sure you're open to the moose head on the table. Don't miss the moment right in front of you because you're so fixed on what you think you need to be doing."
She wants real change, not just a dialogue about it.
"I think [women directing] should be a non-issue. Twenty-five years ago when I started, if you would have said, You know in 2018, you think we're going to be talking about this? I would have said, Absolutely not. The fact that we still need to talk about it is kind of crazy. I think the people that are in [higher positions] need to put their money where their mouths are."
Don't forget why you're doing what you're doing.
"One has to be so tenacious to be [directing], but I think in the tenacity, you have to remember the joy. You have to remember why you wanted to be a storyteller in the first place, and I think if you forget that, you lose something great."
Have more questions about directing? Get them by peers and experts on the Backstage Community forums!